Heads up! We're working hard to be accurate – but these are unusual times, so please always check before heading out.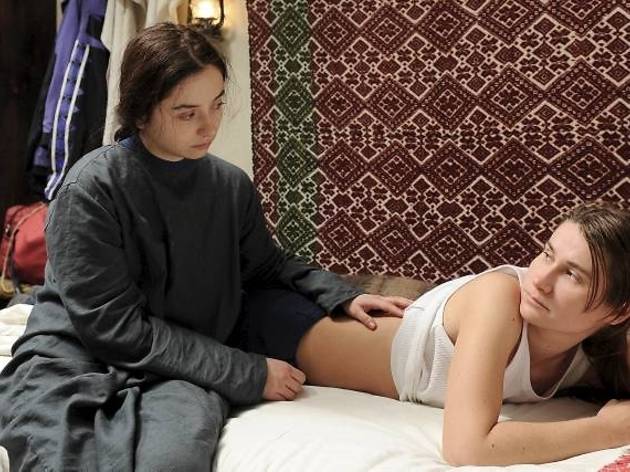 Cannes Film Festival 2012: final round-up
Dave Calhoun draws the curtain on the world's greatest film festival
Expectations and emotions run high at the Cannes Film Festival. It's where reputations are made and broken under the glare of the Riviera sun. It's where one man's victory is another man's failure. For 12 days every year, it's where the biggest hoopla in hype, celebrity and marketing rubs up against the most important film contest in the world. It's where everyone has an opinion. Everyone has a hunch. Everyone thinks they're right.
This year, opinions differed wildly among critics and industry folk as to the merits of the 22 films in contention for the Palme d'Or, cinema's most prestigious gong, won last year by Terrence Malick's 'The Tree of Life'.
But a consensus did form on two issues. Firstly, 2012 was an average-to-solid year – with plenty of familiar names showing familiar-ish work. Secondly, Austrian filmmaker Michael Haneke's 'Amour' was the only truly great film in competition. Cannes is where film lovers go truffling for masterpieces, and only 'Amour' was worthy of the M-word. Few disputed the decision of the jury, presided over by Italian director Nanni Moretti, to award Haneke his second Palme d'Or in three years; he won in 2009 for 'The White Ribbon'.
'Amour' is one of Haneke's most intimate films – perhaps his most intimate since his 1989 debut 'The Seventh Continent'. It's a searing, philosophical drama that examines an everyday tragedy that emerges from happiness. It's a fearless and tender portrait of the compassion and loyalty shown by an elderly husband, Georges (Jean-Louis Trintignant), to his wife, Anne (Emmanuelle Riva), when she falls ill. Bar one early scene, it takes place entirely in these octogenarians' Paris apartment, a theatre of suffering and sadness, and a fortress from the outside world. It's devastating and challenges emotionally and intellectually: it's a cerebral weepie.
If Haneke was attracting the M-word, then French filmmaker Leos Carax was beckoning the F-word: folly. Carax ('Les Amants du Pont-Neuf') hasn't directed a feature since 1999's 'Pola X', and his comeback, 'Holy Motors', was the most divisive film in the competition. A surrealist odyssey through modern Paris and a collage of references to filmmakers from Georges Franju and Luis Buñuel to the Wachowski siblings and Pixar, it sees Denis Lavant being driven around Paris from morning to night in a stretch limo by Edith Scob (who starred in Franju's 'Eyes Without a Face' in 1960) and climbing out of the car to assume a different character each time: an old beggar, an assassin, a father, a randy leprechaun, a motion-capture stuntman. It ends in a warehouse full of limos talking to each other at night. You can't fault Lavant's commitment or Carax's imagination – but the film is a ragbag of styles and ideas and strangely humourless.
But at least Carax's film looked and felt unique. Perhaps the biggest disappointments at Cannes are not the experiments that veer off course nor the works by filmmakers that don't match (or develop) their past achievements. Rather it's those films whose ambitions are too limited to warrant the attention that the Cannes competition gives them. In a year with not a single film directed by a woman in competition for the Palme d'Or, the question, 'Was there really not a film in the entire world by a woman better than that?' was heard more and more.
There were a handful of average efforts. 'Lawless' by John Hillcoat ('The Road') is a glassy-eyed tale, scripted by Nick Cave, about bootlegging brothers – two of them played by Tom Hardy and Shia LaBeouf – in Prohibition-era Virginia. Not even extreme violence can offset its inappropriate cosiness. Similarly, Lee Daniels's 'The Paperboy' is an inept adaptation of a Pete Dexter thriller that totally fails to square its four cornerstones of camp, crime, laughs and sex.
In contrast, of the large crop of six American productions in the competition, both Andrew Dominik's 'Killing Them Softly' and Jeff Nichols's 'Mud' were impressive. The first is a modern gangster story, starring Brad Pitt, which offers pleasing analogies to the current chaos in the financial markets and manages to look macho while undermining its male characters' machismo. 'Mud', meanwhile, is a sweet, child's-eye coming-of-age tale about two young boys who befriend a convict. It's let down by a ridiculous late shoot-out.
Italian filmmaker Matteo Garrone, who won the Grand Prix (the festival's second prize) for 'Gomorrah' in 2008, returned with his follow-up, 'Reality', and took away the same prize. It tells of a Neapolitan fish-seller whose obsession with becoming a contestant on Italy's version of 'Big Brother' begins to destroy his life. It's lumbered with an increasingly impersonal air and a heavy dose of sentimentality, but Garrone is an entrancing director and there were few scenes in Cannes to compare with the opening of his film: a helicopter shot following a garish horse-and-carriage convoy as it pulls up at a lavish wedding venue.
Second only to 'Amour' in quality and power was 'Beyond the Hills' from Romanian filmmaker Cristian Mungiu, who won the Palme d'Or in 2007 for '4 Months, 3 Weeks and 2 Days'. Mungiu scooped the script prize and his two lead actresses – playing two women raised together in an orphanage – shared the actress prize. The film combines the assumed terrors of the past with new terrors of the present as this pair spend a few days in the claustrophobic monastery where one of them lives. It's a piercing cry against corrupt institutions and a thoughtful essay on the dark roads our need to belong can lead us down.
Thomas Vinterberg's 'The Hunt' was wildly overpraised. Yes, it's the most coherent film by the Danish writer-director of 'Festen' for some time. It's a compelling story of a kindergarten teacher (Mads Mikkelsen, winner of the festival's Best Actor prize) who is wrongly accused of molesting children in his care. It examines community dynamics, fear and paranoia, yet its script turns on implausibilities and adopts half-cocked hunting imagery. It's a decent but predictable film, familiar when the subject should have allowed for a more surprising, layered approach.
Two films asked a lot from the viewer but rewarded close attention: the Mexican Carlos Reygadas's 'Post Tenebras Lux' and the Ukrainian Sergei Loznitsa's 'In the Fog'. Both are filmmakers in their forties who have been nurtured by Cannes. Loznitsa's film is a hyper-local war drama set in Belorussia in 1942, which examines shifting moralities and a disintegrating sense of right and wrong in war. It's grim as hell but exquisitely shot, and Loznitsa's careful, upending use of flashbacks further complicates our view of the three men at its heart – two partisans and a man they accuse of treason.
'Post Tenebras Lux' is Reygadas's fourth feature and first since 2007's 'Silent Light'. It's also his toughest to figure out, so far as it offers a view at once sideways, interior and obscure of a metropolitan Mexican couple in crisis and living in a rural backwater with two young children. The story, such as it is, is chopped up and unclear. There are terrifying images of nature turning on man, and there's even an animated devil (carrying a toolbox!) and scenes of youngsters playing rugby in Britain – Reygadas spent some time at an English public school, so presumably this is autobiographical. It's a work that alienated many, but, unlike, say, Carax's 'Holy Motors', this is a deeply personal work looking to be explored and unlocked and reaching out, however awkwardly.
Another film crying out for a second watch was Abbas Kiarostami's 'Like Someone In Love', which sees the Iranian director of 'The Wind Will Carry Us' travel to Tokyo for a low-key and puzzling Japanese-language film about masks, identities and role-playing – themes he explored in his last film, the Tuscany-set 'Certified Copy'. 'Like Someone In Love' has the air of a short story: it follows a female student, working part-time as an escort, as she travels to stay with an older man, an academic. But rather than sleeping with him, she ends up pretending to several people over the period of a night and a day that she's his granddaughter. Its abrupt ending is jolting, but this is a film that feels almost too inconsequential in the moment and yet continues to linger in the memory for days afterwards. Perhaps the ultimate mask at play here is worn by Kiarostami himself, happily masquerading as a Japanese filmmaker in Japan.
By the time David Cronenberg's 'Cosmopolis', an adaptation of the 2003 Don DeLillo novel, screened on the last full day, the films had started to talk each other, at least in the minds of those delirious after ten days of screenings. 'Where do limos spend the night?' asked Robert Pattinson's Eric Packer, a 28-year-old billionaire riding about Manhattan in a limo all day, and reminding us of the lunatic closing scene of 'Holy Motors'. The best of 'Cosmopolis' has the spirit of a hyperreal experimental theatre piece with an end-of-days air. The worst of it is weighed down by a wearying wordiness.
Also an awkward adaptation but far less intriguing is Walter Salles's 'On the Road', which sees Jack Kerouac's 1950s novel come to the screen after years in development. As a travelogue it's hard to fault, beautifully sucking up the landscapes and city vistas of late 1940s America. But as a rebel yell it's embarrassing and Salles fails to sidestep the tedium of observing someone else's party from a distance.
Perhaps the biggest surprise when the prizes were dished out was the awarding of the Jury Prize – the third prize – to Ken Loach for 'The Angels' Share'. Among the stories of death and crisis that took home awards, it's likely this larky caper, in which the magic of cinema offers its deprived characters the chance of a better life, entertained the battered jury. It's also a reminder of how one of Britain's greatest filmmakers continues to be celebrated more abroad than at home.