Independent cinemas in Paris
Where to see classic retrospectives, world cinema and underground screenings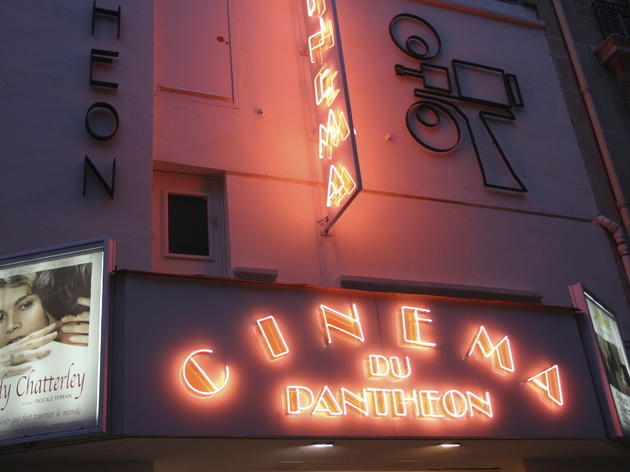 As its name suggests, the Accatone is where fans of Pier Paolo Pasolini come to watch, and watch again, the masterpieces the most disturbing Italian director of his generation. His first film, 'Accattone', of course, but also 'Teorema', 'Edipe Re' and 'Il Decameron'. This is an uncompromising cinema, set up on a narrow street in the Latin Quarter on the site of a former cabaret. Much like at the Cinéma du Panthéon, the armchairs facing the screen are embellished with names from cinema's hall of fame: Kurosawa, Tarkovski, Rosselini or Hawks. The films shown are serious stuff, and in the original languages with subtitles, naturally. With around 30 screenings a week, Accatone is an excellent place to improve your cinematic knowledge.
Read more
In the Latin Quarter's maze of streets, you can't miss the Action network's three cinemas: the Christine, the Grand Action and the Action Ecoles (recently renamed the Desperado). Set up like cine-clubs, their principal mission is to screen restored copies of classic films. Studio Christine first raised the curtain in April 1973. After a chaotic beginning, which ended in the buyout by Action, the Christine finally got into ther stride in 1974. Famous for its programmes of Hollywood masterpieces, it's the place to cry over 'Casablanca' and dream over 'The Shop Around the Corner' – but is also worth a visit for its architectural history, with a carriage entrance from the time of Louis XIV.
Read more
The two-screen Champo has been in operation for nearly seven decades, a venerable past recognised in 2000 when it was given historic monument status. In the 1960s, it was a favourite haunt of nouvelle vague directors such as Claude Chabrol. Novel programming includes the occasional Nuits du Champo, a trio of films beginning at midnight and ending with breakfast (€15).
Read more
Done out to evoke the studios of old, this three-screen showcase of world cinema holds meet-the-director sessions and festivals of classic, foreign, gay and documentary films. Also offers a monthly pass.
Read more
To celebrate its centenary in 2007, the city's oldest surviving movie house opened a tearoom with interior design by Catherine Deneuve. The CinÈma du PanthÈon continues to screen new, often obscure international films and hosts meet-the-director nights and discussions.
Read more
A militantly independent cinema, La Clef (The Key) (formerly Images d'Ailleurs) is a stone's throw from the Université Paris-III, and constantly educates its audience in politically and artistically engaged films that often don't go on general release.Debates, festivals and other events fill the two screens (120 and 65 seats), with the lion's share of the programme given over to documentary cinema (for example, a 2012 retrospective on the remarkable Chilean filmmaker Patricio Guzman). But La Clef also knows to alternate documentaries with comedy, drama and thrillers.All in all, it's an elegant, original and intelligent programme in a friendly venue: more than opening doors, La Clef prefers to open up multiple perspectives. The wordplay is easy – but the cinema on the corner of Rue de la Clef carries its name extremely well.
Read more
Worth the trip to its far-flung location in the suburb of Noisy-le-Sec, Le Trianon (not to be confused with the ritzy concert venue in Rochechouart) is that rare thing: a cinema that puts on a passionately curated programme of arthouse and world films, and lets you watch them for pittance (€6 for a full-price ticket, down to as little as €3.50 for special screenings). The latest independent fare from France and elsewhere is complemented by regular themed events, such as an Ozu retrospective or the yearly Frano-Arab film festival. A gem.
Read more
Relocated to Frank Gehry's striking, spacious cubist building, the Cinémathèque Française now boasts four screens, a bookshop, a restaurant, exhibition space and the Musée du Cinéma, where it displays a fraction of its huge collection of movie memorabilia. In the spirit of its founder Henri Langlois, the Cinémathèque hosts retrospectives, cult movies, classics, experimental cinema and Q&A sessions.
Read more
Partly a screening venue for old and little-known movies, and partly an archive for every kind of film featuring Paris. Today the Forum's collection numbers over 6,500 documentaries, adverts, newsreels and films, from the work of the Lumière brothers to 21st-century reportage. They have all been painstakingly digitised.
Read more