Independent cinemas in Paris
Where to see classic retrospectives, world cinema and underground screenings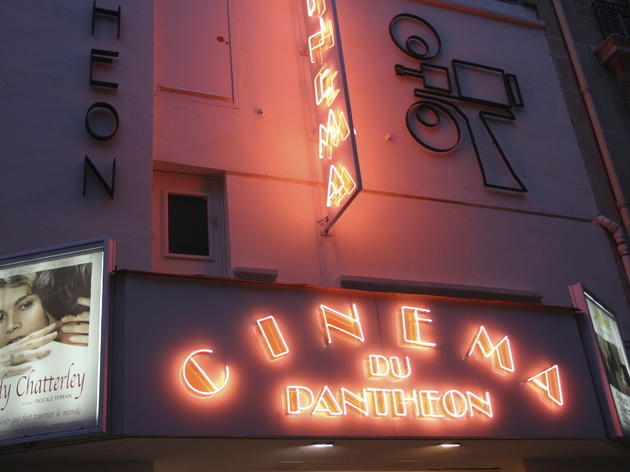 As its name suggests, the Accatone is where fans of Pier Paolo Pasolini come to watch, and watch again, the masterpieces the most disturbing Italian director of his generation. His first film, 'Accattone', of course, but also 'Teorema', 'Edipe Re' and 'Il Decameron'. This is an uncompromising cinema, set up on a narrow street in the Latin Quarter on the site of a former cabaret.
Read more
In the Latin Quarter's maze of streets, you can't miss the Action network's three cinemas: the Christine, the Grand Action and the Action Ecoles (recently renamed the Desperado). Set up like cine-clubs, their principal mission is to screen restored copies of classic films. Studio Christine first raised the curtain in April 1973.
Read more
The two-screen Champo has been in operation for nearly seven decades, a venerable past recognised in 2000 when it was given historic monument status. In the 1960s, it was a favourite haunt of nouvelle vague directors such as Claude Chabrol. Novel programming includes the occasional Nuits du Champo, a trio of films beginning at midnight and ending with breakfast (€15).
Read more
This state-of-the-art cinema, with THX surround sound and an 18m (60ft) screen, is named after the dapper French silent comedian who owned it between 1914 and 1925. The walls and 700 seats are all black to prevent even the tiniest twinkle of reflected light distracting the audience from what's happening on the screen. Look for all-nighters and one-off showings of rare vintage films or piano-accompanied silents.
Read more
Done out to evoke the studios of old, this three-screen showcase of world cinema holds meet-the-director sessions and festivals of classic, foreign, gay and documentary films. Also offers a monthly pass.
Read more
Set up in 1956, Le Brady is notably renowned for having been the one of the hallmarks of the Francois Truffaut's youth and having belong to the cinemaker Jean-Pierre Mocky. Le Brady is one of the rare cinemas thqts found in the Strasbourg-Saint-Denis quarter. Which is another reason why you should take a tour and discover its intimite setting and orinigal program, centred around films by recent authors, and lesser known classics.
Read more
To celebrate its centenary in 2007, the city's oldest surviving movie house opened a tearoom with interior design by Catherine Deneuve. The CinÈma du PanthÈon continues to screen new, often obscure international films and hosts meet-the-director nights and discussions.
Read more
Before becoming a cinema, Le Reflet Médicis was a quality theatre, where giants like Gérard Phillippe and Maria Casarès made their débuts. But despite its promising billings, the Théâtre des Noctambules, as was, became the Reflet in 1964, with three screens on a narrow dark street ideal for watching classic cinema. Apart from world cinema screenings in the original languages, the Reflet also organises debates and meetings with film crews, often from films on national release. Also worth looking out for are the retrospectives of great directors like Renoir, Cukor and Buñuel.
Read more
A militantly independent cinema, La Clef (The Key) (formerly Images d'Ailleurs) is a stone's throw from the Université Paris-III, and constantly educates its audience in politically and artistically engaged films that often don't go on general release. Debates, festivals and other events fill the two screens (120 and 65 seats), with the lion's share of the programme given over to documentary cinema (for example, a 2012 retrospective on the remarkable Chilean filmmaker Patricio Guzman).
Read more
Also...
If we had to keep only one cinema in Paris, it might well be Studio 28. Perched high up in Montmartre, this mythical venue has seen a parade of living legends and great classics of cinema pass through its darkened rooms. It opened in 1928 with Abel Gance's avant-garde masterpiece 'Napoléon', and since then hasn't stopped offering the public the best feature films of every era.
Read more
Opened in 1932, this huge art deco cinema was designed by Auguste Bluysen and its fantasy Hispanic interiors by US designer John Eberson. With its wedding-cake exterior, fairy-tale interior and the largest auditorium in Europe (2,650 seats), this listed historical monument is one of the few cinemas to upstage whatever it screens.
Read more
Three theatres, three cinemas, a restaurant and a bar make up this versatile cultural centre. Theatre-wise, Molière and other classic playwrights get a good thrashing, but so do up-and-coming authors.
Read more
Relocated to Frank Gehry's striking, spacious cubist building, the Cinémathèque Française now boasts four screens, a bookshop, a restaurant, exhibition space and the superb Musée du Cinéma. In the spirit of its founder Henri Langlois, the Cinémathèque hosts retrospectives, cult movies, classics, experimental cinema and Q&A sessions.
Book now
Read more
Worth the trip to its far-flung location in the suburb of Noisy-le-Sec, Le Trianon (not to be confused with the ritzy concert venue in Rochechouart) is that rare thing: a cinema that puts on a passionately curated programme of arthouse and world films, and lets you watch them for pittance (€6 for a full-price ticket, down to as little as €3.50 for special screenings).
Read more
This single-screen, 1930s-era cinema has changed little since its 1960s heyday (tickets are still, delightfully, of the tear-off variety), when its all-American programming fostered the label 'mac-mahonisme' among the buffs who haunted the place. Americana still makes up the bulk of what's on the screen.
Read more
Partly a screening venue for old and little-known movies, and partly an archive for every kind of film featuring Paris. Today the Forum's collection numbers over 6,500 documentaries, adverts, newsreels and films, from the work of the Lumière brothers to 21st-century reportage. They have all been painstakingly digitised.
Read more