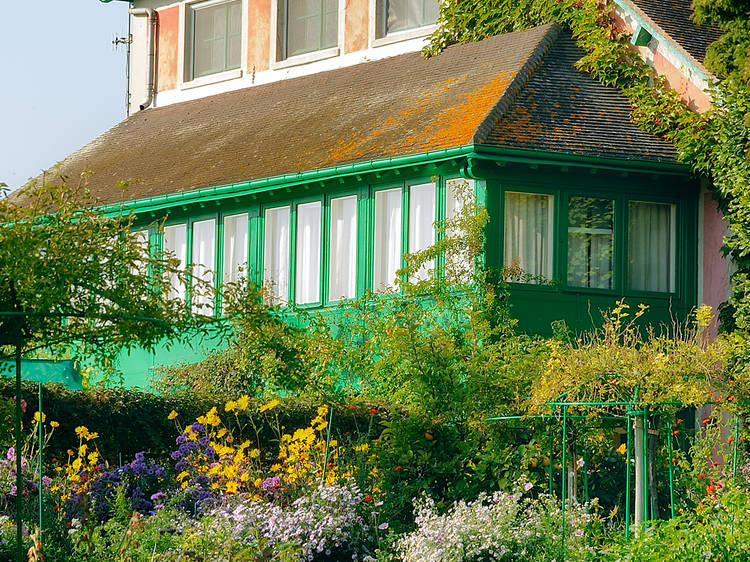 The Fondation Claude Monet (buy your ticket online to skip the queues) includes Monet's house and gardens, and is open from April 1 to November 1. Clever seasonal planting means the gardens are a delight to visit throughout the year, and even on the busiest days crowds detract little from their charm.
Crocuses and tulips herald the arrival of spring in April, before yellow irises, peonies and wisteria appear as the weather warms up; this is when the gardens are at their most romantic. In summer, roses, poppies and dahlias add splashes of pink, with the famous water lilies generally blooming in July and August. Even in the crisp autumn air you'll find abundant colour and life thanks to displays of nasturtiums, violas and pansies.
The gardens fall into two distinct areas. Close to the house is the informal yet classically laid-out Clos Normand, where flowerbeds are intersected by avenues lined with fruit trees and arches draped in climbing roses. Across the road, now accessed via a small tunnel, is the Japanese-inspired Water Garden, created by Monet ten years after his arrival in 1893. It was amid these shady bamboo-lined walkways and weeping willows that Monet liked to work outdoors, and where he painted the famous water lilies and Japanese bridge.
Most visitors conclude by touring Monet's house. It's notable in its use of colour, from the dusky pink exterior to yellow dining room and petit salon bleu, where Monet's collection of Japanese prints is displayed. Any of the artist's own works you see here are reproductions; Monet donated Les Nymphéas to the Musée de l'Orangerie as a symbol of peace to mark the Armistice in 1918.