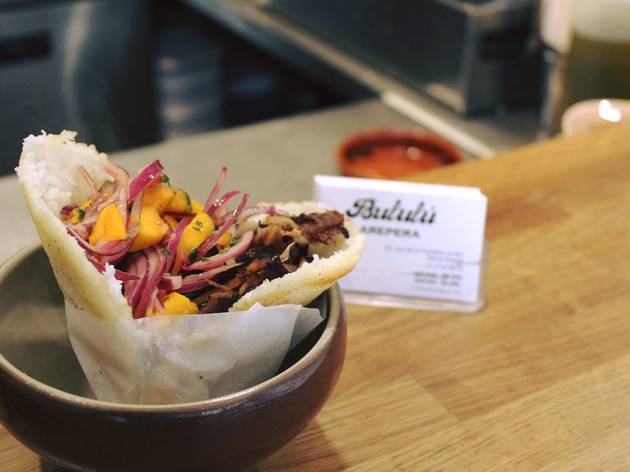 It's a bit of a scramble around Montmartre's stairways to get to this little Venezuelan restaurant, but it more than rewards the effort when the sun streams in through the big window, and chairs covered in flowered fabric cluster around wooden tables. A little kitchen takes up the rear bar area, while above it hangs a big blackboard scribbled with the arepas menu – traditional Venezuelan cornflour flatbreads, here filled like sandwiches.
The welcome is hugely warm, and staff enthusiastically explain the arepas concept and various fillings, putting you immediately at ease. Arepas are between €6 and €8 – stuffed with things like duck, mango, mint, red onion and Peruvian chili, or chicken and avocado, or black beans, beef and Venezuelan cheese. The dozen or so fillings are difficult to choose from, served in huge portions with chips (potato, sweet potato or plantain) and fresh guacamole. Wash it all down with some passion fruit juice and feel like you've just had a refreshing shot of Venezuelan sunshine.
Venue name:
Bululù Arepera
Contact:
Address:
20 rue de la Fontaine du But
Paris
75018

Opening hours:
Wed-Fri 12noon-2.30pm, 7.30pm-11pm; Sat-Sun 12noon-11pm
Transport:
Métro : Lamarck-Caulaincourt
Average User Rating
2.5 / 5
Rating Breakdown
5 star:

0

4 star:

1

3 star:

0

2 star:

0

1 star:

1
I have been in Paris for one year and I can say that in terms of price, food quality, and service, this has been the worst restaurant I've eaten at in all three categories. Or should I say, tried to have eaten at… considering there was so much water in the bottom of my brunch plate that I had to return the food.
We arrive, and the restaurant is full. It's small, made up of a tiny open kitchen and four large tables. No worries, we are told the wait would be 15 minutes, and offered a drink. "Sure, I'll have this cocktail," "Sorry, we don't have that." "Okay, I'll take your beer brune." "Sorry, we don't have that, either."
Okay so just give me anything. I get a Pilsner, fine. We wait outside for about 25 minutes, but it's fine because the beer is cold and the sun is shining. Once we're seated, we're given the arepas menu and a limited brunch menu. After deciding on our order, we relay it to the waiter who then tells us arepas are not available, and we must order one of the egg plates from the brunch menu. At this point, I would like to point out that the arepas are 7 euros, while the brunch menus are 17 euros. They consist of only black beans, eggs, and avocado. You can add sausage or shredded beef only.
So basically I'm paying 17 euros for eggs, something I could have made in my home an hour ago. As we're waiting for our food to be made, I notice that the people next to us are served large baskets of arepas, the sandwiches we were told could not be ordered. Forty five minutes later, we are given our food. During this forty five minutes it should be noted that no new customers came in, and the women behind the counter literally could not have been working slower.
Our plates our put down on the table, and are half the size of the plates the people on our other side have. What was served to me was a 17 euro plate, about 15 centimeters (6.5 inches) in diameter, of maybe two gray, dried out eggs. About an eighth of the plate was black beans, and three small slices of overripe, slimy avocado. As for the meat, if the plate was a clock, the meat took up 'one hour.' it was maybe four small bites of meat. Much of the plate was empty. The largest portion of anything on my very small plate I waited–at this point–over an hour for, was all of the water at the bottom. That's right, my entire plate was filled with water at the bottom.
I called the waiter over and returned the food, something I've never done before in my life. My boyfriend couldn't have looked more disappointed eating his, and I commend him for not making a fuss about it like I did. The waiter took the food back and asked if I wanted something else. Here's the kicker, there isn't anything else on the menu. Do I want to wait another 45 minutes for the exact same thing? No, thanks. My boyfriend finishes his small plate of food in two seconds flat and we go to leave, where we are charged over 30 euros for the beer, the plate, and two beverages we didn't order. After correcting him, we spend 22 euros on a beer and the worst excuse for a plate of eggs and beans I've ever seen. And just to add a kicker on the way out, as we're walking out the door someone else is served a big basket of arepas. Clueless and incompetent service, horrible food cooked at a snails pace, and prices that are laughably outrageous. Do yourself a favor and never, ever come here.