This isn't the type of place you'd come for lunch every day (menus start at €70), but if you want to splash out, this one of the most beautiful hotels in Paris. Completely renovated in 2010 by Philippe Starck, the old palace at the end of Avenue Hoch was left to fall into ruin in 1928 but has come back to life grandiose, crystalline and colourful, equipped with an art bookshop, concept store from l'Eclaireur and a breathtaking restaurant. 'La Cuisine' is full of low tables and deep sofas and bordered by private alcoves where you can often find a half-luxury arty, half-business 2.0 crowd tucked away.

All dishes are highly accomplished; based on traditional French cuisine, they're revisiited with flar and international influence. Ideas from Dubai to Singapore find their way in, along with Italian, Asian and New York-inspired fare along the way. The desserts are by Pierre Hermé, tiny sugary gems of which our favourite is the freshly-made millefeuille.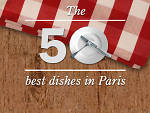 This restaurant serves one of Time Out's 50 best dishes in Paris. Click here to see the full list.