Marché de Noël sur le Parvis de la Défense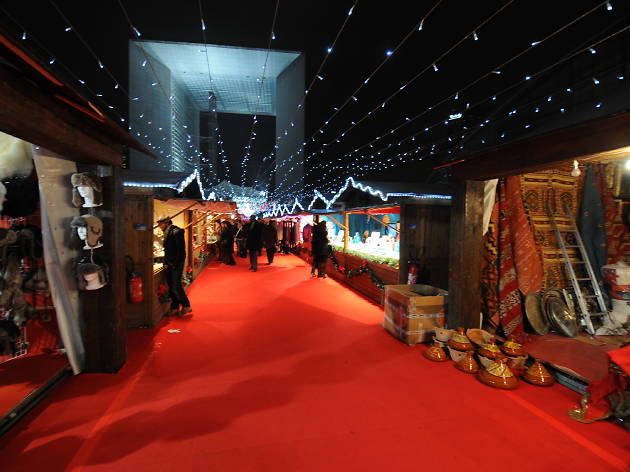 Offering presents, decorations and mulled wine galore, this 12,000-square-metre Christmas market ticks all the festive boxes.
A bit of a festive production line, what Christmas at La Défense lacks in charm, it makes up for in quantity and variety of choice. Spread over 12,000 square metres, the 350 stands that make up the 21st edition of this Christmas mega-market offer a little bit of everything: arts and crafts, local food produce, mulled wine, games, wreaths, with visiting artisans and craftspeople from across France and even as far as Morocco, Tunisia, Kenya, Iran, China and Nepal. It's just the place to fill your bags with African statuettes, original fashion accessories, Corsican sausages or raclette cheese to the sounds of traditional Peruvian flute music (from 12pm-2pm and 5pm-6pm every weekday – and all day on weekends). The famous illuminated arch gives this huge Christmas market an added spectacular charm, while a one-off 'retro gaming village' will wow children and adults alike with an impressive range of playable vintage consoles. Younger ones can also give their Christmas list to a jolly Santa Claus and get their photo taken with him while he hands out sweets: he'll be there in the afternoons, from 12pm-5pm on Wednesdays, 12pm-3pm on Thursdays and Fridays, and 12pm-7pm on Saturdays and Sundays, right up to Christmas Eve.