Adel Abdessemed, 'Je suis innocent'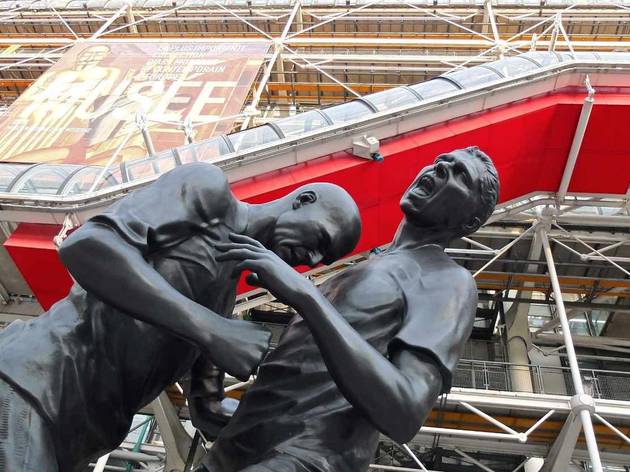 1/9
Vue de l'installation sur le parvis / © TB - Time Out
2/9
Vue de l'installation sur le parvis / © TB - Time Out
3/9
'Décor', 2011-2012 / Collection François Pinault © Adel Abdessemed, ADAGP Paris, 2012 / Courtesy de l'artiste et de David Zwirner, New York/Londres
4/9
Vue de l'installation dans le hall / © TB - Time Out
5/9
Vue de l'installation dans le hall / © TB - Time Out
6/9
Collection François Pinault © Adel Abdessemed, ADAGP Paris, 2012 / Courtesy de l'artiste et de David Zwirner, New York/Londres
7/9
'Lise', 2011 / Collection François Pinault © Adel Abdessemed, ADAGP Paris, 2012 / Courtesy de l'artiste et de David Zwirner, New York/Londres
8/9
'Practice Zero Tolerance', 2006 / Collection François Pinault © Adel Abdessemed, ADAGP Paris, 2012 / Courtesy de l'artiste et de David Zwirner, New York/Londres
9/9
'Usine', 2008 / Collection François Pinault © Adel Abdessemed, ADAGP Paris, 2012 / Courtesy de l'artiste et de David Zwirner, New York/Londres
Don't be surprised, this autumn, if the south wing of the Centre Pompidou looks like it's been hit by some kind of post-Chernobyl tsunami organised by zombies with Tourettes. With artist Adel Abdessemed, this is actually pretty normal. Installations, performances, sculptures, drawings, videos… anything goes in his quest to point to sources of pain.

Populated with burning helicopters, monstrous skeletons, the carcases of burned-out cars and wire crucifixes, the work of Abdessemed is witness to the waves of destruction that shake our contemporary existence and, at the same time, the violence of Western history. Dreams and nightmares are violently flung together among the artist's barbed wire and apocalyptic icons, the better to smack you round the jaw with. More than just an interpretation of the chaos that governs our world, Abdessemed's work seizes this turmoil and turns it into his own form of expression. And behind their sensationalist punk airs, his powerful, explosive images are as much about the history of art as they are about creating a shocking spectacle, taking habits from great masters (Grünewald, Masaccio and Goya) and making them relevant for today. This exhibition at the Pompidou brings together all the extravagance of Abdessemed, and it shakes the foundations.

Opening hours: Every day except Tuesday, 11am-9pm.