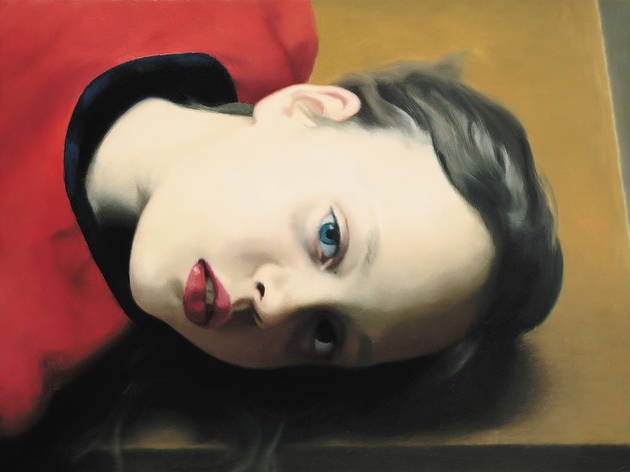 There's something for everyone in this expansive and life-affirming survey of Gerhard Richter's enduring painterly creativity in the face of modernity's extreme pressures. Beginning in the 1960s, Richter translated newspaper photographs - of a man squished by a falling rock or of strafing World War II bombers releasing their payload - into a bleary, unsentimental past tense of paint. A table is erased by his angry brushstrokes, while the 'Chair in Profile' (1965) looks like Van Gogh's stool, had it been charged with murder and photographed side-on for a police mug shot. He painted great slabs of grey because he didn't know what else to paint, or because he couldn't face the images of concentration camps, or because he wanted to bury them forever. With all this mortality and misery in the air, maybe painting too was experiencing its final death throes?
Richter didn't so much resuscitate painting as submit it to prolonged interrogation - pulling it up by its lapels and demanding it take stock of itself. He was no less forgiving of himself or his family, painting his Nazi-sympathizing father and 'Uncle Rudi' (in full uniform) in the same year as his 'Aunt Marianne' (1965), who was sterilised and euthanised for being schizophrenic. Why should we not also scrutinise ourselves a bit more, asks Richter's strange mirrored and glazed sculptures, which blur and distort pictures and viewers alike. The sense of meanings shifting, swelling and dropping away like waves is just as disorienting as the jumps between Richter's abstract colour charts and his romantic landscapes. His pure, DayGlo abstracts are twenty-first century Jackson Pollocks, but he also makes beautiful portraits. Go figure.
Time, as well as style, is on the move in this show. The gap of nearly five years between finding an image of September 11 in 2001 and painting it in 2005 reveals how important the looking and thinking portions of Richter's practice are and how any image is, in the end, but a poor cousin of memory. Nothing we see can be trusted or fully understood, he is suggesting, so we might as well revel in the oceans of anxiety that are his non-figurative squeegeed paintings of the past 20 years - pictures that resolutely resist easy readings. Each successive layer of gesture and scraped-back paint is overlaid with the next swipe of his blurring, wiping tool (although each of these in-between moments is often subject of a photograph, lost to posterity). These too, then, are history paintings, with hidden depths that lurk like geological substrata beneath the surfaces. Richter's panoramic and pan-historical approach to artistic investigation and the human experience makes him truly an artist for our age, and the next.