Tim Burton - The exhibition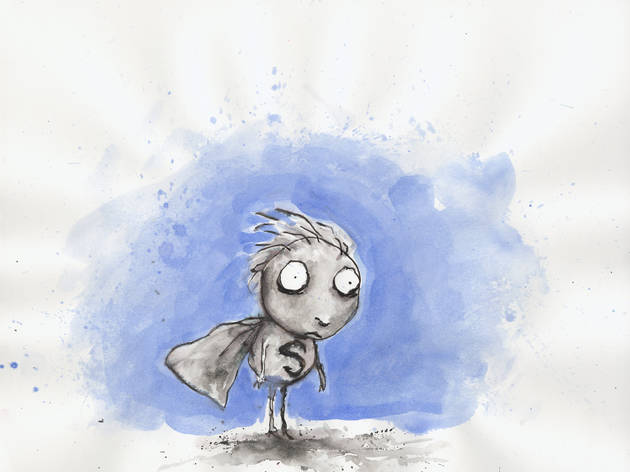 1/8
Tim Burton, 'The Melancholy Death of Oyster Boy and Other Stories' / Collection privée © 2011 Tim Burton
2/8
Tim Burton, 'Fille bleue avec vin', 1997 / Collection privée © 2011 Tim Burton
3/8
Tim Burton, 'Sans titre (Vincent)', 1982 / Collection privée © 2011 Tim Burton
4/8
Tim Burton, 'Sans titre (Edward aux mains d'argent)', 1990 / Collection privée © 2011 Tim Burton
5/8
Tim Burton, 'Sans titre (Sally)', 1993 / Collection privée © 2011 Tim Burton
6/8
Réalisé par Tim Burton (1988) / © Warner Bros
Beetlejuice (1988) aka Beetle Juice Directed by Tim Burton Shown (center): Michael Keaton (as Beetlejuice)
7/8
Réalisé par Tim Burton (1999) / © Paramount Pictures
Sleepy Hollow (1999) Directed by Tim Burton Shown: Johnny Depp
8/8
Tim Burton, 'Sans titre (Fille bleue avec crâne)', 1992–99 / Collection privée © 2011 Tim Burton
Who hasn't gazed into Large Marge's smug face or worried that Edward Scissorhands might just have someone's eye out? Tim Burton is without doubt one of the most omnipresent and well-loved film directors of the last thirty years. So to pay homage to his work in 2012, the Cinémathèque has nabbed MoMA's Tim Burton exhibition, which was shown in New York in 2009. Expect 700 works, including drawings, polaroids and storyboards, that retrace Burton's career from pale Californian teenager to drawer for Disney and neo-gothic fantasy Hollywood filmmaker. This is a complete retrospective of his work so far and a chance to see the director himself, who will be attending several conferences. Just make sure you book early: Tickets will undoubtedly sell faster than Sweeny Todd can cut a throat for Mrs Lovett's pies.
Growing up in a middle-class Californian suburb (not dissimilar to the one that Burton would later portray in Edward Scissorhands), the future director was like a fish out of water: Aged just three he used to drink in chilling scenes from films like James Whale's Frankenstein while his parents hid behind the sofa. Then during his time at high school and college, he found escapism through drawing freaks, robots and long-toothed monsters – creatures (inspired by German Expressionism and gothic aesthetics) that would gradually become the foundations for the 'Burtonian' universe we all know and love today.

This exhibition at the Cinémathèque is more than just a simple retrospective: MoMa's curator's worked like detectives to find Burton's never-seen-before drawings, sketches and paintings (many hidden in boxes and draws in his home and even in his old school), to examine his creative process and understand how well-loved characters like Mister Jack, the Penguin and the headless horseman in Sleepy Hollow, went from being mere drawings, to some of cinema's most iconic characters.
You won't find any commentary on Burton's artistic capacities, just the opportunity to emerge yourself in his universe – even some of its obscure parts, like when Burton directed ads for Timex watches, or when he painted glow-in-the-dark velvet paintings. For die-hard fans, you can even see Ed Wood's angora jumper, Edward's real scissorhands and extracts of 'Frankenweenie', the 1984 short film, readapted for the silver screen (due out October 31st this year).
In short, it's a fascinating, sentimental journey into Burton's "imaginarium", and particularly exciting if you've never seen certain films at the cinema: The Cinémathèque will be accompanying the exhibition with a cycle of Burton's movies, like 'Beetlejuice' and 'Charlie and the Chocolate Factory', as well as 'B' movies, hand-picked by Burton himself, including the very same 'Frankenstein' that frightened Mr and Mrs Burton so many years ago.
For the whole programme click here
Rating Breakdown
5 star:

1

4 star:

0

3 star:

0

2 star:

0

1 star:

0