What is Nuit Blanche?
Time Out's introduction to twelve years of the groundbreaking all-night arts festival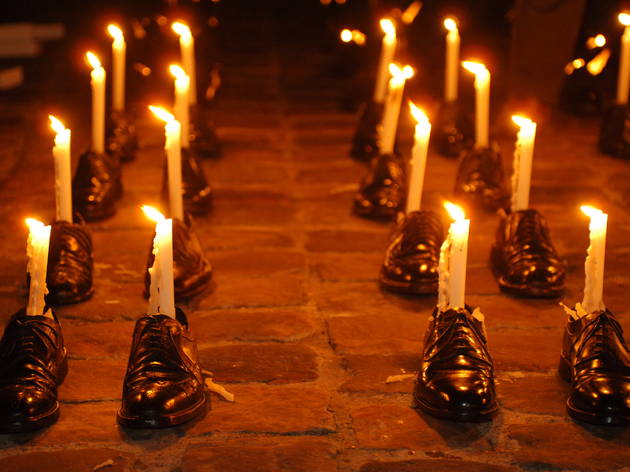 1/11
Click on the arrows above to see images from the previous 12 years of Nuit Blanche festivals. For more images, scroll down to view our extended slideshow.

Above 'Le Proverbe Turc' by Erik Dietman, courtyard of the Hôtel d'Albret, rue des Francs-Bourgeois (Nuit Blanche 2006)

Photo credit Marion Jardin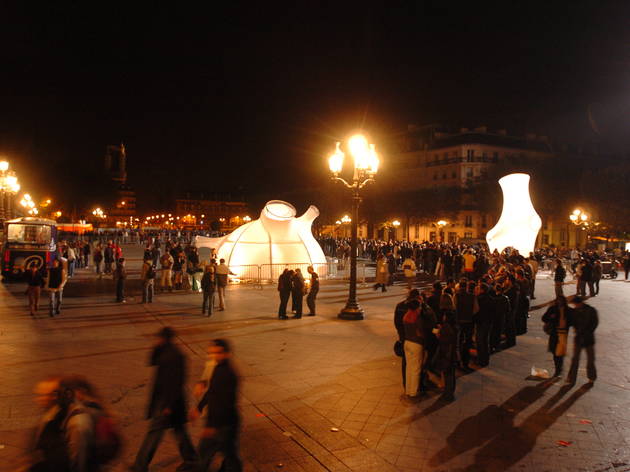 2/11
The Mairie de Paris started a global trend when they launched the first Nuit Blanche in Paris – today, the festival has blossomed in places as far-flung as Tel Aviv and Brighton. 20,000 visitors flocked to the first edition in 2002, directed by Jean Blaise. The night aimed to be both popular and cutting edge, putting art at the centre of public experience for one long night. It worked.

Above The crowds gather for Nuit Blanche

Photo credit Sophie Robichon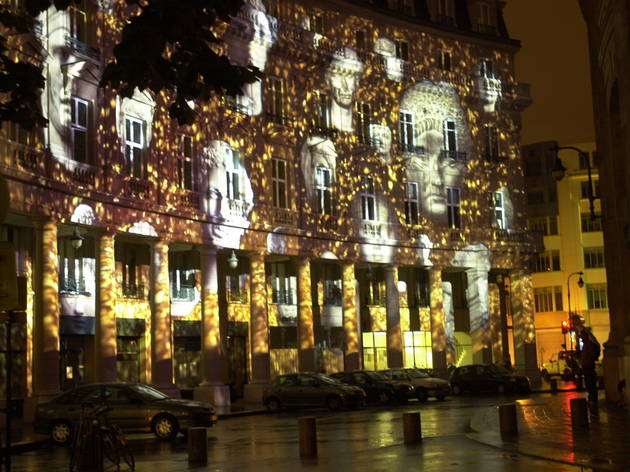 3/11
Directors Ami Barak, Pierre Bonigiovanni, Robert Fleck, Camille Morineau, Suzanne Pagé and Gérard Paquet invite cultural institutions and galleries to join forces with Nuit Blanche, and over 100 events result.

Above Photographic projection at the Bourse du Commerce, by Keiichi Tahara and Miguel Chevalier (Nuit Blanche 2003)

Photo credit Sophie Robichon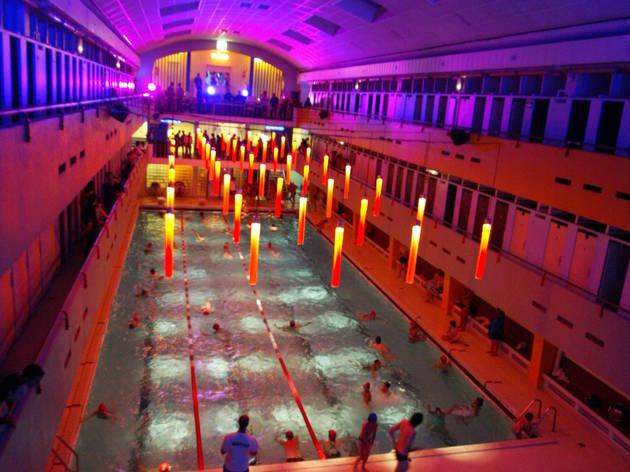 4/11
Music becomes part of the festival this year, when artistic directors Ami Barak and Hou Hanru are joined by contemporary French composer Nicolas Frize and make soundscapes an important part of the audience's interaction with their city.

Above Dirty Sound System's 'Metropoolis (swinging pool)' at Château Landon (Nuit Blanche 2004)

Photo credit Gérard Sanz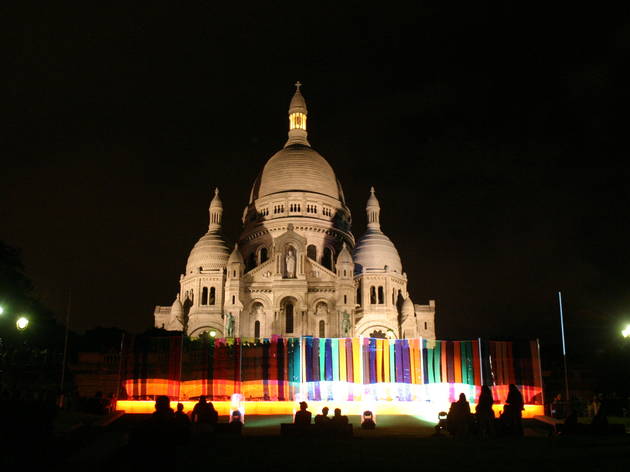 5/11
Jean Blaise returns and creates five themed trails around different regions of the city; he also clocks the huge potential of Nuit Blanche for all-night partying, and ropes in around 30 bars to officially stay open all night.

Above The Sacré Coeur decked out for Nuit Blanche

Photo credit Henri Garat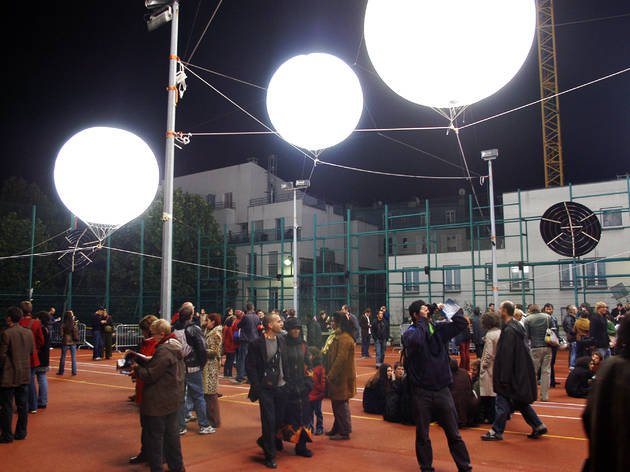 6/11
For the fifth anniversary of the festival, directors Nicholas Bourriaud and Jérôme Sans extend festivities beyond the ring road for the first time.

Above Laurent Grasso's 'Du Soleil Dans la Nuit' (Nuit Blanche 2006)

Photo credit Alexis Lancien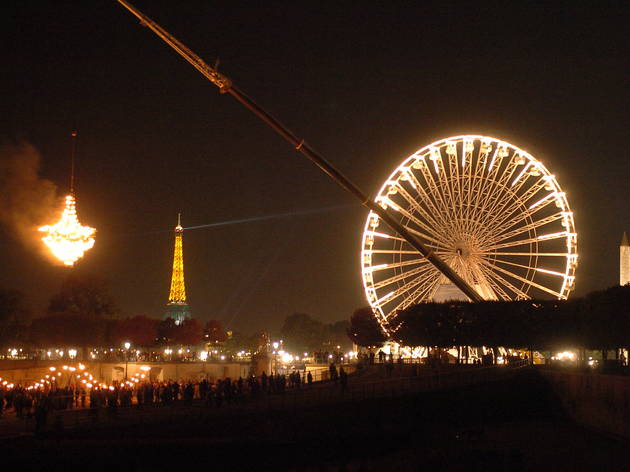 7/11
Jérôme Delomas, now director of the Gaîté Lyrique, opens up Nuit Blanche to more live shows and performing arts, joined by Jean-Marie Songy, Director of the International Street Theatre Festival in Aurillac. Increasingly, the festival is a well-rounded celebration of culture.

Above Artistic collective Carabosse set the Seine aglow with light shows and flames (Nuit Blanche 2007)

Photo credit Alexis Lancien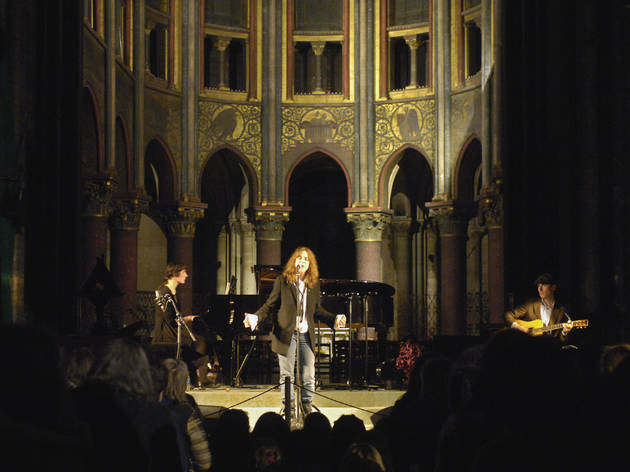 8/11
Hervé Chandès, General Director of the Cartier Foundation, and Roland Chammah, a film distributor and restorer, put cinema in the festival's spotlight with a cinematic trail through on Paris's great train stations.

Above Patti Smith performs with Jesse and Jackson at the Église Saint-Germain-des-Prés (Nuit Blanche 2008)

Photo credit Marc Verhille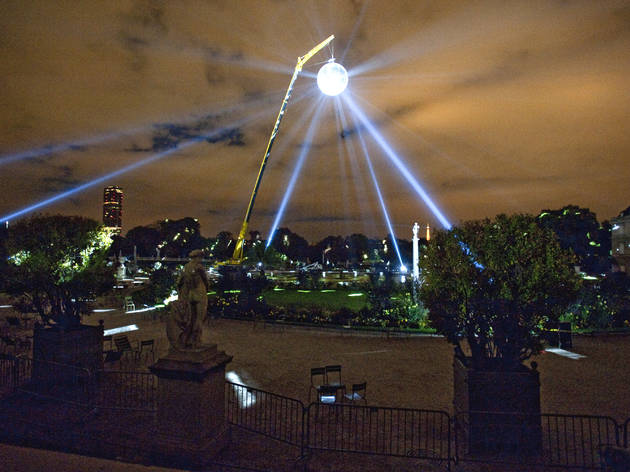 9/11
A team from cutting edge exhibition space MAC/VAL, Head Curator Alexia Fabre and Temporary Exhibitions Manager Frank Lamy place the 8th edition in huge parks Buttes Chaumont and Jardin de Luxembourg, as well as the Latin quarter.

Above Michel de Broin's installation 'La Maitresse de la Tour Eiffel' in the Jardin du Luxembourg (Nuit Blanche 2009)

Photo credit Marc Verhille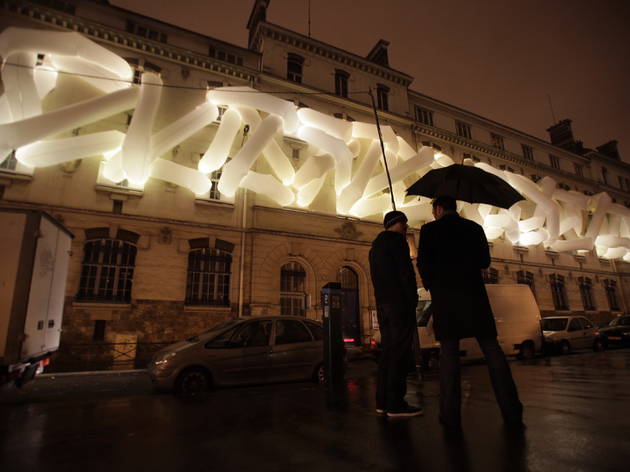 10/11
Martin Bethenod, who today directs the FIAC festival, takes Nuit Blanche to the Belleville region and Western Paris, from the Alma to the Trocadéro and the islands.

Above Lang/Baumann's huge fan-inflated tubes contort themselves on the façade of a primary school in Belleville (Nuit Blanche 2010)

Photo credit Anne Thomes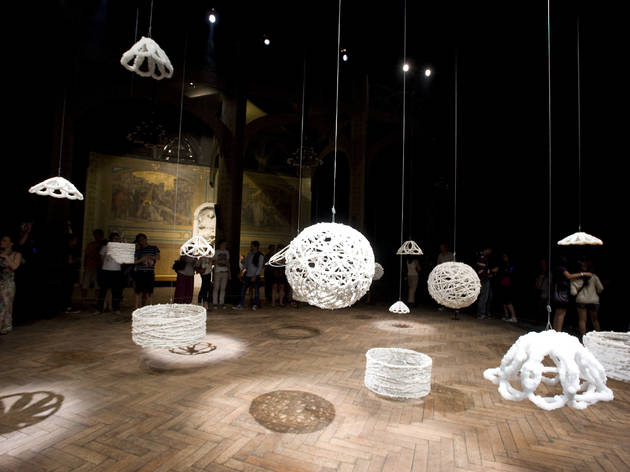 11/11
Mac/Val directors Alexia Fabre and Frank Lamy return after their 2009 debut to focus on the Paris of the Impressionists, the Romantics and the Modernists.

Above Sigalit Landau's installation 'Barbed Salt Lamps' at the Église Saint-Jean de Montmartre (Nuit Blanche 2011)

Photo credit Sophie Robichon
Bertrand Delanoë, Mayor of Paris since 2001 and one of the first openly gay politicians in France, is well known for enlivening the city with a series of imaginative innovations. His municipal bike scheme Vélib' has spawned imitators worldwide, and he also brought the Seine in summer back to life when he founded the Paris Plages scheme in 2002. On the artistic scene, his inauguration of Nuit Blanche, a festival of arts and culture that stretches from 7pm to 7am on the first Saturday of every October, has also found favour worldwide. In the 12 years of its history, the concept has extended to 10 other locations in Europe and seven elsewhere in the world, from Buenos Aires to Kyoto.

Nuit Blanche's spirit has always been about showing Paris off in new and original ways, surprising even its intimates with novel ways of presenting and interacting with well-known locations all over the city. It even changes directors and locations every year. It's become the unmissable event of the autumn calendar, attracting around 80,000 spectators and turning landmarks as diverse as the Eiffel Tower and the Institut du Monde Arabe into shocking, humorous, beautiful or bizarre spectacles from artists, musicians and performers ranging from Michel Blazy to Patti Smith. It's a huge, joyous occasion that brings all sorts of Parisians together and that is an absolutely unique opportunity to get to know the city through the lenses of fantastic talents from around the world.

The slideshow below offers an extended selection of images from the festival's 12-year history.