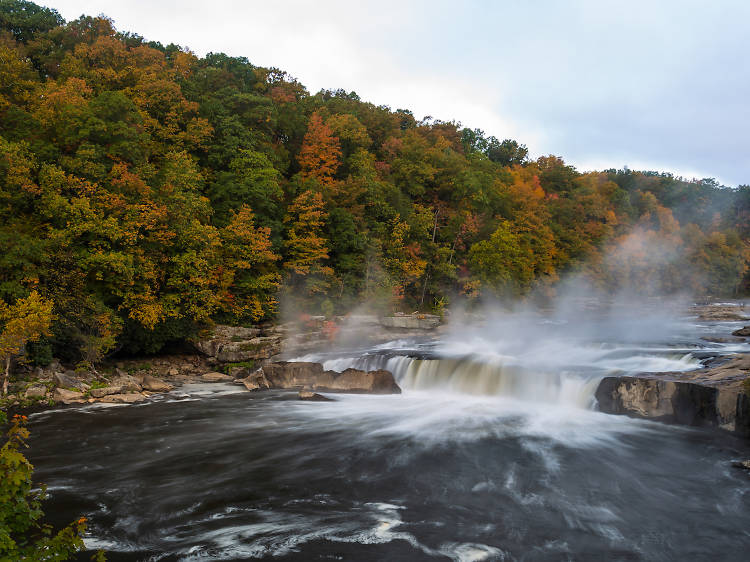 Photograph: Shutterstock
Admit it—short of, say, a bathroom break on the way to Pittsburgh, you haven't spent much time in the wilds of western Pennsylvania. This is a mistake. A picturesque region on the edge of the Appalachian Mountains, Laurel Highlands is a prime fall destination, thanks to hundreds of miles of trails throughout eight state parks and two state forests. Take it all in at Mount Davis in Forbes State Forest, the highest point in the state, at 3,213ft.
Stay
Some people like exploring. Others prefer to check in, order a drink and let their vacation come to them. If you're in the latter camp, Nemacolin Woodlands Resort has your name all over it. Situated on 2,000 wooded acres, this sprawling complex features a variety of accommodations plus a spa, golfing, five-star dining, a casino, horseback trail rides and a Wildlife Academy for kids complete with lions, tigers and bears. (Seriously—you're not in Kansas anymore, Philly.)
Drink
Not all trails are created equally. The Southwest Passage Wine Trail winds through Laurel Highlands with eight stops, including Christian W. Klay Winery. Located on a mountaintop farm, the family-run vineyard boasts 15 scenic acres perched high above the surrounding countryside. We'll drink to that.
Eat
Frank Lloyd Wright was a fan of Laurel Highlands; he built his iconic Fallingwater house on the Bear Run stream. Nearby, Polymath Park is home to the famed architect's Duncan House—which is available to rent if you're looking for a more private getaway—as well as Tree Tops. Tucked into the forest canopy, this Wright-inspired restaurant leans toward traditional steakhouse fare, but keeps vegans and gluten phobes in mind as well. Reserve a table on the deck, but be warned—it'll put Philly's sidewalk dining scene to shame.