Buddy V's brings the family table to Sands Bethlehem
TLC's Cake Boss brings the flavors of southern Italy and his family kitchen to one of the Northeast's most exciting entertainment destinations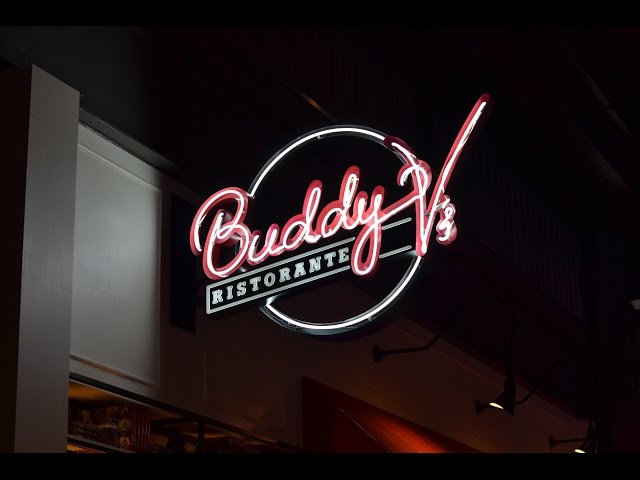 Ever see Cake Boss star Buddy Valastro on TV and thought—man, I'd love to be part of a family dinner at Buddy's house? Now you practically can!
Buddy V's is the latest restaurant addition to Sands Bethlehem, and feels—and tastes—like stepping into a bustling Sunday dinner at Valastro's grandmother's house. It was designed to create the feel of those family gatherings, and to echo the look of Hoboken's Lackawanna train station. And that feeling carries through to the food.
"When the menu planning was in production they cooked right in Buddy's home, tested all of these recipes and that is how the menu derived from them," says Victor Bock, who as the executive chef of Sands Bethlehem oversees menus at restaurants like Buddy V's, Emeril's Chop House and Emeril's Fish House.
Guests at the new restaurant can sit down to a parade of pizza from a mammoth wood-fire oven as well as pasta dishes named from Valastro family members (dishes like My Dad's Bucatini Carbonara). "This is a generational restaurant," says Bock. "All the recipes come from families, aunts and uncles.
And like any good Italian Sunday dinner, you will want to stay for dessert—bring on the zeppole and the cannoli. "The menu here revolves around comfort food, family food," says Bock. "That is Buddy's background and what he really wants to show."
Gambling problem? Call 1-800-GAMBLER.
Check out two memorable Sands Bethlehem weekends
Hit the road with the social influencers as they head to the Sands for a weekend of rest, relaxation and revelry
Read more