2nd Saturday Street Art Tours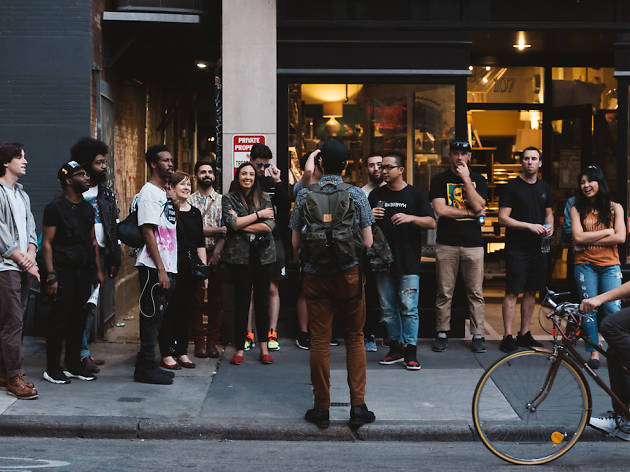 Time Out says
Conrad Benner, the local graffiti expert and photographer behind the wildly popular local street-art blog StreetsDept.com, will spend one Saturday a month this summer and fall leading folks on thoughtfully curated walking tours to highlight some of the city's best and most obscure examples of street art. Called 2nd Saturday Street Art Tours, the two-hour explorations focus on a particular neighborhood each month and include strolls through Kensington, South Philly, West Philly, Fishtown, Spring Arts-Callowhill and Center City.
Benner maps out his excursions to include in murals and public art, but even he doesn't know what the final route will be until days or even hours before a tour starts.
"I'll zigzag through [the neighborhood] to see if there's any new street art or graffiti before I build my final route," he says, ensuring that guests always get up-to-the-minute peeks at freshly placed works. "This is just another thing that I think helps separate my tours from others in the city: They're super ephemeral. Chances are, much of what you'll see won't be there three months, weeks or even days later."
Benner is certainly plugged in about what to look for when walking through, say, his native Fishtown, or almost any Philly neighborhood, thanks to the relationships he's developed with local street artists since launching his blog in 2011. He's gotten to know them like a food blogger knows a chef's technique or a theater critic who's tuned in to all the buzziest new shows.
"We have some of the most active and inspired artists that help make this city the art mecca that it is," he says. His tours often highlight pieces from some of our most prolific graffiti artists, such as Joe Boruchow, Amberella, Aviz, Ephemeroh, Sheldon Abba, Blur, Darkmeal, Bruno Guerreiro, YOMI and more.
With these connections in his back pocket, Benner is equipped to offer a few surprises on his tours, like last year when some walks included unannounced visits from artists and community arts leaders, such as NDA and members of HAHAxParadigm, a collaborative project that aims to create memorable art experiences.
Benner won't reveal what he has in store for this season, but whatever it is, it's sure to stick with you longer than a wheatpasted Robbie Conal poster on the side of an abandoned building.
RECOMMENDED: Conrad Benner suggests three Philly street artists you should follow on Instagram
Details
Users say