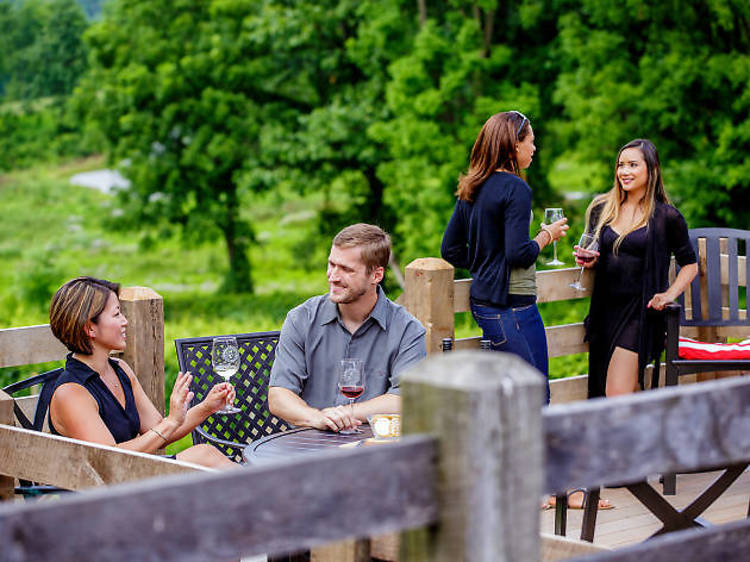 Photograph: Courtesy Visit Philly/J. Fusco
1.

Kennett Square, Pennsylvania
Located in Chester County, Pennsylvania, roughly 45 miles from Philadelphia, Kennett Square is a picture-perfect historic village surrounded by exquisite gardens and working farms. The drive takes about an hour and a half, but upon arrival visitors feel a world away from city life. State Street, the town's main drag, is a walkable strip populated with independently owned specialty shops and boutiques. Kennett Square is also known far and wide as the Mushroom Capital of the World, as the area produces 65 percent of all mushrooms consumed in the United States. The town celebrates its claim to fame at the annual Mushroom Festival every fall.
Eat
A gourmet food shop and casual café by day, Talula's Table takes on a new identity after closing each night. Dinner here means a sumptuous eight-course, farm-to-table meal that's one of the hardest-to-get reservations in the region. To satisfy a sweet tooth, Michoacana Ice Cream dishes out ice cream, water ice and popsicles in unexpected flavors like avocado, tamarind, corn and rice pudding.
Drink
Kennett Brewing Company serves up an artsy vibe alongside a wide variety of original beers, live music and a crowd-pleasing food menu. Don't worry, there are also housemade sodas and a kids' menu for the under-21 set. Paradocx Vineyards in nearby Landenberg operates a tasting room in the Market at Liberty Place, where drinkers can sample wine and cider by the glass or in bottles, Pennsylvania craft beer, and locally made chocolates and cheeses. Located just behind Longwood Gardens, the Galer Estate Vineyard and Winery (pictured) pours its award-winning varieties and features live music, art shows and educational workshops.
Do
One of the region's most popular attractions, Longwood Gardens delights visitors with eye-catching horticultural displays including a Mediterranean garden, an indoor children's garden, serene and colorful fountains and a tropical terrace reminiscent of a rainforest. The land, which was once owned by William Penn, is home to more than 11,000 different kinds of plants. For unique home goods, clothing, accessories and art, head to WorKS, a retail space featuring works by more than a dozen local artisans. Readers can easily get lost inside Macaluso Books, where shelves are stocked with everything from rare, out-of-print volumes to vintage almanacs and maps.
Stay
Located in Kennett Square Historic District, Bancroft Manor Bed & Breakfast is just a few blocks from a wide range of shops and restaurants. J. Bancroft Swain, founder of the area's mushroom farming industry, built the Queen Anne-style property in 1909.
If you do just one thing…
Stop into the Mushroom Cap on State Street for any and all things mushroom—from snacks to cookbooks to home décor.