Heads up! We're working hard to be accurate – but these are unusual times, so please always check before heading out.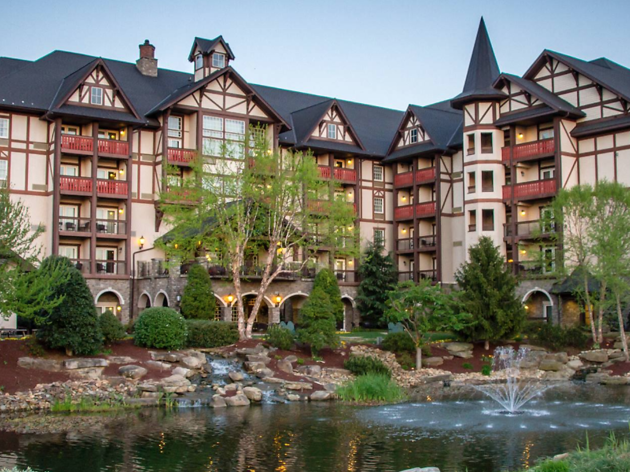 The 10 best hotels in Pigeon Forge
For chains, resorts and inns in this small Tennessee town, check out our list of the best hotels in Pigeon Forge
Nestled next to the Great Smoky Mountains, Pigeon Forge, Tennessee is a family-friendly getaway that is as unusual as its name. This tiny town (with a population of just over 5,000) welcomes more than 10 million visitors each year and offers plenty of visitor-friendly things to do, so you know it accommodates out-of-towners well.
Many of the visitors opt to camp in the nearby national park or to stay in a private cabin, and it used to be that those kinds of mountain accommodations usurped the traditional hotel. But in recent years the hoteliers (and local restaurants) have upped their game, and now there are more than a handful of decent places to stay, whether you're coming to town with a passel of kids ready to scream their way through Pigeon Forge's amusement parks or looking for a more serene wilderness experience. None of the properties are true luxury hotels; Pigeon Forge's charm is in its everyman appeal, and that includes the hotels. Here we've ranked our 10 best to have you resting your head in the mountains in no time.
Best hotels in Pigeon Forge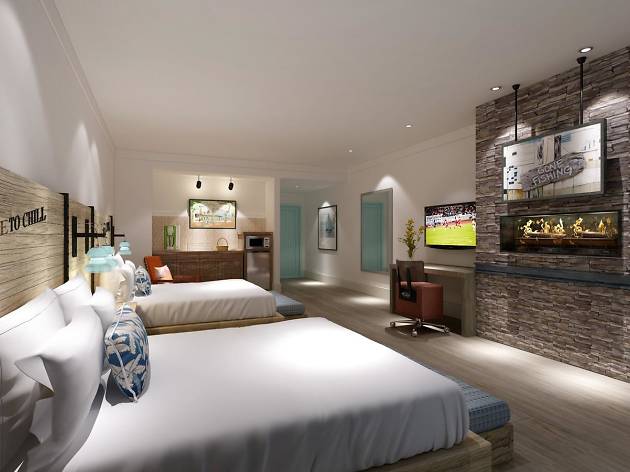 Photograph: Courtesy Booking.com
1. Margaritaville Island Hotel at Pigeon Forge
Who knows better how to sit back, relax, and take a vacation than Jimmy Buffett? Turns out he knows how to do this even when not at the beach. This hotel is located in the Island entertainment district, which has its own Ferris wheel, but the decor and vibe of the hotel is restrained and modern. Book a spa treatment or request rose pedals to be strewn across your bed before a romantic night in.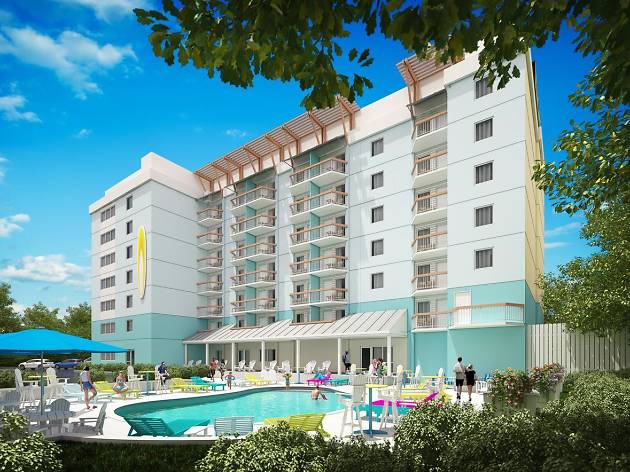 Photograph: Courtesy Booking.com
2. Margaritaville Island Inn at Pigeon Forge
This high-rise, on the Island entertainment district, has a laidback vibe befitting a place named after a song about taking it easy. Balconies look out over all the activity, or you can take a dip in one of several pools on site, or hang out at the outdoor fire pit. Decor is beach themed, but not kitschy or over-the-top.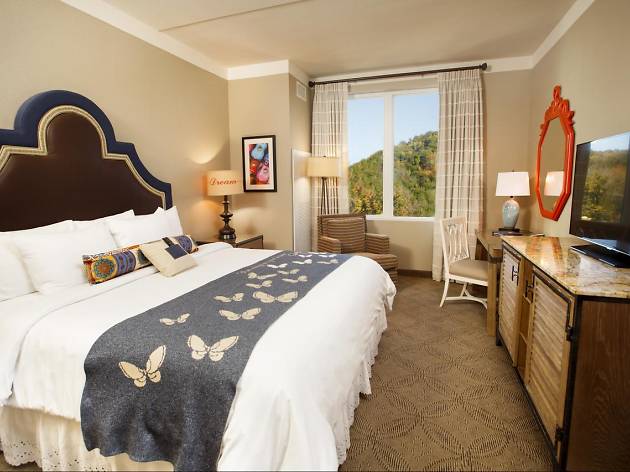 Photograph: Courtesy Booking.com
3. Dollywood DreamMore Resort
A traditional, upscale hotel resort connected to an amusement park and water park? Only Dolly Parton could pull that off. This hotel has incredible views of the Smoky Mountains, a spa, indoor and outdoor pools (with a waterfall), and Dolly's signature butterflies as decor throughout. Hang out and make s'mores over an open fire pit or take advantage of packages that will get you into the theme park with passes to bypass long lines.
Photograph: Courtesy Booking.com
4. Wilderness at the Smokies Resort
Want the look and feel of that remote cabin in the woods but all the comforts of home at a value price? This is the place, a large property catering to families and church groups who appreciate the expansive views of and access to the adjacent waterparks. Rooms are expansive too, with mountain-themed decor, stone fireplaces, flat-screen TVs, in-room refrigerators, and even bunk beds in some rooms to accommodate kids. Unlike some similar facilities in town, there's a bar in the waterpark, so you can sip a beer while the kids play. Villas can accommodate larger groups.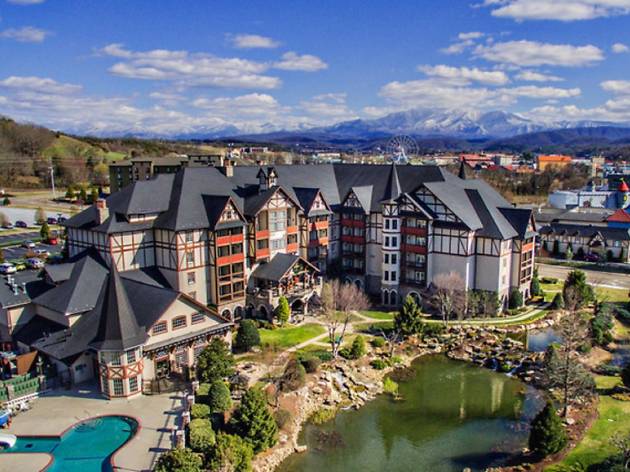 Photograph: Courtesy Booking.com
5. The Inn at Christmas Place
As its name suggests, it is Christmas 365 days a year at this hotel. That might seem weird in other cities, but it is just the kind of quirk that flies in Pigeon Forge. Rooms, which are standard hotels rooms with flat-screen TVs and mini-fridges, are decorated for the holidays all year. Santa and Mrs Claus make appearances while families play in the water park and in the swimming pool. Of course there are cookies at bedtime; wouldn't be Christmas without them.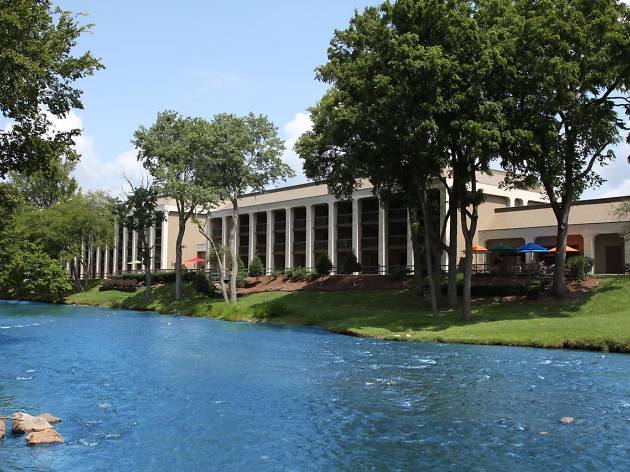 Photograph: Courtesy Booking.com
Situated in between the main Parkway road and the Little Pigeon River, this budget hotel is a good option for families who want the best of both parts of Pigeon Forge. They can enjoy the scenery that the river affords, but be in the thick of the commercial district within a matter of blocks. Breakfast is included (with large portions) and there's also a laundry room, which is convenient if you're spending your days hiking in the park. At the end of the day, grab some free popcorn in the lobby.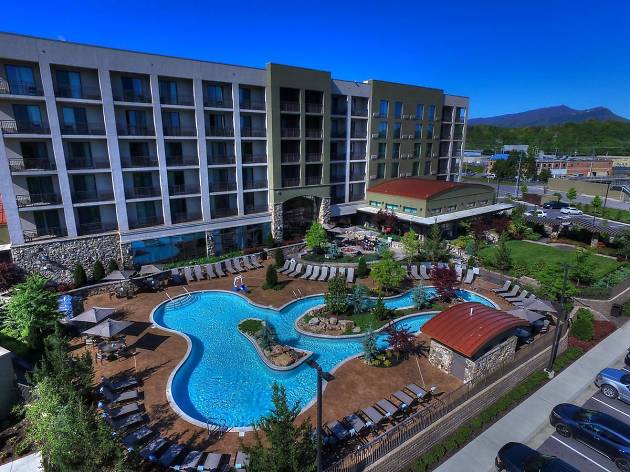 Photograph: Courtesy Booking.com
7. Courtyard Marriott Pigeon Forge
At first blush a Courtyard Marriott may not sound like anything special, other than a reliable chain hotel. But not every Courtyard Marriott has a lazy river connected to its awesome outdoor pool. Also outside is a fire pit and a hot tub, and if the weather doesn't cooperate, opt for the indoor pool and the gym with views of the pool. A 24-hour bistro with Starbucks plus a bar means all your needs should be met.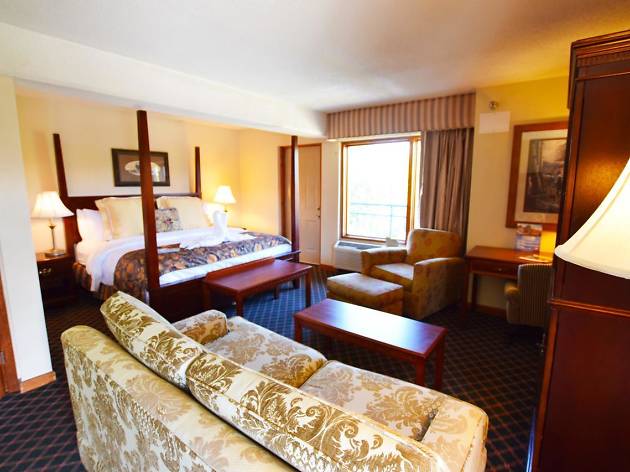 Photograph: Courtesy Booking.com
8. Arbors at Island Landing
This five-story hotel has a bit of a B&B aesthetic, with four-poster beds and stone fireplaces. The family-friendly hotel has views of the Island entertainment district and Ferris wheel on one side and a large grassy meadow on the other. Some nights there are s'mores and sing-a-longs on the meadow. Pigeon Forge and nearby Gatlinburg are famous for their pancakes, which the Arbors plays nicely on; your stay includes breakfast at Reagan's Pancake House or you can grab free doughnuts in the lobby.
Photograph: Courtesy Booking.com
9. Spirit of the Smokies Condo Lodge
If you're traveling with a group on a budget, this hotel can't be beat, thanks to adjoining rooms that give you both privacy and the ability to connect to one another. Some rooms have private balconies and hot tubs, but even those that don't can take advantage of indoor and outdoor pools and water slides that are open until 1am. The hotel is popular with church groups and other looking for that Pigeon Forge fun, so this isn't the place to stay for a romantic getaway or a restful break.
Photograph: Courtesy Booking.com
Willow Brook is a family-friendly destination, popular with those traveling with kids who want to be able to walk to centralized attractions and feast on the free full breakfast. Rooms are clean suites with dining areas and extra-large bathrooms and pull out sofas, and service tends to be better than at some other budget-friendly properties. Other amenities include self-serve laundry and a pool with a water slide and a waterfall. It's within walking distance of the Leconte Convention Center.
Ready to plan the rest of your trip?
Pigeon Forge is all about family-friendly fun; think amusement parks, theme hotels, corny dinner theater restaurants, arcades and the like. For the most part, if you're looking for subtle, this ain't your vacation destination. It's about neon, airbrush and shrieks and screams. Of course, you're just a few minutes to the entrance to the National Park, where solitude, beautiful scenery and bears await.
Family-friendly Pigeon Forge is known for quantity when it comes to dining, offering lots of all-you-can-eat buffets and family-style meals. But that doesn't mean quality can't be found.