Heads up! We're working hard to be accurate – but these are unusual times, so please always check before heading out.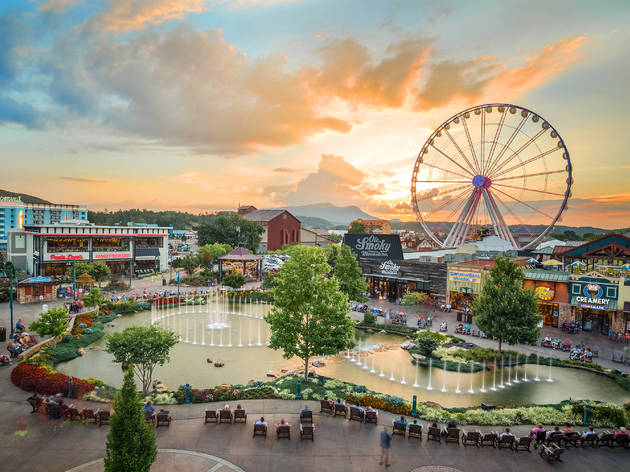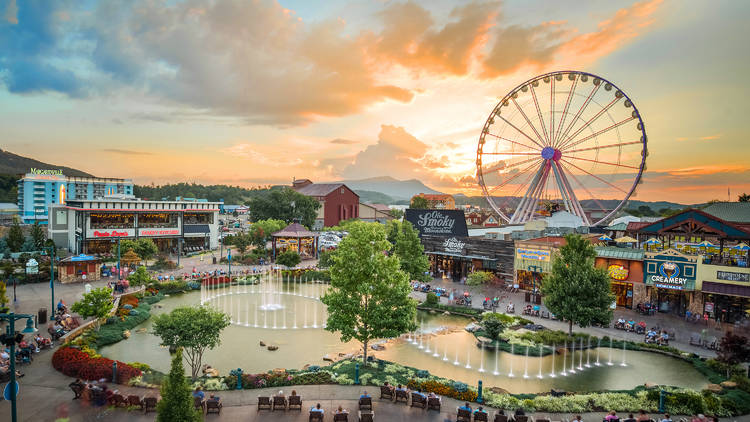 The 21 best things to do in Pigeon Forge
The best things to do in Pigeon Forge include Dolly Parton-approved theme parks, local crafts and lots of dinner theater
Pigeon Forge lives up to its quirky name; it's a destination like no other. Part Branson, part Las Vegas, part Orlando, it is a strip of manufactured tourist attractions in a location surrounded by unparalleled natural beauty.
The town, which has a population of less than 6,000, welcomes nearly 10 million people annually, due to its proximity to the Great Smoky Mountains National Park. The focus is on family-friendly fun; think amusement parks, theme hotels, corny dinner theater restaurants, arcades and the like. For the most part, if you're looking for subtle, this ain't your vacation destination. Pigeon Forge is about neon, airbrush and shrieks and screams. Of course, you're just a few minutes to the entrance to the National Park, where solitude, beautiful scenery and bears await.
Best things to do in Pigeon Forge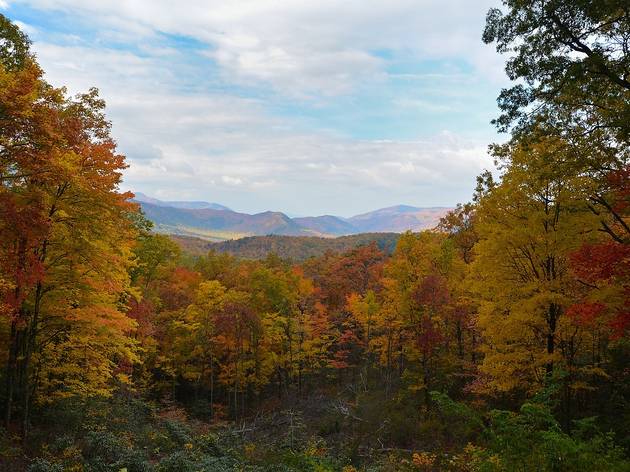 1. Great Smoky Mountain National Park
Pigeon Forge wouldn't exist as a tourist destination if it were not for The Great Smoky Mountain National Park. So, take advantage of its easy accessibility (it is one the few national parks where visiting by car is commonplace). There is no shortage of great hikes, but the 2.3 miles to Alum Cave Bluffs is particularly worthwhile. When you get to the vantage point, you'll see great views (you'll understand the term "Blue Ridge" in a new way) from beneath a protected bluff.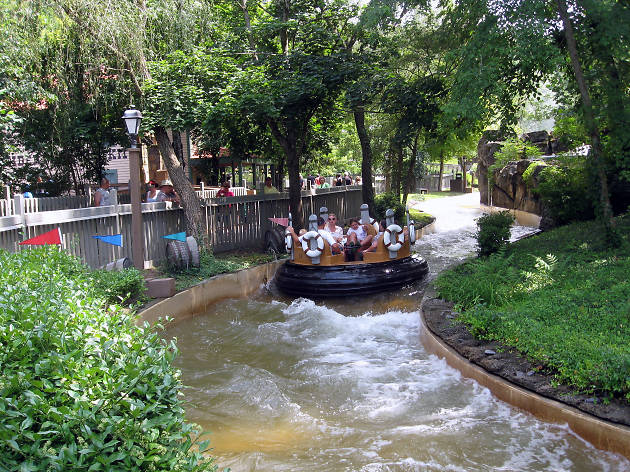 Photograph: Courtesy CC/Flickr/Jared
Owned and operated by Sevier County native and entertainment legend Dolly Parton, the Dollywood theme park combines excellent amusement park rides with country-music and mountain-living kitsch. The park's wooden roller coaster, the Thunderhead, is classic fun. If you don't like those kinds of thrills, the Calico Falls Schoolhouse, bald eagle sanctuary and the Southern Gospel Music Hall of Fame offer tamer entertainment.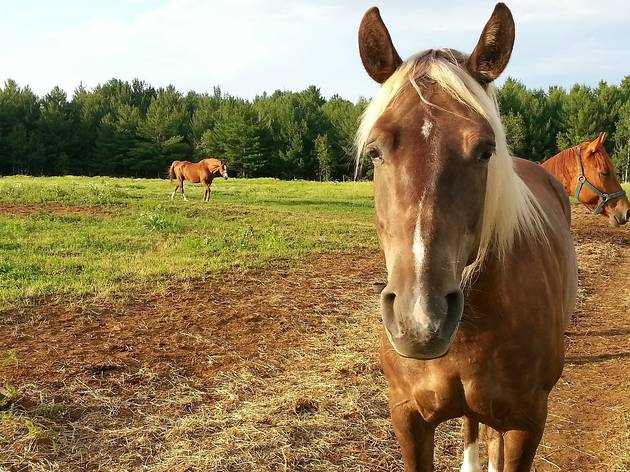 There's arguably no better way to see Great Smoky Mountain National Park than on horseback. There are several outfitters that will help you see these magnificent mountains from atop a horse, guiding you through more than 500 acres of trails.
Photograph: Courtesy CC/Flickr/Steve Harwood
4. Dollywood's Splash Country
Thanks to the mountain elevation, this region of Tennessee doesn't get as unholy hot as, say, Memphis in the summer. But it's still the perfect temperature to welcome being cooled off by a giant water slide. Dolly delivers with a super-duper water park boasting 23 different rides and slides.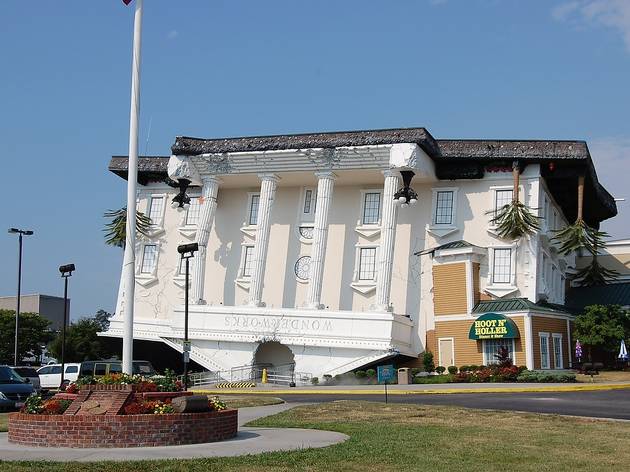 Even if you weren't to stop here, it'd be impossible to not to notice what looks like an upside-down-building as you drive down the Parkway. The illusion is cosmetic, but it sets the stage for the over-the-top kid-friendly activities inside. WonderWorks includes a disaster zone where you can feel what it would be like to experience a major earthquake or hurricane.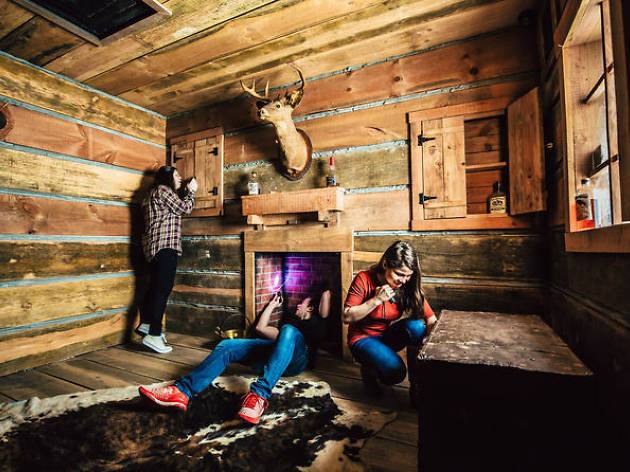 Photograph: Courtesy The Escape Game
The local outpost of the national chain, this one-room game locks you and your friends and family in a room together. That may sound like a nightmare, but working together to solve the themed riddle and get out of the room can actually feel like a dream. Think of it like an interactive game of Clue. There are plenty of similar concepts out there, but these are among the best executed.
Sure, you could come here and just shop for souvenirs and snacks. You can ride the roller coast or eat fudge and ice cream (what else would you eat on vacation?). Or you can head to the Goats on the Roof and help the goats graze from up high. If you are more of a voyeur, you can watch from the air-conditioned second floor.
Photograph: Courtesy Yelp/Suzanne A.
Go underground at Forbidden Caverns. While the casual observer may think of music or whiskey first, in truth Tennessee is known for its caves: It has more than any other state. Take a walk through these well-lit caverns, complete with lighting, handrails and nature's own air conditioning.
Photograph: Courtesy Yelp/Shaun W.
Forging metal is a historic pastime and vocation in this area (where do you think the name Pigeon Forge comes from)? At Iron Mountain Metal Craft, they're working at keeping the craft alive. Sign up for a class or just stop by to see the process in action and buy some quality souvenirs to take home.
The Wax museum is another attraction you can't miss when you drive by: There's a giant King Kong replica hanging from the building's exterior. Inside you'll see wax creations of celebrities, both real and imagined (from Elvis to zombies). Your Insta followers will appreciate the props that allow you to take selfies with the figures. The museum is pure camp, but it's campy fun.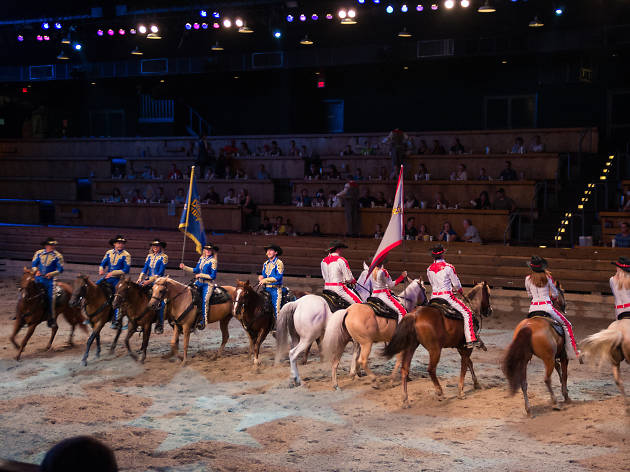 Photograph: Courtesy CC/Flickr/Vyn Raskopf
Stomp your feet at Dolly Parton's Stampede. Until recently called the Dixie Stampede, this is the quintessential Pigeon Forge attraction: campy, dinner theater "comedy." It isn't for everyone and it isn't something you'd attend every day, but when in Rome… At this show guests are seated around a circular arena where actors and animals put on a rodeo-inspired dinner performance while enjoying a four-course barbecue meal.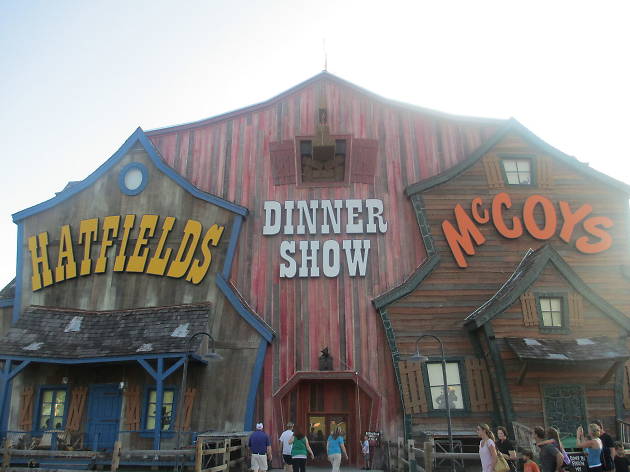 Photograph: Courtesy CC/Wikimedia Commons/Billy Hathorn
12. Hatfield & McCoy Dinner Show
Another one of Pigeon Forge's signature dinner theater comedy shows, this one features elbow-to-the-ribs gags about two feuding families. The family-friendly performance offers stunts and singin' and dancin' in costumes with fake guns. In December, there's a Christmas-themed option. Classic Southern dinner is included (fried chicken and mashed potatoes, etc.), but there are vegetarian and gluten-free options, too.
Photograph: Courtesy Yelp/Joy Y.
13. Great Smoky Mountain Wheel
The Great Smoky Mountain Wheel, smack in the center of the Island entertainment district, allows for great views of the mountain wonderland all around. You'll take the ride inside a glass gondola, so if you happen to be in town on a chilly mountain night, the weather won't slow your roll.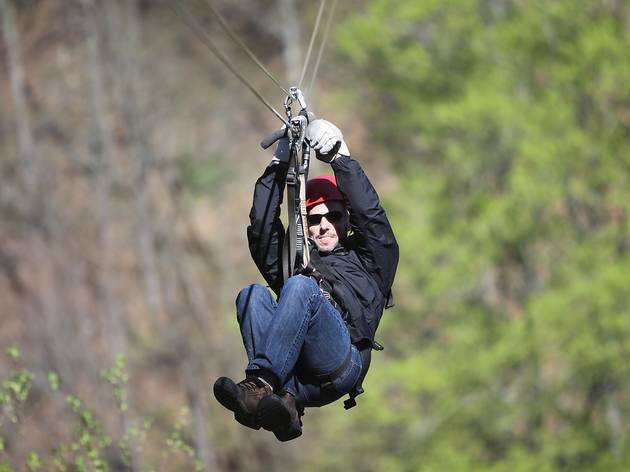 Zip down the mountain at Anakeesta. Technically in Gatlinburg, this mountain amusement area takes advantage of the scenery (unlike some of the Parkway options that are strictly indoors). Race your friends in a dual zip-line ride or climb in the tree canopy walk. Your adventure starts with a scenic 12-minute ride from Downtown Gatlinburg to the summit of Anakeesta mountain on the Chondola's quad chairlift.
Photograph: Courtesy Yelp/Lee T.
When you play around at Anakeesta, you'll already be atop the mountain. Stay put and explore Firefly Village, shopping a whimsical mountain-top, treehouse-themed village that features local craftspeople selling their wares. Kids can mine for gems and everyone can take in 36-degree views.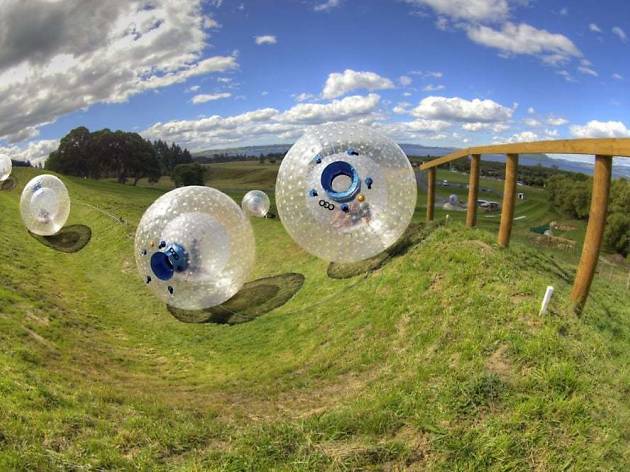 Photograph: Courtesy Outdoor Gravity Park Pigeon Forge
16. Outdoor Gravity Park Pigeon Forge
What's zorbing, you ask? It's an activity where you insert yourself in a big, plastic, hamster wheel-type ball and roll down a 1,000-foot hill. You can do it dry or wet, in which case you land with a splash in water. Go it alone or roll along with up to two other people.
Photograph: Courtesy Yelp/Arrowmont School of Arts and Crafts
17. Arrowmont School of Arts and Crafts
Since 1912, this Gatlinburg getaway is where artists have gone to make crafts in the Appalachian tradition. It couldn't be more opposite from the hubbub of the Pigeon Forge Parkway, with its games and attractions and mass-market souvenirs (not that there's anything wrong with that… all things in moderation). Even if you're not up for taking a class, come to Arrowmont to shop and admire the artistry.
Photograph: Courtesy Yelp/Flyaway Indoor Skydiving
18. Flyaway Indoor Skydiving
Curious about skydiving but not the sort to jump out of a perfectly good airplane? Body flying at Flyaway is the next best thing: an indoor jump in a vertical wind tunnel. You'll get about 20 minutes of instruction, plus the use of a suit, helmet and other safety gear, and about three minutes of flying time inside the tunnel.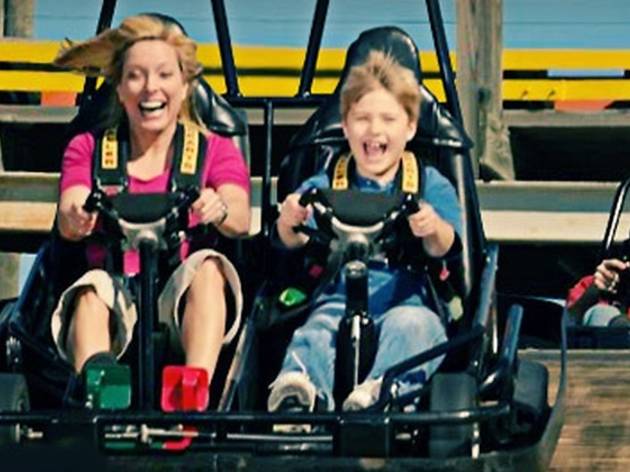 If you think go-karts are just a kiddie-size alternative for those who want to stick close to the ground floor, Pigeon Forge will have you thinking again. The Track's go-kart option has three levels, with ups, downs and even a jump at the end. There's also an arcade, the chance to jump from a 65-foot platform (attached by a harness and elastic bungee cord) and bumper cars.
Photograph: Courtesy Yelp/Michael S.
Win at Big Top Arcade. If a classic game of skee-ball or Whack-a-mole gets your endorphins going, this is the place to play. Located right off the Parkway, you can compete against yourself or your friends and family at all the classics. It's perfect for when the weather won't let you explore the nearby mountains, but be forewarned, this is a place for people who like the squealing laughter of kids.
Photograph: Courtesy Yelp/David O.
21. Salt and Pepper Shaker Museum
Where else can you see 20,000 different sets of salt and pepper shakers in one place? Nowhere. At least, that's what the owners of the Salt and Pepper Shaker Museum promise, touting their collection as the largest in the world. The charming mountain-style building shows off everything from the charming and the nostalgic to the politically incorrect.
More of the best in Pigeon Forge
Family-friendly Pigeon Forge is known for quantity when it comes to dining, offering lots of all-you-can-eat buffets and family-style meals.
There are more than a handful of decent places to stay in Pigeon Forge, whether you're coming to town with a passel of kids ready to scream their way through Pigeon Forge's amusement parks or looking for a more serene wilderness experience.