Heads up! We're working hard to be accurate – but these are unusual times, so please always check before heading out.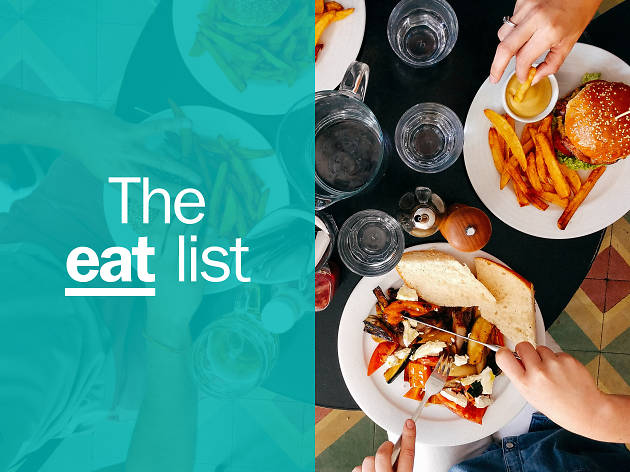 The 13 best restaurants in Pigeon Forge
When in Pigeon Forge, expect larger-than-life portions, southern fried everything and soul-satisfying comfort food
Family-friendly Pigeon Forge is known for quantity when it comes to dining, offering lots of all-you-can-eat buffets and family-style meals. But that doesn't mean quality can't be found. Eateries dot both sides of the Parkway (US 441), the main road that leads to the Great Smoky Mountain National Park, nestled between neon-signed attractions and quirky things to do.
Pigeon Forge is right outside the entrance to the national park; nearby Gatlinburg and Sevierville are essentially all connected to Pigeon Forge and close enough that a few of their restaurants are included in this best list, too. Few, if any, restaurants in the area have a dress code, so plan to mosey up straight from your hotel (or nearby water park) and feast away in delicious, casual, vacation style.
Best restaurants in Pigeon Forge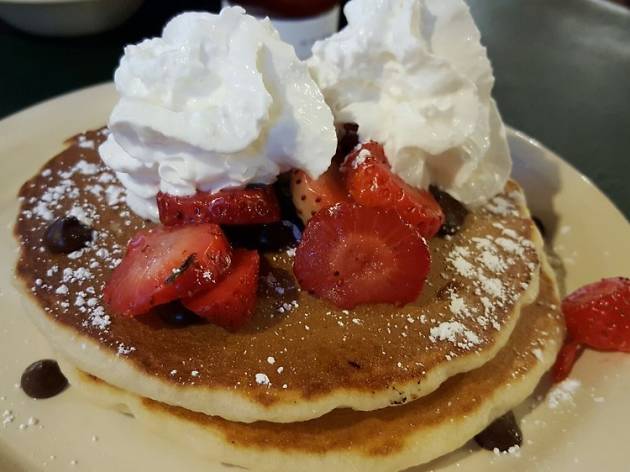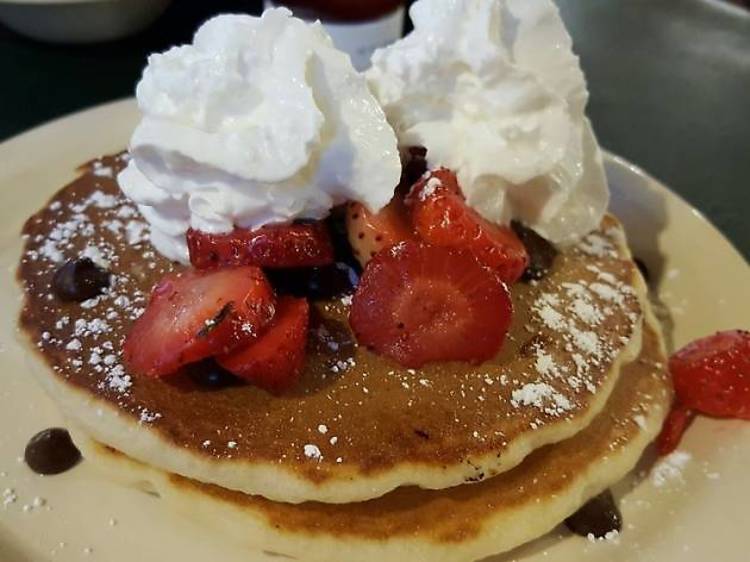 Photograph: Courtesy Yelp/Heather J.
1. Flapjack's Pancake Cabin
If there's one cuisine for which the Pigeon Forge/Gatlinburg area is famous, it's pancakes. The breakfast staple, often made as big as your head, is the way most visitors start their day. Flapjack's, which has several locations in the area, including one on the Parkway on Pigeon Forge, is popular because their pancakes are more than just plain batter; the Sticky Bun Pancake is a sweet treat just like it sounds, a pancake with cinnamon and icing.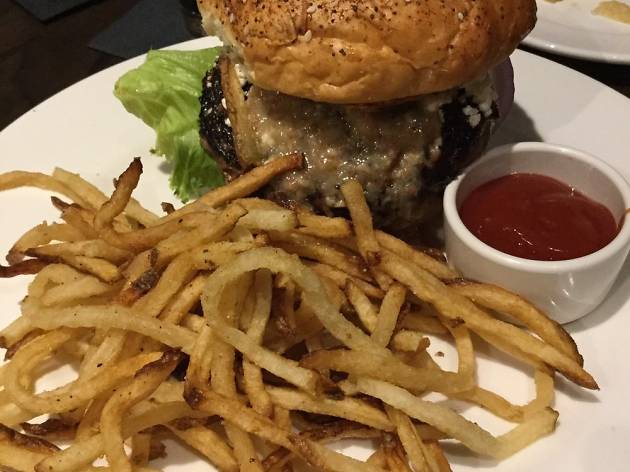 Photograph: Courtesy Yelp/Riley N.
At first glance it might look like Local Goat as a menu like other Pigeon Forge eateries: huge burgers and beer. But this is one of Pigeon Forge's only kitchens with an emphasis on the sustainable, using homemade and locally sourced ingredients. Look for local and craft beers, high-end cocktails, table service with cloth napkins (a rarity in these parts) and giant portions (that's the Pigeon Forge way). Try the deep-fried deviled eggs, a steak cut on site, or the black bean burger. Grits are offered as a side option as well as traditional fries or sweet potatoes.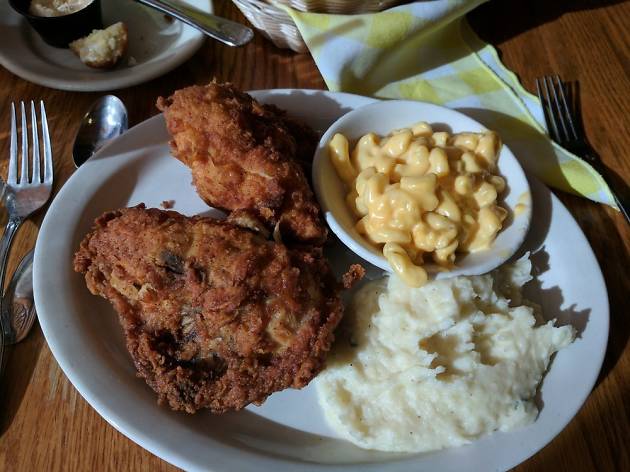 Photograph: Courtesy Yelp/Rachel R.
Located on the picturesque site of an 1800s grist mill (hence the name), this waterside cabin is a local favorite for Southern-style dining. The meals at the Old Mill are hearty—the dinner menu alone offers no fewer than five different Southern fried specialties: chicken, steak, pork chops, beef liver and country ham. And that's after your table has been gifted with muffins and sourwood honey. All lunch and dinner dishes are served with a corn chowder that's so popular that diners buy mixes to try to replicate it at home.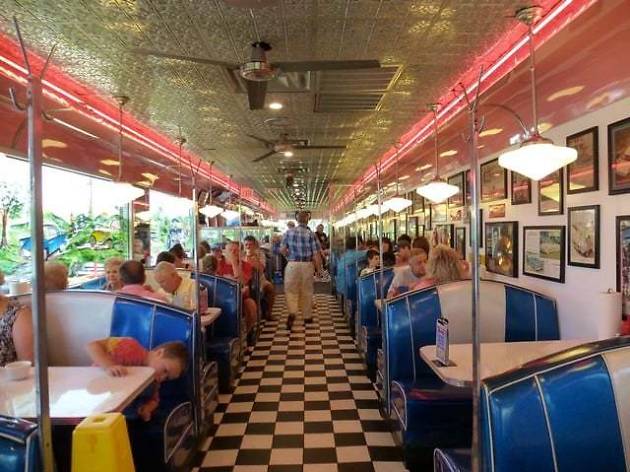 Photograph: Courtesy Yelp/Jay W.
With a classic design and name, Mel's Diner is working to give you that 1950s-era diner experience, complete with a checkerboard floor, upholstered booths and lots of neon. Dishes are named after characters on "Happy Days," but the items themselves are standards, such as country-fried steak, burgers, and, of course, milkshakes and banana splits. Mel's is open all day, and is one of the few restaurants in the area open 'til midnight, which is perfect if you get out of the national park late and need refuel.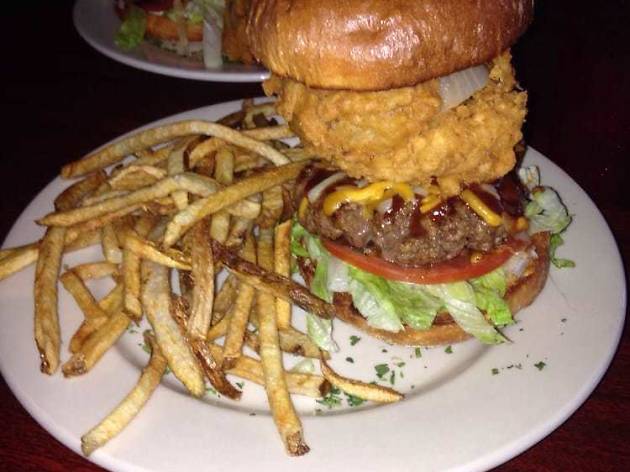 Photograph: Courtesy Yelp/Tom O.
For more than a decade this has been the place to get a beer in Sevierville. In fact, there are more than 75 beers from which to choose, along with burgers, pizza and fish and chips. In true Pigeon Forge fashion, Roaming Gnome portions are huge. Locals come here for live music, to watch games on the TVs (particularly the University of Tennessee football games), and because the kitchen is open until 2am (bar stays open 'til 3am).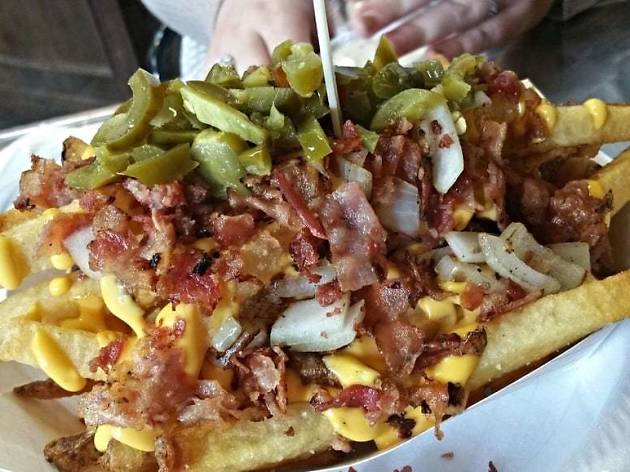 Photograph: Courtesy Yelp/Patty C.
A small counter-service spot on the resort area of Island on Pigeon Forge, Poynor's specializes in Belgian fries served in the iconic cone with a selection of dipping sauces that go beyond traditional ketchup. German brats and knackwurst sausages are available, too, but most people come for the fries followed by Spaghetti ice, an ice cream dish shaved and styled to look like spaghetti and meatballs.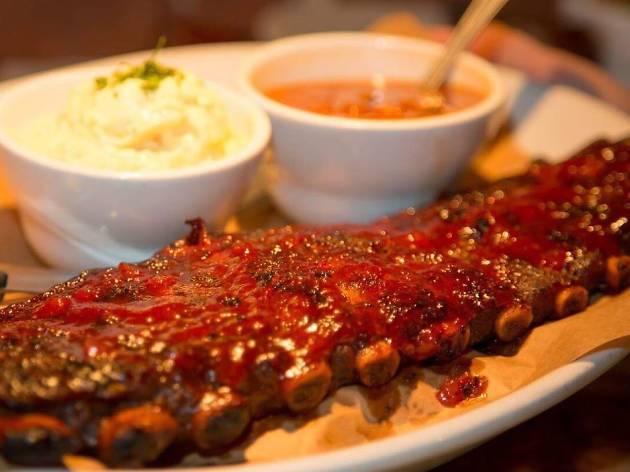 Photograph: Courtesy Yelp/T.M.
Designed to look like a 1930s warehouse, J.T. Hannah's draws on family history for its wood-paneled eatery. The menu is designed to leave you full. Think: Chicken Parmesan, spaghetti and meatballs or deep-fried catfish. If you want something a little lighter, the Smoky Mountain Trout is a local, good option. No one leaves without trying Mama Laura's Famous Strawberry Shortcake for dessert; dining in Pigeon Forge is not about calorie counting.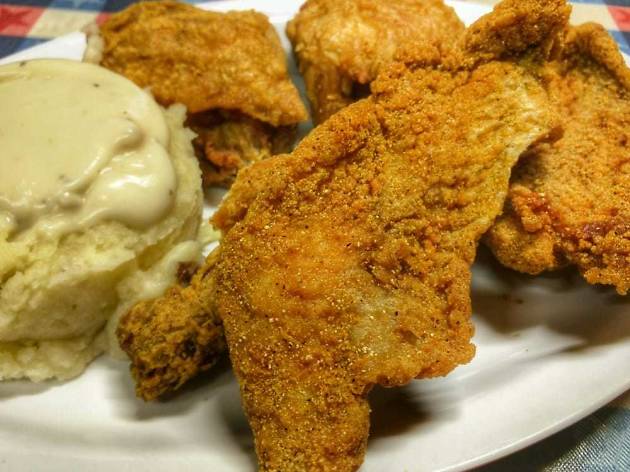 Photograph: Courtesy Yelp/Steve W.
This popular Parkway restaurant boasts that it serves 50 tons of boneless catfish fillets annually. That's a lot of fish, and that's because Huck Finn's is a favorite of visitors who want an all-you-can-eat experience. In addition to catfish, choose from fried chicken, pork loin, shrimp and other entrees, all served with heaping portions of fries, fried pickles and coleslaw. The décor consists of license plates covering the walls like wallpaper, empty barrels forming a hostess stand, and checked tablecloths waiting your feast.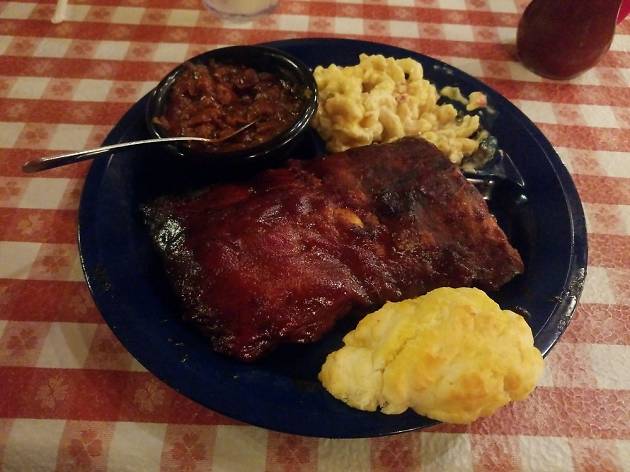 Photograph: Courtesy Yelp/Develance L.
9. Bennett's Pit Bar-B-Que
Grab some slow-cooked meats (pulled pork, beef brisket or chicken) and scarf down some protein after wearing yourself out on a hike in the Great Smoky Mountains. Bennett's uses hickory wood to flavor its meats, which cook for 14 hours, and you can opt to request the burnt ends if that's your thing. The vibe is backyard barbecue casual with checkered tablecloths. Cheese biscuits and baked potatoes filled with pulled pork are traditional sides with a little bit of a twist.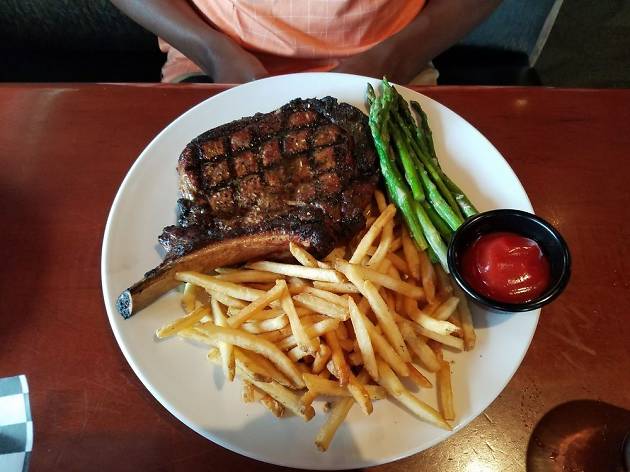 Photograph: Courtesy Yelp/Brandi M.
With a stone fireplace, upholstered booths and cozy mountain décor, Bullfish has a higher-end feel than many other restaurants on the Parkway. The menu has many of the standard American favorites for which Pigeon Forge is best known, but also some upscale touches, such as chargrilled oysters and pecan sweet potato casserole, or rice bowls and grilled fish for those who want something less heavy. The mason jar margarita is a good "I'm on vacation" drink.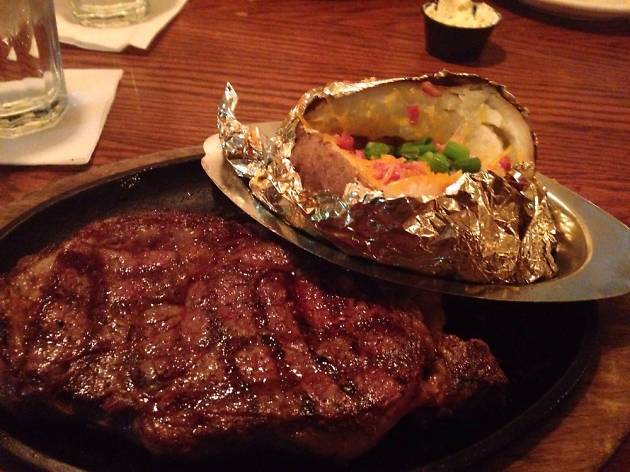 Photograph: Courtesy Yelp/Robbie G.
In a city that loves big portions of meat and potatoes, it makes sense that one of the must-eat restaurants is a classic Texas-style steakhouse. Alamo Steakhouse is the kind of joint where large hunks of meat are served a la carte on cast-iron plates. Bread is served with a signature honey butter, but you know the drill: don't fill up on the bread before the entrees arrive.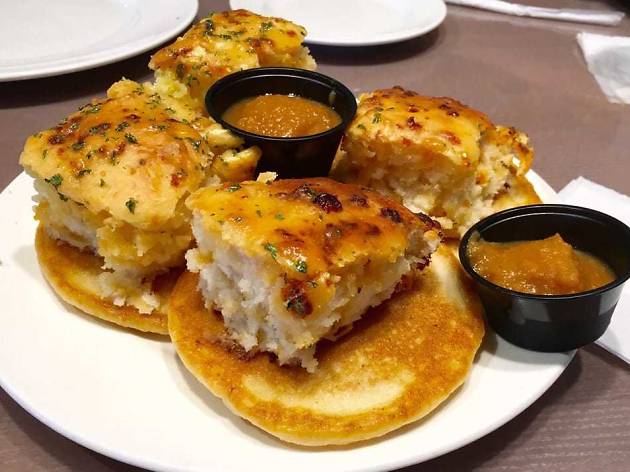 Photograph: Courtesy Yelp/Tami C.
12. Paula Deen's Family Kitchen
Given her politics, celebrity chef Paula Deen is not for everyone. But this chain restaurant with the TV star's name, on the Island on Pigeon Forge, is popular enough to merit inclusion on this list. It's all-you-can-eat, but not a buffet; you'll have a lovely sit-down meal with table service, while the platters of pot roast, pork chops, and fried chicken will keep coming. Note that the restaurant does not serve alcohol.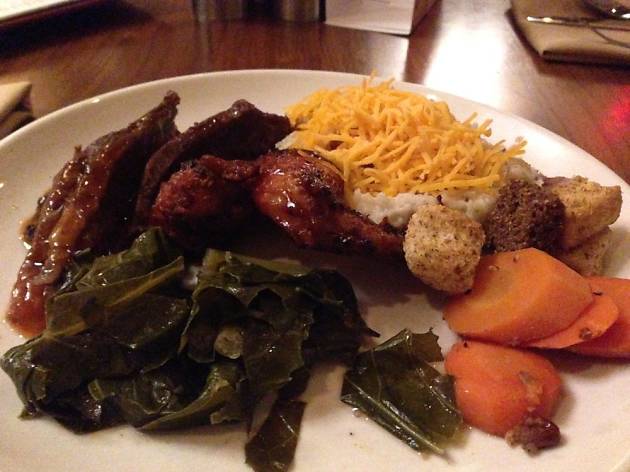 Photograph: Courtesy Yelp/Oinkzalot S.
Dolly will always love you, and that's why Song & Hearth restaurant inside the Dollywood's DreamMore Resort and Spa serves lots of Southern comfort food. The stone fireplaces, quilts hanging on the walls and teakettle collection give the place a homey feel, despite the fact that this is a large hotel restaurant. The breakfast buffet includes biscuits and gravy, made-to-order omelets, and in the Pigeon Forge tradition, pancakes. A dinner buffet features pot roast, fried chicken and other Southern favorites.
More of the best in Pigeon Forge
Pigeon Forge lives up to its quirky name; it's a destination like no other; a strip of manufactured tourist attractions in a location surrounded by unparalleled natural beauty.
There are more than a handful of decent places to stay in Pigeon Forge, whether you're coming to town with a passel of kids ready to scream their way through amusement parks or looking for a more serene wilderness experience.