Heads up! We're working hard to be accurate – but these are unusual times, so please always check before heading out.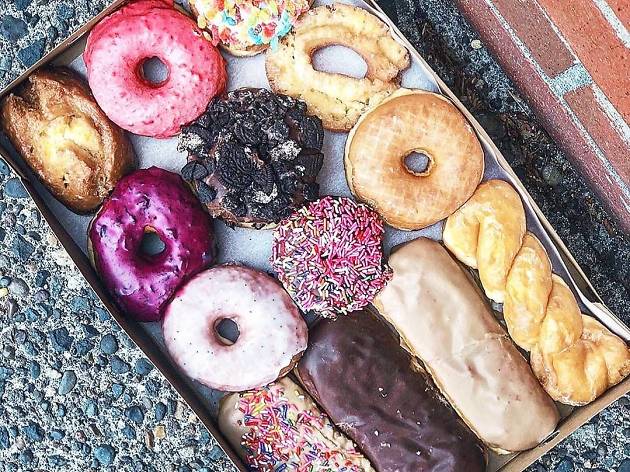 The 12 best donuts in Portland
You should probably hit up all 12 of these shops before you decide which is the best donut in Portland
Donuts might be Portland's most divisive food. The city is a worthy destination for delicious deep-fried dough thanks to celebrity shop Voodoo Doughnut, but local rival Blue Star has a shorter line (and, some would say, better donuts). Regardless of what shop you find yourself at, donuts should be on the top of your list of things to do in Portland. In fact, go ahead and ignore the other restaurants in Portland and fulfill every meal with a sweet or savory pastry. The best donuts in Portland include flavors like traditional maple bar, Cointreau Crème Brûlée and brioche with passionfruit glaze—this city has it all. Below are some of our top picks from the flourishing crop of bakeries specializing in donuts.
RECOMMENDED: The best restaurants in Portland
Best donuts in Portland
Apple fritter lovers, this one's for you. This small, cluttered, family-owned shop is entirely unassuming, but inside are the most enormous apple fritters you'll ever find. It's everything a fritter should be: crispy with a light sugary glaze on the outside and delicate on the inside with large chunks of apple. Plus, they're only $2 each!
This classic donut shop operates primarily as a bulk store for cafes and restaurants, though donut lovers can come in between 5am to 2pm to buy directly. You'll find a standard spread of original favorites like old fashioneds, creme-filled, and maple bars made fresh daily as well as some other pastries like cinnamon rolls and cakes. Seeking something a little more hearty? It also offers a full breakfast menu, complete with omelets, breakfast burritos, smoothies, sandwiches, and espresso drinks.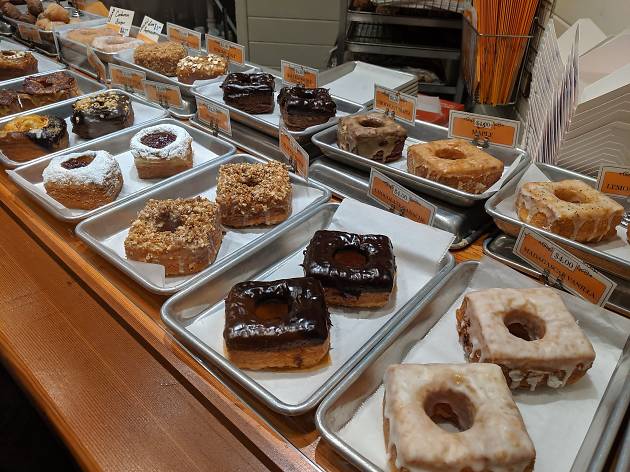 Photograph: Flickr/Jeremy Thompson
One look at these square-shaped pastries, and you'll know this isn't your traditional donut shop. NOLA makes its donuts with laminated dough (more commony used in croissants and puff pastries) so the fried sweets are deliciously flaky with a cragged and crispy exterior. It takes over three days to make the dough—and it's so worth it. The Pearl location is decked out like New Orleans' French quarter, and you can expect the menu to also be stocked with beignets, king cakes, and po'boys.
4. Angels Donuts & Ice Cream
Situated in the center of Alberta's restaurant row, Angel's Donuts offers a wide selection of donut flavors, plus old fashioned ice cream that can be paired with a pastry or enjoyed on its own. While the interior is a bit dated, the menu is happening with stellar buttermilk bars and unique offerings like deep fried banana donuts.
Portland's iconic donut brand, Voodoo began the city's donut revolution with pastry themes and names as wacky as its flavors. Just expect to wait an hour to try one. That's not to say that the donuts aren't worth it. Try Instagram-worthy flavors like Oh Captain, My Captain (vanilla frosting and Captain Crunch); Mango Tango (filled with mango jelly and topped with vanilla frosting and Tang); Guava Colada (filled with Guava jelly and topped with vanilla frosting, flake coconut and toothpick umbrella); and Ring of Fire (chocolate cake doughnut dusted in cinnamon sugar, cayenne pepper and topped with a dried red chili pepper).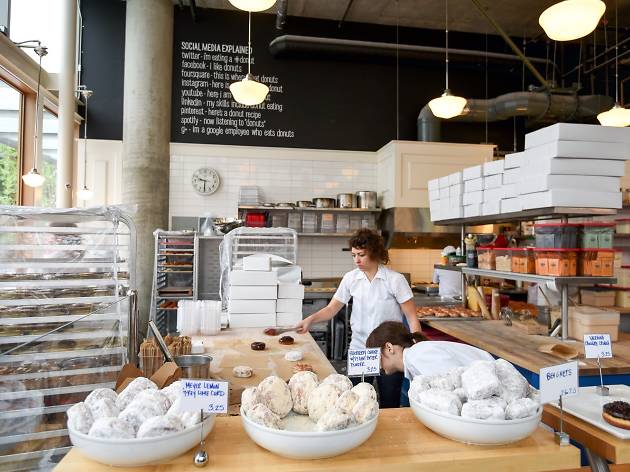 Photograph: Flickr/Person-with-No Name
Created by the people behind Boxer Ramen, Little Big Burger, and Yakuza, it's unsurprising that Blue Star was an instant sensation. Since their opening, the brand has become Portland's reining donut king with eight locations in the area as well as outposts in Los Angeles. Their brioche-based donuts are topped and filled with ingredients more typically associated with that of a high-end pastry chef in flavors ranging from old fashioneds to creme brulee with a shot of Cointreau syrup. Donuts are pricier, though are worth it for unique varietals like passionfruit and cacao nib, blueberry bourbon, and Valrhona chocolate.
This mom-and-pop shop churns out glazed delights similar to Krispy Kreme. Think ultra fluffy donuts with just a hint of grease and coated in sugar. The shops also feel like a throwback, harkening back to the '80s with wood-lined display cases, and a retro-hued palette.
With multiple locations, Sesame offers a standard chain experience like a Dunkin' or Winchell's with racks of colorful O's behind glass-doors. However, these donuts are much better, with a lighter, fresher dough and thoughtful attention to detail, particularly in their glazes and toppings. Expect all the traditional flavors, as well as some more novel options like lemon poppy seed—but be sure to try their namesake donut! For a late night snack, the Raleigh Hills location is open 24/7.
There's no going wrong with butter and buttermilk, particularly when they result in a deep fried treat. These donuts are created with an old family recipe with an emphasis on the classics—glazed, jelly, and twists. Don't miss Coco's signature donut, a glazed, raised chocolate topped with Coco's house-roasted chocolate-covered coffee beans with a sprinkling of cacao.
Pip's exudes warmth with golden pastries and warm chai. The multihued range of donuts that exist at other shopsare swapped out for treats swathed in sweet and savory honey and sea salt. They keep it simple but delicious with just a handful of coatings and toppings to select from. They're all made to order, so you can enjoy them hot and fresh, whether it's from the brick-and-mortar or roving cart.
Vegans, we see you. Doe Donuts is tucked in a strip mall off Powell Boulevard, serving all-vegan donuts with fun toppings that would make your inner child squeal with delight like house-made French toast, birthday cake crumbs, and sour raspberry powder. Best of all, ingredients are made in-house and they donate to local charities each month.
For a no-frills joint, pop over to Annie. There's not much glitz to any of these offerings, just simple fluffy decadence. Favorites include cream cheese flips, chocolate-covered and custard-filled bismarks, fritters (both apple and raspberry), glazed cruelers, buttermilk bars, and old fashioneds.
Discover more things to do in Portland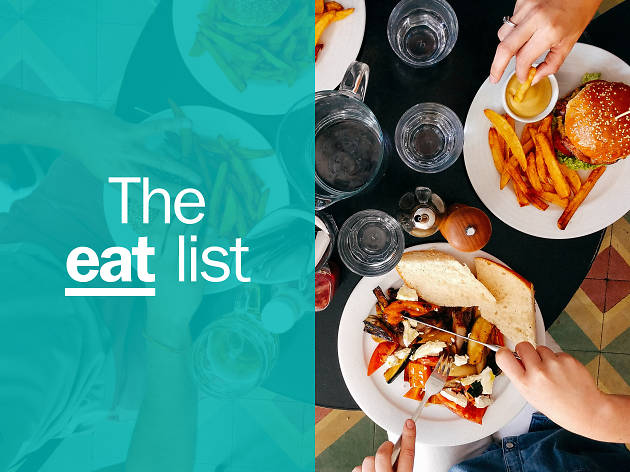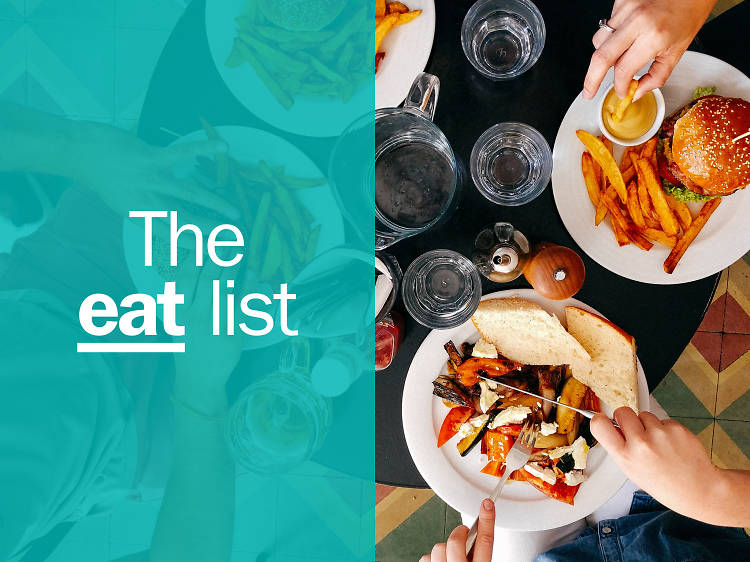 A city where happy hour is law and brunch is religion, Portland, Oregon is a true food-lover's dream. From a bustling Thai scene to an abundance of artisan coffee shops and microbreweries, Portland is a breeding ground to a diverse smorgasbord of high-caliber culinary experiences.