The 24 best restaurants in Portland
Whether you're craving Thai or tapas, you'll find world-class fare at the best restaurants in Portland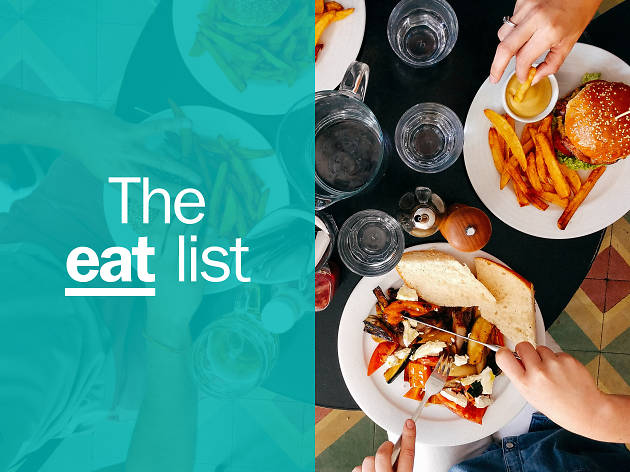 A city where happy hour is law and brunch is religion, Portland, Oregon is a true food-lover's dream (plus it's in a no sales tax zone). From a bustling Thai scene to an abundance of artisan coffee shops and microbreweries, Portland is a breeding ground to a diverse smorgasbord of high-caliber culinary experiences. While chefs are taking big-city risks, they still maintain a small-town mentality taking their time to passionately perfect their craft. Lacking a unique culinary tradition, this community also engenders an evolving gastronomic landscape open to unconventional ideas, leaving the four quadrants of this unique city bursting with stellar options.
Best restaurants in Portland
What is it? With humble beginnings as a food cart on SW 10th & Alder St. (a popular Portland attraction), Nong's only offered Khao Man Gai with poached chicken, chicken stock based jasmine rice, soothing soup, cucumbers, cilantro and an addictive sauce you'll want on everything. While the original cart still stands, their newer locations have an exciting expanded menu.
Why go? Although Khao Man Gai is a common street food in Thailand, it's a rarity in the States.
Price: Bargain
2
Photograph: David L. Reamer Photography
What is it? John Gorham opened Toro Bravo in 2007, a passion project highlighting all the Spanish regions' varying culinary styles while adding his own flare and experience. This may not be traditional Spanish food, but little in Portland is. Lines have not died down at this no reservations restaurant so arrive early and prepare to devour drool-worthy items packed with dynamic, creative, and bold flavors.
Why go? It's our family-style favorite for copious amounts of Sangria and decadent Spanish Tapas.
Price: Pricey-Blow out
3
Photograph: Case Study
Case Study Coffee Roasters
What is it? Owners Christine Herman and Wes Russell have carefully built trendy yet warm cafes focused on serving high-quality drinks. Nevertheless, the thoughtfulness doesn't stop at the bean. Add a house-made syrup to your coffee order, like the toasted hazelnut, order a bagel or quiche for breakfast, and savor the warmth and satisfaction of an amazing cup of joe.
Why go? This artisan coffee shop is a case study in pursuit of curating an ideal coffee experience from production to cup.
Price: Bargain
4
Photograph: Tasty n Sons
What is it? Tasty n' Sons has no central theme because you can order a Morrocan chicken hash and a fried egg 'n' cheddar biscuit in one place, but somehow it all works. And what's brunch without a drink? Pair their exceptionally executed dishes with one of their various Bloody Mary options or Coffee-based creative cocktails.
Why go? Untraditional 'new American diner' food in a fun, industrial contemporary space.
Price: Average
5
Photograph: Tasty n Alder
What is it? They have one of the best Happy Hour Deals in town from 2-5:30pm. You can get their beautifully flavored and perfectly cooked dry-aged ribeye for $20. Pair that with their homemade biscuit with Royal's honey butter and a drink, and you are set. You'll love this spot so much, you may just come back for dinner.
Why go? This first-class modern steakhouse is known for their wide selection of quality meat in a non-formal setting.
Price: Pricey
6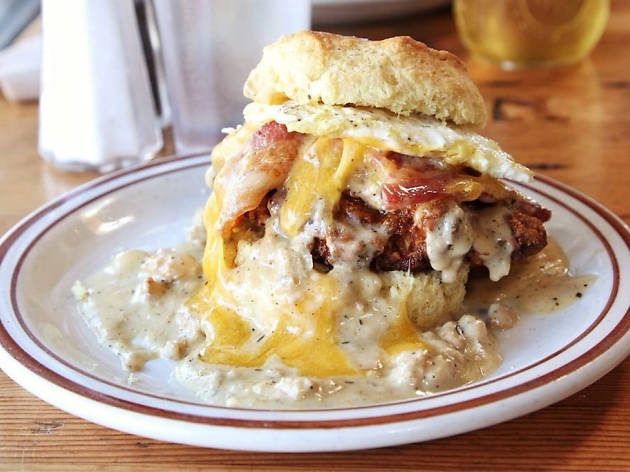 Photograph: Courtesy Yelp/Anthony M.
What is it? Three North Carolinian imports craved perfectly flaky and buttery biscuits from their childhood. From crazy, over-the-top creations to Southern classics, Pine State Biscuits is your ideal morning solution to soak up all that regrettable alcohol from the night before. Insider Info: The Northeast Schuyler location also serves pizza, just in case you were craving extra carbs.
Why go? Famous for their biscuits, it's a super casual and gratifying Southern Comfort spot.
7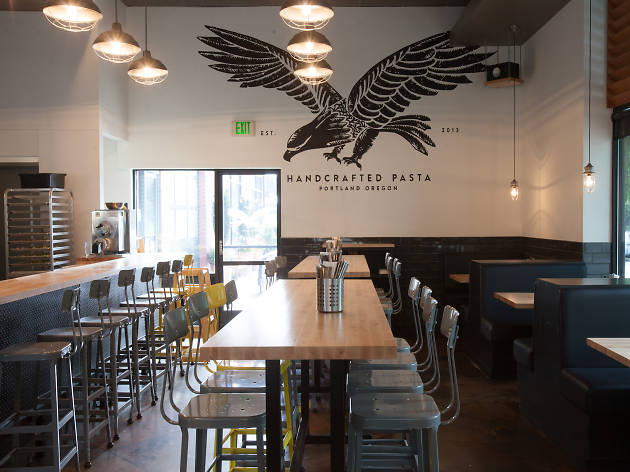 Photograph: Alan Weiner
What is it? Try not to drool at the options like cacio e pepe with truffle butter or pork belly mac and cheese. After ordering up front, take your number and then find a seat. The food seems like it's meant to be at an upscale Italian/New American restaurant, but the aesthetic is no frills, with fast-casual service. Be ready to be simultaneously confused and delightfully fulfilled.
Why go? Grassa is a pasta lover's dream and true local treasure serving artisanal handmade pastas at affordable prices.
Price: Bargain
8
Photograph: Carly Diaz
SE Wine Collective / Oui! Wine Bar & Restaurant
What is it? Founders Tom Monroe and Kate Norris crafted this collective to highlight various local and international wines. Indulge in a flight to sample wines created by Monroe and Norris themselves or from ones abroad (for you "Old World" snobs). While wine takes lead, Chef Althea Grey Potter perfectly pairs it with seasonal food options a la carte or as a family-style tasting menu.
Why go? It's the urban winery solution to all your problems.
Price: Average
9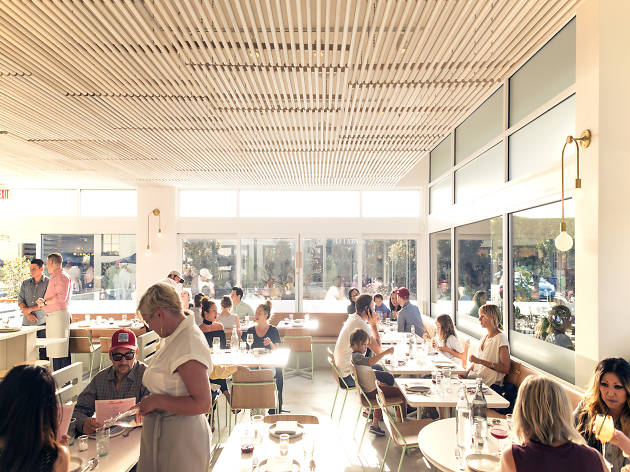 Benji Wagner
What is it? This spot feels more like LA than Portland, but we happily take the refreshing change. Be sure to focus on the vegetables, as well as the artistic cocktail menu. Every month Tusk creates a special drink which supports and donates to a worthy cause, so you can simultaneously drink and give back. We'd say that's a pretty good excuse to indulge.
Why go? Tusk brings bright and beautiful Middle Eastern cuisine in an equally playful and aesthetically pleasing space.
Price: Pricey
10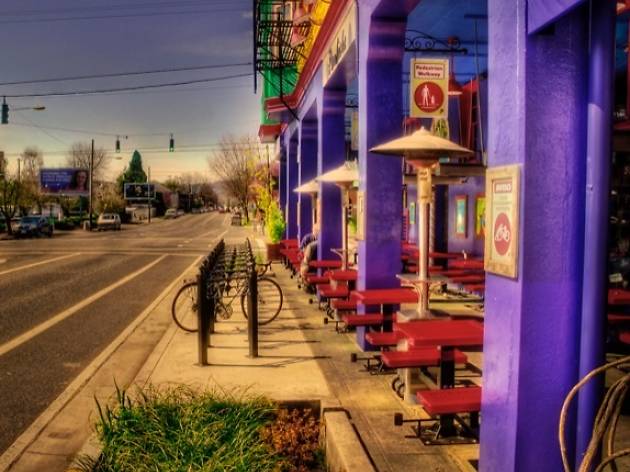 Photograph: Pambiche
What is it? Start with a classic Cuban cocktail, which are all truly authentic–no bastardized, blended, overly sweet daiquiris with colorful umbrellas here. As you make your way through the menu, you will consistently find dishes that accentuate bright, citrus qualities as well as rich heartiness. Brace your second stomach for their equally fantastic homemade dessert.
Why go? They bring vibrant and soulful Latin heat and hospitality right into the northeast quadrant.
Price: Average
11
What is it? While the building itself is historic, the interior has an open modern layout, ideal for large groups. It is also an efficient approach for solo travelers to try some of the city's most popular purveyors and restaurant offerings in one setting. From Marukin Ramen to Wiz Bang Bar, Salt & Straw's first soft serve concept, good luck choosing what you want.
Why go? For indecisive travelers, it's Portland's first food hall offering nine different culinary options.
Price: Average
What is it? Hat Yai captures authentic, home-cooked food from that region, beautifully mixing Thai and Malaysian cuisine. Their specialty: fried chicken with sticky rice, Malay-style curry and roti, a dish that is both hearty yet balanced with strong flavors and varying textures. Order this and their other dishes, which are all winners.
Why go? This is NOT your typical expectation of Thai food, and that is what we love about it.
Price: Bargain
What is it? Tokyo's popular and fantastic ramen chain made its first international outpost in Portland. Why? Afuri praises Portland's proximity to a pure water source best for their famous yuzu shio broth. Unlike its Tokyo predecessors, the Portland locations offer other traditional Japanese dishes as well. From sushi to tsukune, Afuri puts as much thoughtfulness and precision into these dishes as they do their ramen.
Why go? A beautifully classic Japanese culinary experience, from hospitality to plate.
Price: Average
What is it? They are celebrated for their buttermilk fried chicken and sweet potato waffle, which is a must, but do not forget their other dishes like the creamy and gooey Mac N Cheese. With consistent hour long lines, come on a weekday (right after 10:30am so you can order from either the breakfast or lunch menu) and try to sit at the first come, first serve bar.
Why go? When you're craving downright Southern Comfort food and vibes, Screen Door is your answer.
Price: Average
15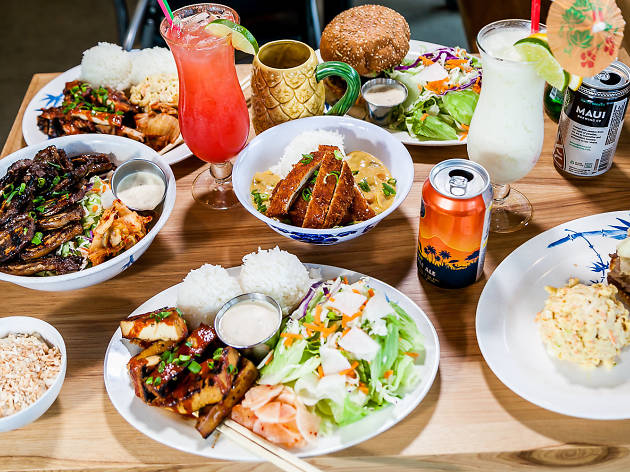 Photograph: Paolo Ferraris
What is it? While you do need a shirt and shoes for service, their characteristic lunch plates and relaxed atmosphere will transport you right to the islands. Whatever you get, order Spam musubi for good measure. Pro Tip: They have this "Broke Da Mouth" teriyaki sauce bottled on the side– put a little of it (or a lot of it) on everything; you won't regret it.
Why Go? It's a hidden gem serving spectacular Hawaiian food and bringing 808 vibes to the 503.
Price: Bargain
16
Photograph: Mark Shimahara
What is it? Another Japanese chain making one of its first international locations in Portland, Chef Mayumi Hijikata showcases her training in different styles of broth. Her iconic tonkotsu shoyu is rich in flavor and texture, served daily at all locations. Hijikata also cooks styles like paitan, Tokyo shoyu, miso, and vegan ramen, but you can only purchase one of these specialties on specific days.
Why go? Some of the best ramen in town, ideal for many of the rainy days in Portland.
Price: Bargain
17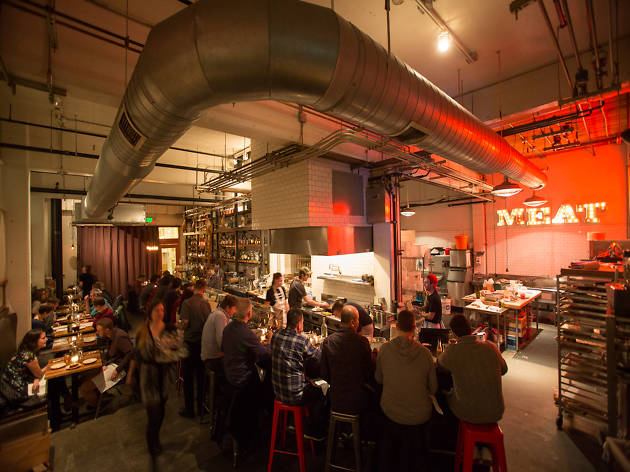 Photograph: Alan Weiner
Olympia Provisions Southeast
What is it? Salumist Elias Cairo's success stems from his passion, a difference you will taste after the first bite. We love the original warehouse southeast location, where each staff member is knowledgeable about their Spanish-Mediterranean offerings and delighted to chat about it. Our suggestion: Come early during Happy Hour, and let them take lead to curate a meat and cheese board for you.
Why go? A meat lover's haven serving high-quality, handcrafted charcuterie.
Price: Average
What is it? Focus on their house-made baked goods and pastries, especially their lovingly handmade pies. Expect a wait, even on a weekday, so arrive early and soak in the rich, vibrant sound of whatever is playing on their record player. Insider Info: People get confused by seating so know to order first, and then a staff member will seat you.
Why go? This cozy, locally loved café is your go-to breakfast option for artsy, hipster vibes.
Price: Pricey
What is it? Go for brunch and order the Buenos Dias breakfast. This comes with their local, smoked bacon which is sweet, smoky, fatty, and exactly what you want for a good morning. Verde Cocina also accommodates to those with gluten-free, vegan, and paleo dietary restrictions without sacrificing flavor. Pro Tip: In addition to their cafés, you can find them at PSU Farmer's Market, another characteristic Portland attraction.
Why go? They prepare fantastic Mexican food with a unique and fresh Pacific Northwest twist.
Price: Average
20
Photograph: Cheryl Juetten
What is it? The restaurant's success is a balancing act of maintaining laser focus on obtaining seasonally relevant ingredients from local producers and constantly executing impressive food on a daily-changing menu. Order at least one of its house-made pasta dishes and wash it down with something from the extensive wine list, which is a carefully curated love letter between the West Coast and Italy.
Why go? Ava Gene's is for serious food lovers looking to indulge in authentic yet innovative Roman-Italian cuisine.
Price: Pricey
Luc Lac Vietnamese Kitchen
What is it? Luc Lac's name comes from the popular Vietnamese dish Bo Luc Lac, a satisfying sautéed beef and rice plate. Their large menu is filled with classic hits like pho and bánh mi, as well as killer cocktails for a nightcap. Find relief knowing that on Fridays and Saturdays, you have until 4am to get there.
Why go? The food at 12PM is great, but it's even better at 3AM, making it your place for late night eats.
Price: Average
22
Photograph: Dina Avila
What is it? Naomi Pomeroy offers a creative 6-Course prix-fixe menu, changing every two weeks, and an optional wine pairing. However, Pomeroy breaks fine-dining customs, making you eat at a 24-seat communal table. Expect an expensive yet impeccable meal, but maybe leave with an unexpected friend from across the table through this truly unique experience. It also offer Sunday brunch without the same weighty price tag.
Why go? Whether you have a special occasion or simply want to treat yourself, Beast is the place to celebrate.
Price: Blowout
23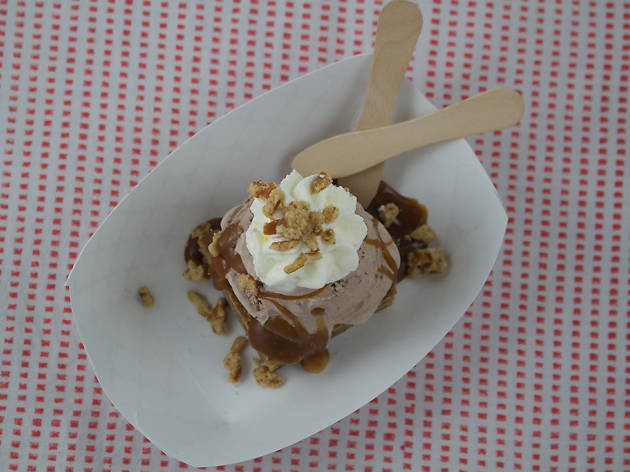 Photograph: Salt & Straw
What is it? From the speciality flavors that change each month to the classics you can only get in Portland (like the subtle Arbequina olive oil), it is worth visiting where it all began. Although technically not a restaurant, you can order an ice cream tasting flight to sample various flavors and call it dinner. Two birds, one stone.
Why go? If you visit without trying the famously imaginative Salt & Straw ice cream, did you even really go to Portland at all?
Price: Bargain
24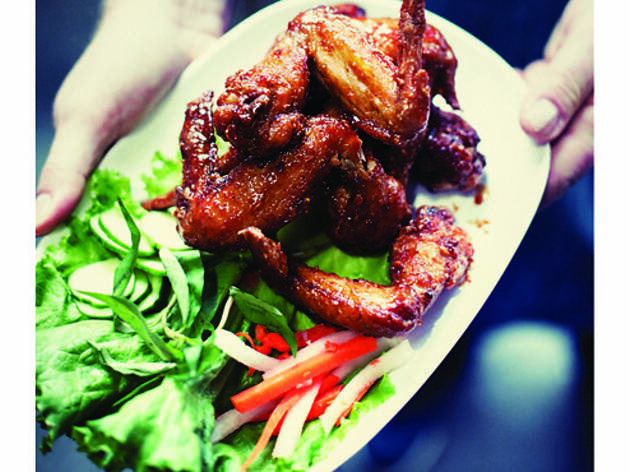 Photograph: Austin Bush
What is it? Owner Andy Ricker started Pok Pok after being inspired by travels in Northern Thailand. After trying his famous fish sauce wings, you will be inspired too. Because you will be bombarded with a long wait, make sure to order one of their terrific Thai-inspired cocktails and then as many dishes as you can handle.
Why go? It's the legendary and delicious Thai spot that help put this city on the map.
Price: Average