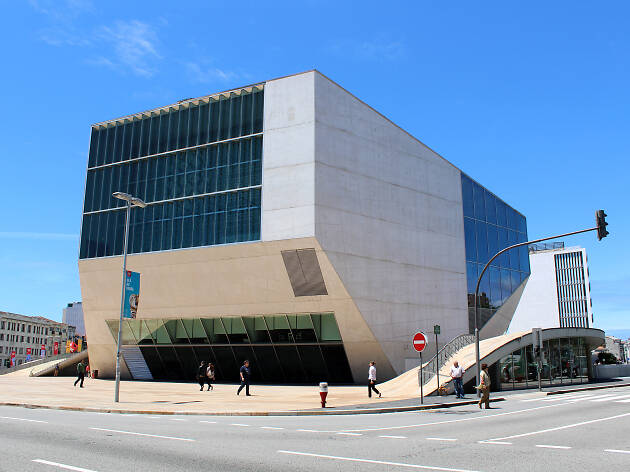 10 things you need to know about Casa da Música in Porto
Get to know one of the city's biggest icons. We've found the ten things you need to know about Casa da Música
Casa da Música (House of Music) embraces contemporary architecture like no other building in Porto. It's a city icon but there's so much unknown about it. Now we'll let you in on some secrets...
10 things you need to know about Casa da Música in Porto
Yes, it looks as if a spaceship has landed in the middle of Porto. Locals thought it was weird-looking too, but they quickly embraced it as one of the most iconic places in the city. The building, designed by Dutch architect Rem Koolhaas, is now considered 'one of the most important concert halls built in the last 100 years'.
It has room for all kinds of different music genres, from jazz, rock and electronic to experimental and classical, and it holds concerts almost every day.
With a huge floor covering 25 square metres, Casa da Música is kind of like a gym. There are also those who prefer to take the stairs all the way to the seventh floor to get some exercise. The total numbers of steps? 1,288.
The area surrounding the building works as an improvised skate park. Young skaters take advantage of the even floor, smooth transitions and ramps to practice all sorts of manoeuvres.
Sala Suggia, regarded as the heart of Casa da Música, pays tribute to Guilhermina Suggia, from Porto, who was the first cellist to have an international career in a time when most orchestras didn't admit women. It has superb natural light and is a room where nothing was left to chance – from its acoustics to the velvet seats.
Do you want to watch a concert without having to worry about your kids? No problem. You can drop them at the purple room, which has a babysitting service and a view of Sala Suggia. Then, in the orange room, your little ones can take part in all sorts of music-related educational activities.
At Digitópia you can discover the musician in you. Anyone can go into this room and try out all the digital and technological resources then create some music.
On the rooftop, with its gorgeous view over the city, is Casa da Música's restaurant, which offers Artur Gomes's low-cost haute cuisine – prices range from €13 (lunch) and €17.50 (dinner). There are also regular fado and flamenco nights.
If you want to casually meet the artists at Casa da Música (randomly, of course) head over to café. It's a great meeting place due to the free concerts held there.
There are daily guided tours in English for €7.50 at 11am and at 4pm. You'll get to see the entire place in just an hour.