Best Porto hotels with jacuzzis
On-site spas, balcony jacuzzis and swimming pools with swoon-worthy views: find your inner calm at one of Porto's best jacuzzi hotels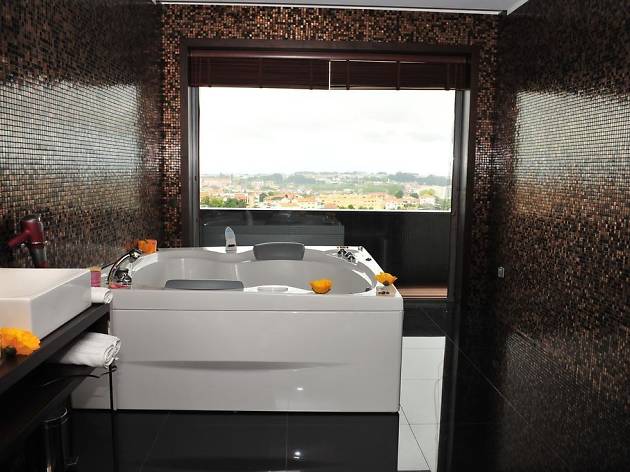 After a long day exploring Porto's cobbled streets, attractions and vast swathes of brilliant things to do, the first thing you'll probably want to do when you get back to your hotel is submerge your aching body in a hot tub full of bubbles. From super luxurious suites with fireside jacuzzis and all mod-cons to swimming pools boasting postcard-perfect vistas over this fascinating city, here's our selection of Porto's best jacuzzi hotels. You deserve some proper rest and recuperation, right? Of course you do. So take a look and get ready to sink into some serious comfort.
Best jacuzzi hotels in Porto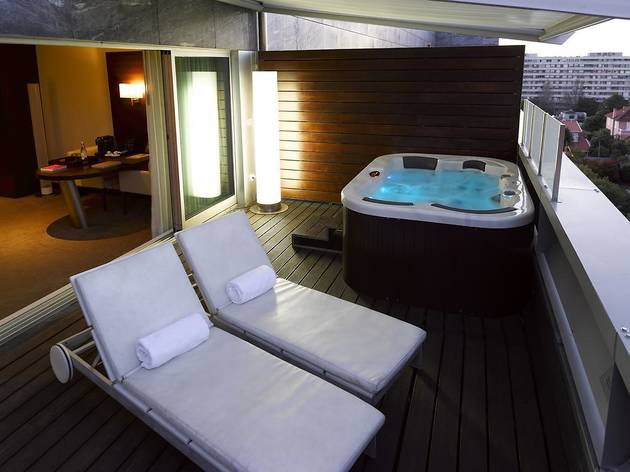 Booking.com
Nab a room with a balcony here, and you could very well find yourself chillaxing in a jacuzzi with a glass of bubbles in hand and the sun setting over Porto. Sounds pretty lush, huh? Location-wise, the Francos Metro Station is 0.6 miles away and Porto International Airport is 7.5 miles away, so pretty manageable.
Photo: ©Booking.com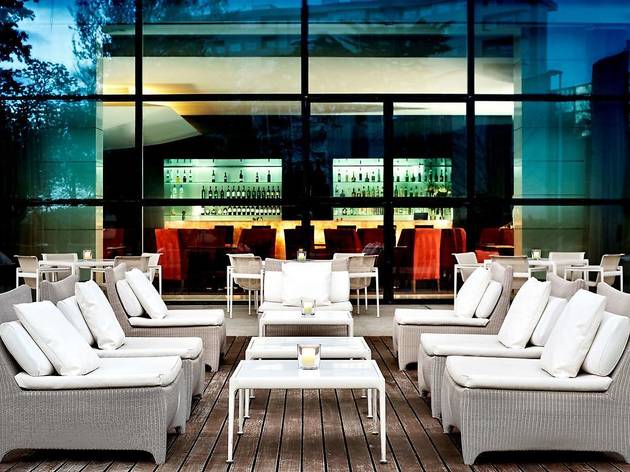 Sheraton Porto Hotel & Spa
Planning on splashing out? This mega-stylish hotel comes with super-sized rooms, plus eight treatment rooms, an indoor pool and a big ol' jacuzzi for you to unwind in. It isn't cheap, but your sore body will thank you for the expense. And with the Casa da Música Concert Hall and its adjacent metro station just a ten-minute walk away, you can have the ultimate indulgent weekend.
Photo: ©Booking.com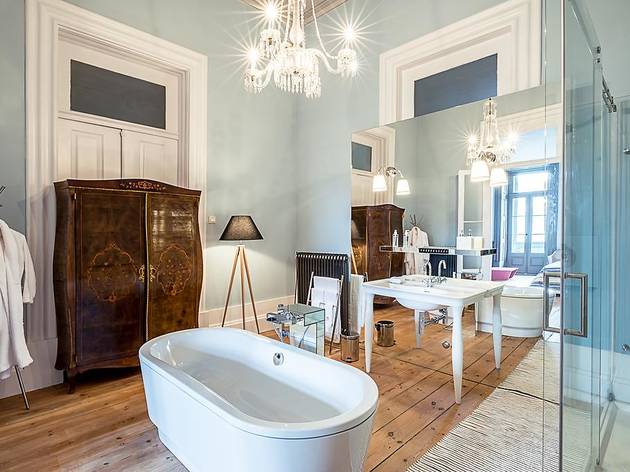 Booking.com
Okay, this isn't strictly a jacuzzi – but for the most luxurious lathering up you've ever had, book the palatial-looking room with the freestanding bathtub. Complete your visit with a trip to the ornate Café Majestic, just 750 yards from Palácio Fenizia.
Photo: ©Booking.com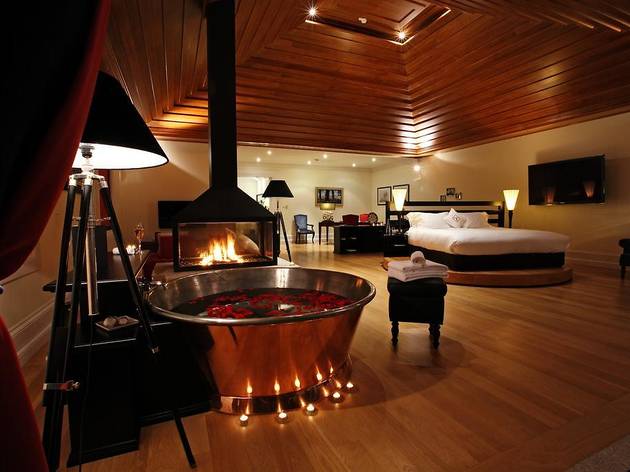 Booking.com
This stunner of a hotel comes with Instagram worthy views over Porto (which can be enjoyed from the pool and jacuzzi by the way). If you prefer to unwind in private, book a suite with a spa package or inquire about the Bacchus suite with its very swanky fireside jacuzzi (pictured).
Photo: ©Booking.com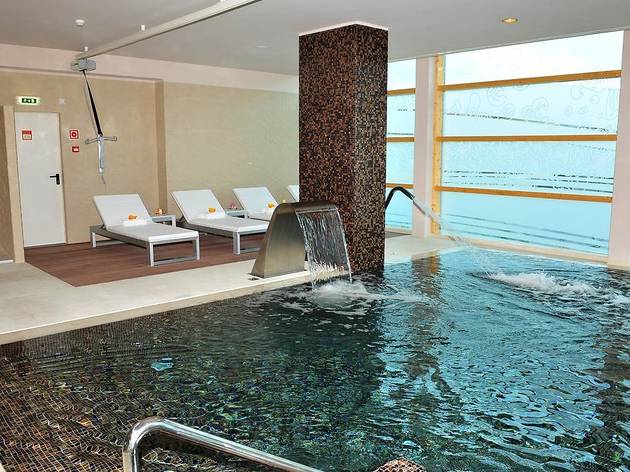 Booking.com
Axis Porto Business & Spa
Working hard or hardly working? Whatever your holiday status, you can be sure to enjoy some downtime in this business hotel, which comes with a pool, sauna, Turkish baths and shower, plus a full range of relaxation and massage treatments. It's only a 15-minute drive from Porto International Airport too.
Photo: ©Booking.com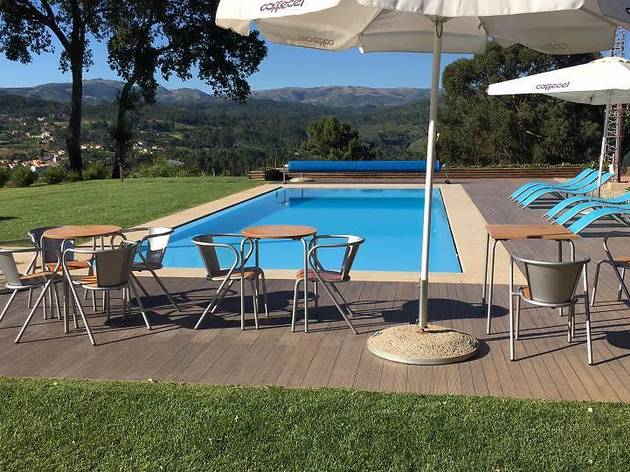 Booking.com
Want to get to know the side of Portugal away from the snap-happy tourists? Book this country retreat in Peso da Régua, which has an outdoor pool with vistas across Portugal's rolling landscape. Take the luxury factor up a notch by booking the jacuzzi suite, which is kitted out with mood lighting. Fancy!
Photo: ©Booking.com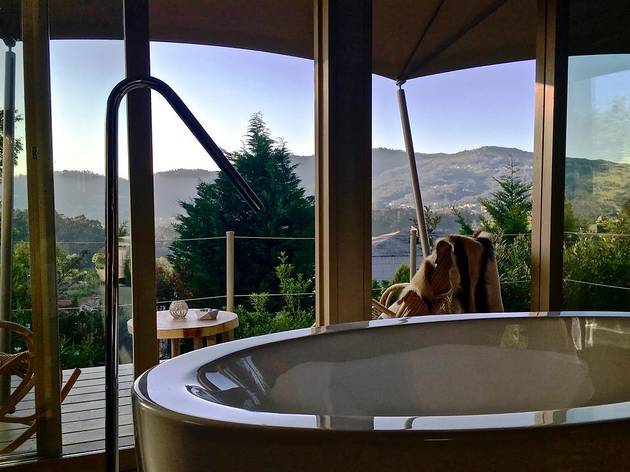 Booking.com
If canopy beds, private balconies and stunning views of the Minho landscape from the comfort of your bath sound right up your street (and in your price range) book the luxury tent, which is more boutique than bootcamp.
Photo: ©Booking.com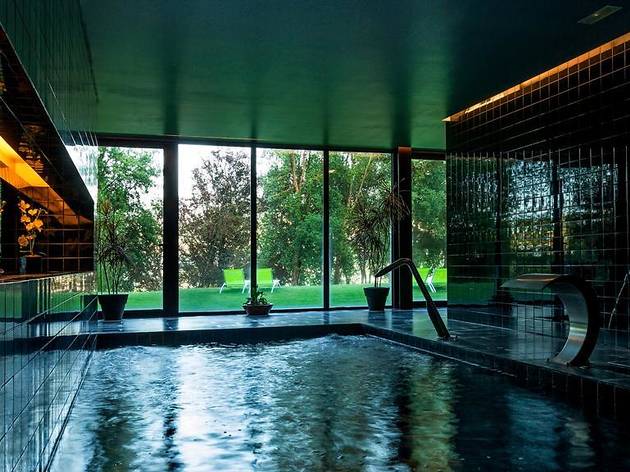 Booking.com
Just check out the views on this place. And when you're done soaking up the lush valley from the pool, make your way to the spa, where water jets, massages and steam baths await. The hotel also has a private jetty... if you're swish enough to have a boat that needs mooring.
Photo: ©Booking.com
Check out Porto's best attractions
Life is short, so here are the top 10 places you mustn't miss in Porto