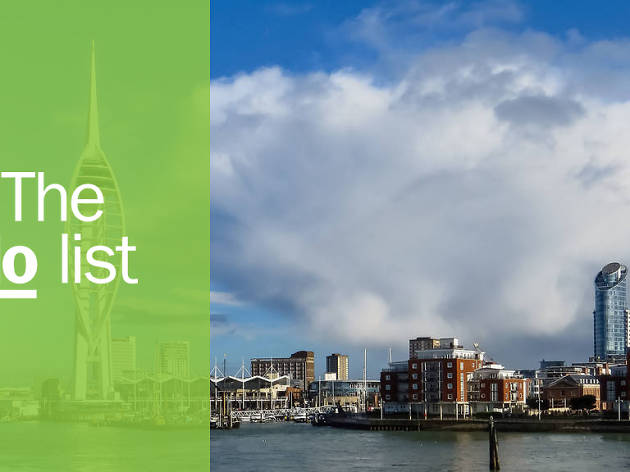 The 13 best things to do in Portsmouth
Explore the incredible collection of maritime heritage when tackling the best things to do in Portsmouth
Portsmouth (or Pompey, as the locals call it) is one of the oldest seaside cities in the British Isles, and the best things to do in Portsmouth play off that. Located on Portsea Island—a thumb of Hampshire jutting into the Solent, it was the world's greatest naval port during the peak of the British Empire and now serves as Britain's foremost Royal Navy base. No trip is complete with a roam around the Les Miserables-esque dockyard, complete with four historic ships, including Henry VIII's flop of a flagship, the Mary Rose, and an impressive cluster of museums.
Although the big draw is still its incredible collection of maritime heritage, this seaside city has buckets more to offer, from ancient pubs on cobbled streets to contemporary art galleries to football supporters so passionate they must be seen to be believed (particularly Pompey John who has 60 tattoos and 'P.F.C' engraved into his teeth). Buzzing all year round and with a selection of picturesque pebbly beaches, this charming city is well worth its salt. See you in the splash!
Done something on this list and loved it? Share it with the hashtag #TimeOutDoList and tag @TimeOutEverywhere.
Find out more about how Time Out selects the very best things to do all over the world.
Best things to do in Portsmouth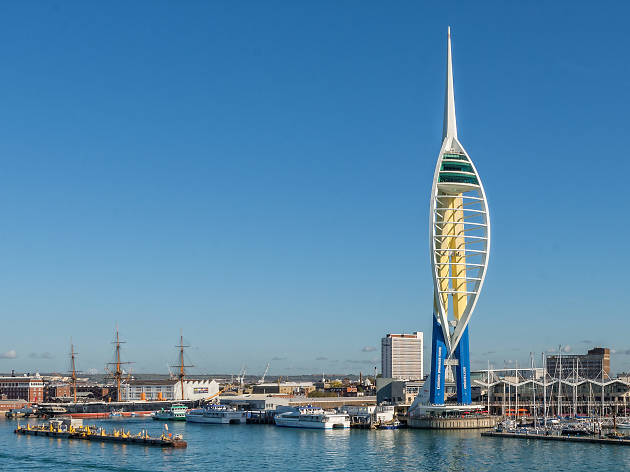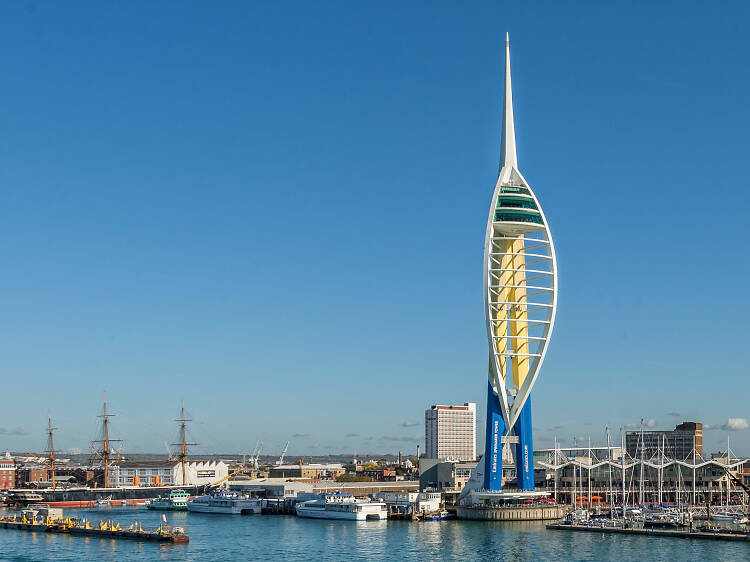 Clare Chapman
1. Emirates Spinnaker Tower
What is it? Modelled on a sail to reflect the city's seafaring history, this landmark observation tower is two and a half times the size of Nelson's Column in Trafalgar Square – making it the tallest climbable structure outside the UK capital. Originally called the Portsmouth Millennium Tower, it's hard to believe it's coming up to its second decade: from the stomach-turning external glass lift to the panoramic decks, it still feels super state-of-the-art.
Why go? For the Sunset Sundays session, when you can watch nature's very own light and colour show from 100 metres above sea level, accompanied by live music on the three viewing decks and a sky-high pop-up bar. Grab an Isle of Wight Gin and tonic and drink in the killer views of the Solent and the South Coast.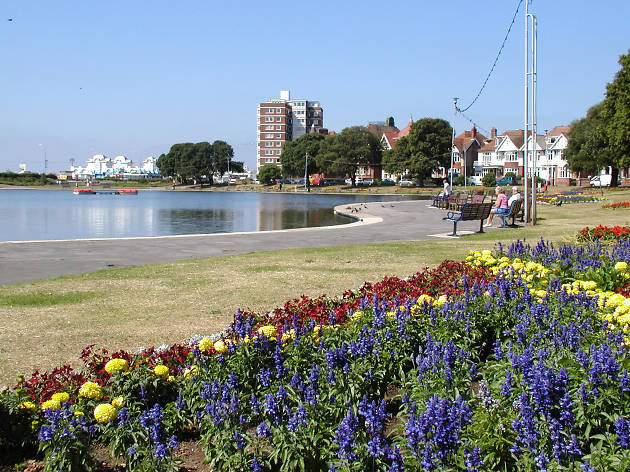 Visit Portsmouth
What is it? With its swan-shaped pedalos, Art Deco angel statue and lovingly tended flowerbeds, Canoe Lake could be a scene straight off a Victorian postcard. Grab a bucket and fishing line from the lake shop and spend the morning catching crabs in the lake. Watch out though – they like lightning and are known to pinch.
Why go? It doesn't get more retro nostalgic than this – essential additions include proper fish 'n chips from the legendary Deep Blue on the nearby South Parade Pier, a 99 flake and a whiz around the penny arcade. Long live the British seaside.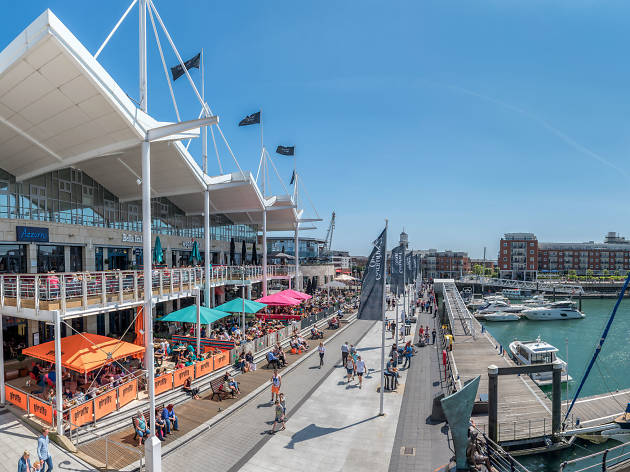 Gunwharf Quays
What is it? A chic, designer outlet on the waterfront that serves as a one-hit wonder for all your (discounted) shopping needs. It's a hotspot for the locals too, so bank on it being lively from dawn until late.
Why go? To nab up to 60% off huge designer and high street brands like Calvin Klein, Adidas, Dr. Martens and Le Creuset. When you've shopped yourself to sheer exhaustion, refuel at one of the many restaurants. Aim for an outdoor table so you can ogle the yachts in the marina and crane your neck up at the Spinnaker Tower.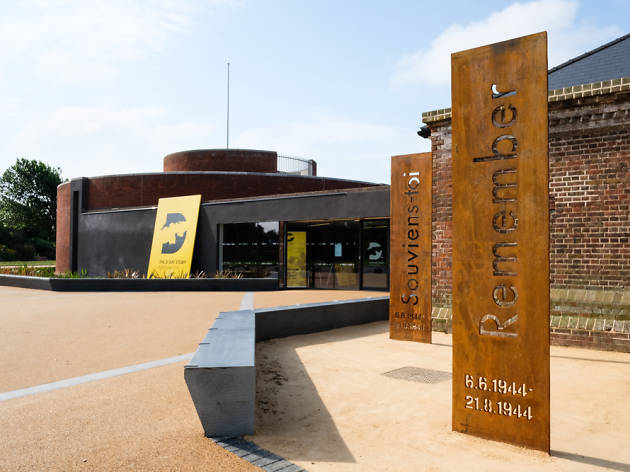 Matthew Scott-Joynt
What is it? The only museum dedicated to the Allied Invasion in 1944, The D-Day Museum tells the personal stories behind this monumentally historic event, from both a civilian and military viewpoint. It is also home to the Overlord Embroidery: a whopping 83-metre stitched depiction to pay tribute to all men and women involved in the landings.
Why go? It's recently had a £5 million revamp to add three new exhibition galleries, a cafe and a shop. Look out for the pencil that started the invasion, which Lt Cdr John Harmer used to sign the order for Force G. On display for the first time ever, this encapsulates the museum's ethos of showing all the cogs in the largest seaborne invasion in history. The tanks are pretty cool too.
Solent Forts
What is it? One of three forts built in the late 19th-century to repel a predicted French invasion, this military museum-cum-adult's playground is only accessible by ferry from Gunwharf Quays across the calm waters of the Solent – but it's well worth those sea legs.
Why go? You can stay overnight in one of the plush rooms (ocean view guaranteed) or book in for lunch, afternoon tea, laser quest, cocktail making, fishing or even an escape game in the fort's ancient underbelly. Who needs dry land when you have a modern-day Bond villain's lair?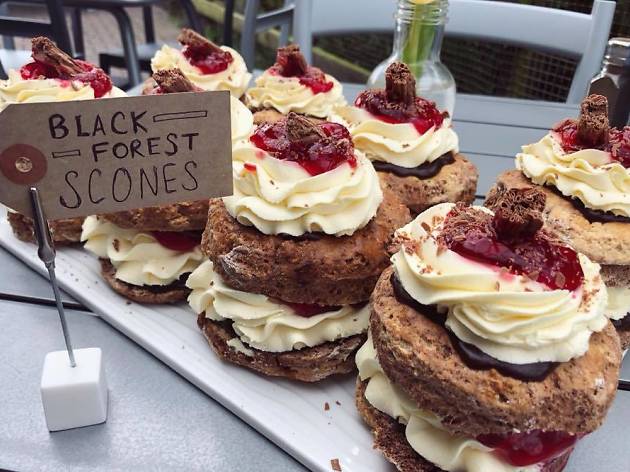 The Tenth Hole
What is it? A buzzing tea rooms set on a pitch-and-putt course, expect to see a queue of locals outside Tenth Hole, especially on weekends. Go in between mealtimes for your best chance of a spot on the sunny terrace.
Why go? Cake, cake and more cake. Think doorstep slabs of freshly made victoria sponge, millionaire's shortbread and banoffee pie, plus fist-sized scones with clotted cream and jam. But it's not just a saccharine seventh heaven – the club sarnies and breakfasts are just as impressive. Book in a game of golf on the green before and you'll have earned every bite – right?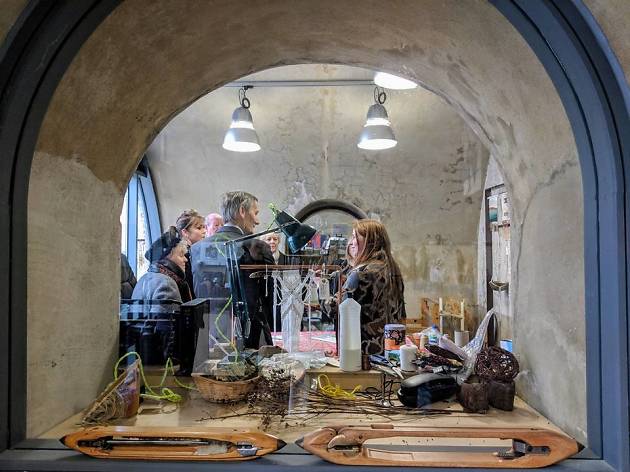 Hotwalls Studios
What is it? A former artillery barracks, Portsmouth's artistic quarter opened to the public in 2016 and is now home to 13 different studios for the area's creatives and designers. Minimalist and in-keeping with its beachside location, this is a blueprint of how to fuse the new with the old.
Why go? See up-and-coming artists in their element and browse their wares, before stopping off for a coffee at deli-style The Canteen. Trust you are in good hands, as it's run by the same team as Tenth Hole Tea Rooms.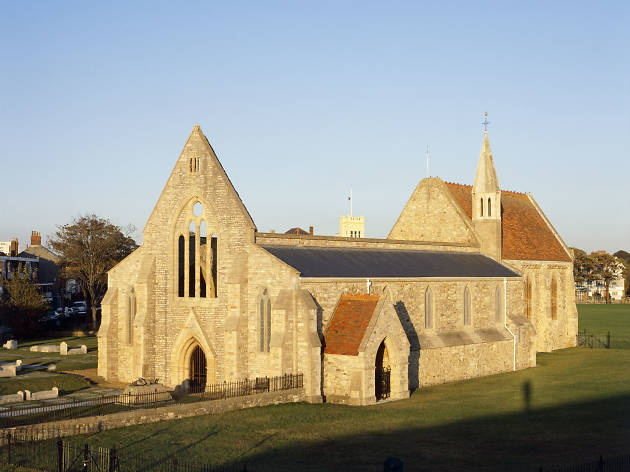 English Heritage
What is it? Founded in 1212 as Domus Dei (God's House) this ancient garrison church was badly damaged in a 1941 firebomb raid and lost its roof, although the original (and incredibly detailed) chancel remains. Check out the 20th-century stained glass windows depicting its more recent history, including the Second World War.
Why go? The site's volunteers know the place back to front and will regale you with its 800-year long history, during which it has served as a medieval hospital, Tudor ammunition store and church for the armed forces. As atmosphere goes, this one's is pretty ethereal.
Visit Portsmouth
What is it? Day or night, there is never a dull moment on Southsea's main artery. This stretch of quirky independents is worth exploring on foot – with plenty of browsing time and shopping bags in tow.
Why go? With a pub, cafe or restaurant every 20 metres and enough bric-a-brac shops to keep you rummaging for weeks, Albert Road is testament to why we should fight to keep the British high street diverse. Don't miss the sushi at Sakura and cocktails at Gin and Olive (especially for 4-6pm happy hour). Thespians: keep your eye on the programme at the Edwardian King's Theatre – it attracts some surprisingly hefty household names.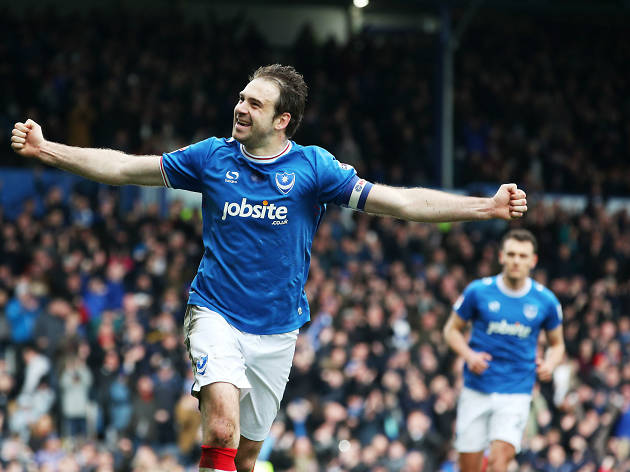 Joe Pepler Portsmouth FC
What is it? The home of Portsmouth F.C since 1898, Fratton Park – or 'The Old Girl' as it affectionately known by the team's supporters - draws enormous crowds (21,000 to be more precise) and practically reroutes traffic on match days.
Why go? To scream 'Play up Pompey!' until your voice is hoarse, get lost in a sea of blue and sample the buzz of attending a League One match. Whether or not you're a football fan, you'll leave feeling all warm and fuzzy towards your host city's beloved team.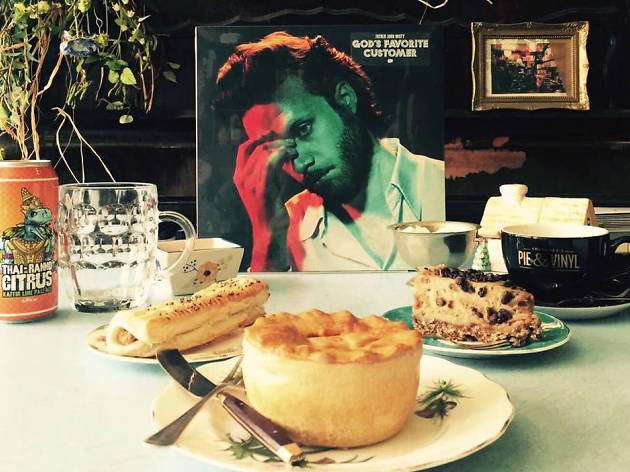 Pie & Vinyl, Southsea
What is it? This shop-cum-restaurant does what it says on the tin – pies and a vast collection of vinyl to buy (or try). Imagine your coolest grandma's sitting room (think wingback armchairs and upside-down lampshades) mashed up with your most with-it mate's music collection. It's a winning combo, whether you're fifteen, or 55.
Why go? For an eye-popping selection of delicious pies with mash and liquor: look out for the more musically-inclined pies, like the Back to Black and Notorious P.I.G, with plenty of vegan and veggie options on the menu too. Don't miss the retro cordials served in vintage teapots (we love the rhubarb and rosehip).
Viviers Ltd
What is it? Right on the quaint Camber Dock, Viviers is the plaice to be for browsing this seaside city's bountiful ocean produce. Go early for the best catch, then wander to Portsmouth's oldest pub, The Dolphin, for a pint in the sun.
Why go? Selling local fish and shellfish so fresh it's almost still wriggling, don't leave this small (but perfectly formed) market spot empty-handed. Neck Hampshire oysters or pick up fish kebabs and slabs of salmon for the ideal beach barbecue.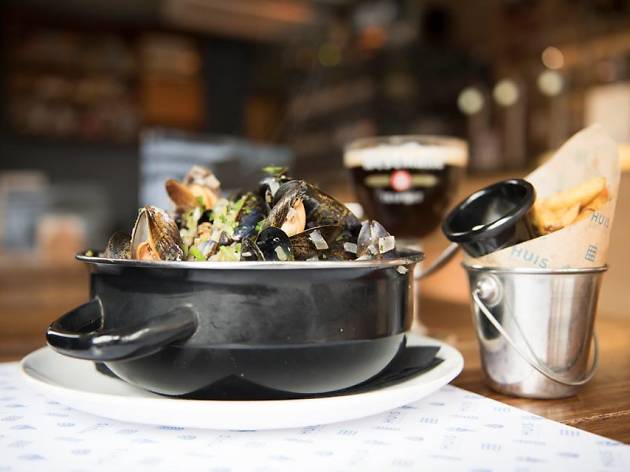 Huis Southsea
What is it? Meaning 'home' in Flemish, it's hard not to feel like you've walked into one at this pocket-sized Belgian bar and kitchen. Hop-crazy drinkers will adore the intriguing 60-strong selection of bottled and draught beers, which rotates almost by the week.
Why go? The focus might be on beer here, but it's a serious love letter to the compact country's comfort food: start with the flammeküche (pastry pizza with lardons, shallots, cheese and crème fraïche), before picking one of six different buckets of moules (with twice cooked frites, no less).
Best selling Time Out Offers