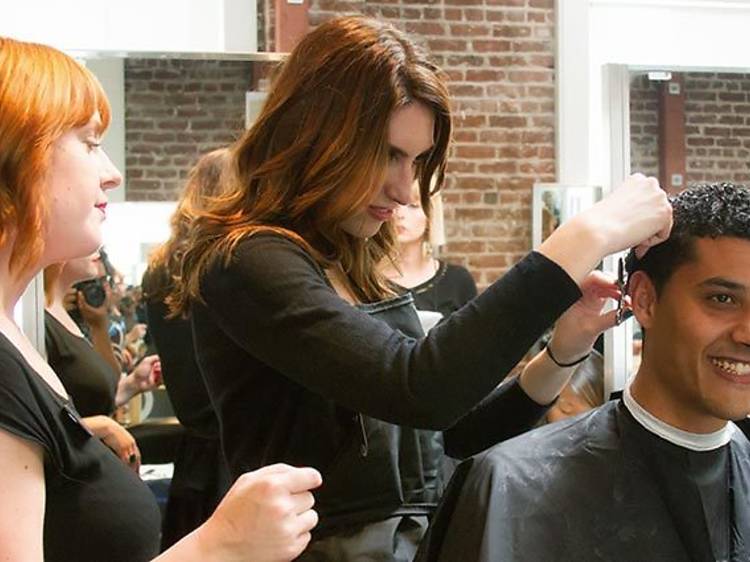 Cinta Salon
It has been around for more than 25 years, but this full-service Union Square salon still makes the cut. Bright and beautifully sleek with a separate blow-dry bar, this Grant Ave. stalwart is a go-to for trend-conscious ladies and blokes—and a favorite of Allure and Elle magazines. A large team of stylists create cool and chic cuts, including barbering, on the daily. But the amazing colorists steal the spotlight: whether you're going for sun-kissed blond or ruby red, precise magenta streaks or all-over blue, Cinta has your hue. The focus on individual style is real.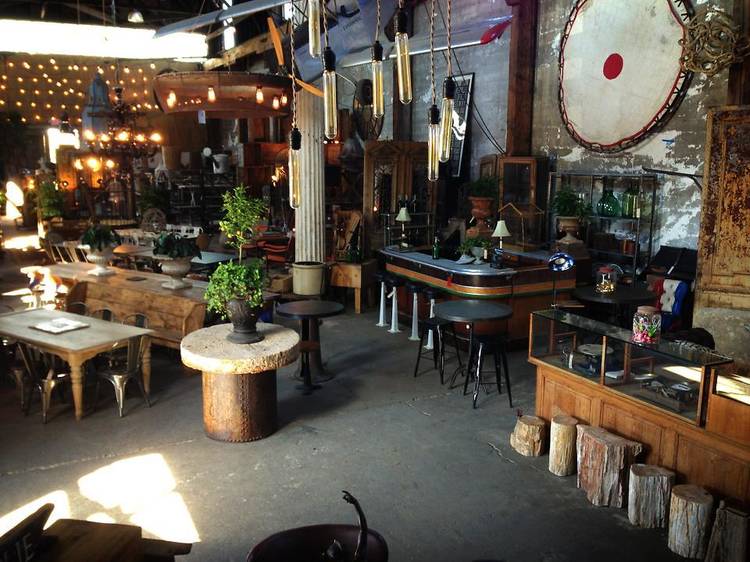 Big Daddy's Antiques
This huge warehouse is a veritable wonderland for one-of-a-kind antiques, vintage and reproductions from around the globe. On any given day, the beloved Potrero Hill furniture spot, which also serves as a funky event space and go-to for prop stylists and interior designers, may turn up cozy-cool vintage leather love seats, industrial side tables, mix-and-match mid-century folding chairs, old-time signs (hello, loft dwellers) and quirky art and accessories; think pillows, steamer trunks and unique tabletop items. It's virtually impossible not to have fun while shopping for blasts from the past at this happy place.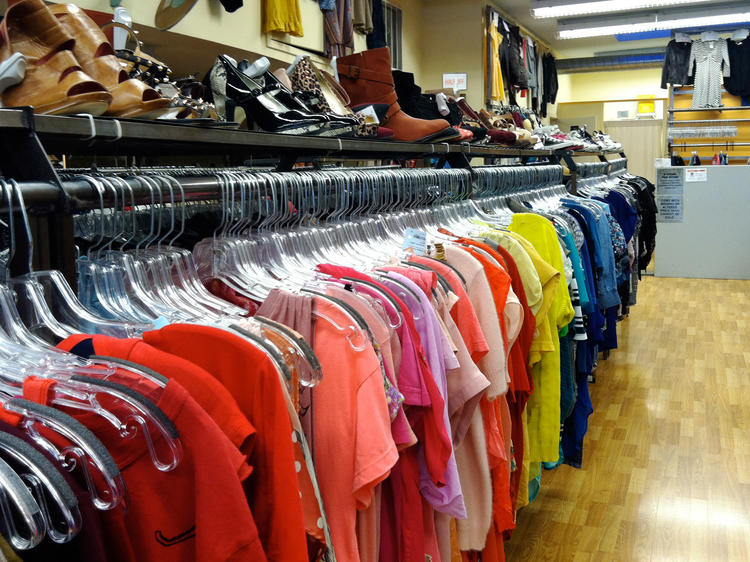 Crossroads Trading Co.
Opened in 1991, the very first Crossroads store is packed with a seasonal inventory of contemporary clothing and accessories for men and women. Located on Fillmore Street (Pacific Heights' main retail drag), it should be no surprise that there's lots of fashionable secondhand treasure to be hunted here. Keep your eye out for incredible deals on designer handbags and shoes, leather jackets and one of the best selections of denim in town. Should the mood strike, you can literally sell the shirt off your back, on the spot—for 33% of the sell price, or 50% in trade. The now-national chain has three other stores in the city. The de Young's new fashion exhibit showcases Muslim women as global trendsetters
In the past three years, Nike began selling its first hijab for female Muslim athletes; Ayana Ife, a Muslim designer and lover of loud lipstick, made it to the season-16 finale of Project Runway; and high-end design houses like Oscar de la Renta started creating special collections for Ramadan. Modest fashion is finally having its moment, and Muslim women have quickly emerged as global trendsetters. This fall, a new show at the De Young Museum, renowned for its spectacular fashion exhibits, explores the complex, layered and diverse nature of Muslim dress codes. "There are those who believe that there is no fashion at all among Muslim women, but the opposite is true," says Max Hollein, director and CEO at the Fine Arts Museums of San Francisco. "There are modern, vibrant and extraordinary fashion scenes in many Muslim-majority countries." Photograph: Courtesy of the Fine Arts Museums of San Francisco   Visitors can see for themselves as they roam the galleries that make up the exhibit "Contemporary Muslim Fashions." Traversing a myriad of countries and cultures, as well as luxury fashion houses (Yves Saint Laurent, Faiza Bouguessa) and street style, the displayed garments tell a nuanced story: how Muslim women define themselves, how clothes define them, and the push and pull they feel between covering up but still being fashionable. Parts of the exhibit are dedicated to apparel and accessories made by Muslims living in the United States and the United Kingdom and exploring t Everything you need for the perfect picnic in San Francisco
No matter where you spread out (and chow down), picnic in style with items from these local shops. All you need are the snacks.    Photograph: Courtesy Aldea Home     Retro Sounds radio Aldea Home's compact, colorful radio ($25.50) includes an AM/FM tuner and a plug for your smartphone—so everyone in the park can enjoy your favorite summer hits. Photograph: Courtesy Alite Designs   Meadow mat  The material in this lightweight picnic blanket ($40) from Alite Designs is 100 percent waterproof (take that, damp grass). Each mat, available in several bright patterns, packs into a small roll for easy hill-schlepping. Photograph: Courtesy Hydro Flask   Hydro Flask growler This high-tech growler ($64.95) keeps every sip of your IPA as carbonated and cold as when it was first poured for up to 24 hours. Plus you don't have to worry about spills or recycling your bottles. Photograph: Courtesy Goorin Bros   Goorin Bros. God Father straw fedora Take cover from summer's rays in this straw fedora ($120). The hat—from a fourth-generation, family-run biz—also comes in handy on bad hair days. Photograph: Mission Workshop   The Helmsman Made in the USA, this sturdy, rolltop duffle bag ($265) puts many a flimsy picnic basket to shame. It's weatherproof, expandable (more kimchi potato salad, please) and bike-friendly. Photograph: Courtesy Heath Ceramics   Heath Ceramics + Skinny laMinx napkins These durable cloth napkins ($25 for two) are designed by Heather Moore of Skinny laMinx w Affordable and stylish prefab homes that will make you want to move ASAP
Sure, it would be nice to design a new house from scratch in the Bay Area, but that just ain't in the cards for most of us. There is good news, however: Affordable and stylish prefab homes are becoming more readily available. And they're not just slapdash, cookie-cutter designs. Proof is right this way. Here, we round up three of our favorite Northern California prefab builders, which offer luxurious and eco-friendly dwellings in a range of sizes, teensy to palatial. Fab, indeed.   Blu Homes In business for almost 10 years, this Vallejo builder knows prefab homes better than most—and combines the best of American craftsmanship with high-tech innovation. Blu Homes offers a dozen or so styles for full homes, all of which stand out for their beautiful design, premium quality and eco-friendly bent (e.g., solar panels, low-flow faucets, cutting-edge thermal insulation, energy-efficient stainless-steel appliances, etc.). Whether you seek a 450-square-foot home (starting at $170,000) or a 4-bedroom, 4.5 bath, 4,400-square-foot house (starting at $1 million), Blu has you covered. A1205 Club Dr, Vallejo (866-887-7997, bluhomes.com)   AVAVA Systems Britespace M264 Photograph: Courtesy AVAVA Systems         AVAVA Systems Think of Berkeley's AVAVA as the Ikea of the prefab-home set: All the components of each Britespace microhome are delivered in flat-packed boxes. (No, you don't have to put them together with annoying plastic tools—AVAVA's professional builders do that for you.) The