 龍麵館
以70年代中國武館為設計主題的新派中菜餐廳龍麵館,糅合了香港的傳統美食文化及創新意念,大膽打破傳統點心框框。 Dragon Noodles Academy
Aside from the tacky giant golden dragon on one wall and the lines of decorated lion heads, Dragon Noodles Academy looks pretty swish, being as it's designed like a chic kung fu academy from the 1970s. Still, this new Central contemporary Chinese kitchen by Dining Workshop really must be judged on its food. Its noodles, in fact. DNA's extensive menu is daunting but we decide to start with dim sum. The beautifully plated lobster puff ($138 for two), to be exact, that sits between the head and tail of a lobster, forming a whole crustacean. The pastry is flaky but too thick, making for a dry mouth that the generous filling can't save. The noodle mains, though, as they should be, are much better. The 24-hour sous vide beef cheek in soup noodles ($129) comes as a large bowl of slurp-worthy noods in a crustacean broth not unlike a bisque. It's stunning. And the lobster claw lo mein ($129) is also a winner, arriving with a teacup of broth. Tip: pour it all in. The chefs provide the right amount of liquid-to-noodle ratio for this dish. To finish, we opt for a coconut sticky purple rice garden ($69). It's Insta-worthy but doesn't work, being too watery and needing more coconut milk. So, basically, DNA is all about the noodles and the noodles only. That's enough to bring us back.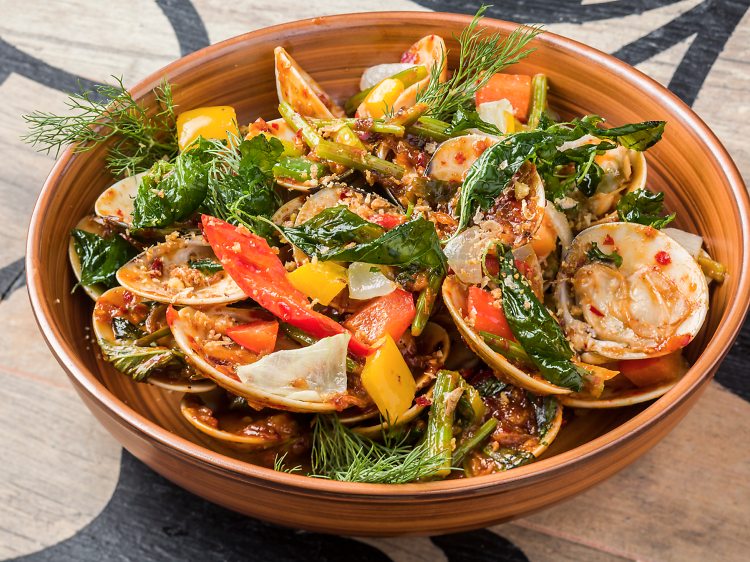 My Tai Tai
Tai tais, those rich ladies who do more shopping and afternoon tea sessions than actual work, are the subject of a new eatery in Central. And thankfully there isn't much work to do at My Tai Tai, the second of chef Harlan Goldstein's four new offerings at 8 Lyndhurst Terrace this year, compared to the first of the quartet, Ee De Le. There's certainly improvement here. The menu is adequately populated with dishes from northeast and central Thailand. We start with chicken satay ($24) – and we're pleased to find the lightly charred flesh is tender and works well with the rich miso peanut sauce. We then crank up the heat with a hoi lai phad prik phao – stir-fried clams ($138). Although we're disappointed that one of the spiciest items on the menu merely tickles, we love that the succulent palm-sized clams are not overpowered by the heavy garlic and chilli sauce.  Just as we think this could be one of the best modern Thai restaurants in town, though, our ho mok talay – seafood souffle – ($128) arrives with near raw scallops. The service is attentive but the food takes its time. We have to ask about our ro tee bread ($22) and Panang neua wagyu – wagyu beef curry – ($198) several times. The long wait is worth it, though, as the curry is delicious. Definitely a winner. There's a secret Pikachu at the start of Pokémon Go
Hongkongers rejoice! Pokémon Go was finally released in Hong Kong today after what felt like too much vicarious catching thanks to pretty much everyone else in the world being able to play except for us. By now you probably would have downloaded your app but, before you put on your walking shoes, we thought we'd let you in on a little secret: there's a hidden Pikachu right at the very start of the game. Yes, you read that right. Here's what to do to find our favourite little guy. At the start of the game, you're dropped into the map with three Pokémon to choose from: Charmander, Bulbasaur or Squirtle. Hold fire though – instead of catching any of them, you actually need to ignore them. Walk far enough away and the three will respawn around you, tempting you to catch them again. But be resilient. Walk away again, because you want that elusive Pikachu. Do this four times and Pikachu will appear as one of the choices to pick on the fourth or fifth respawn. You're welcome.