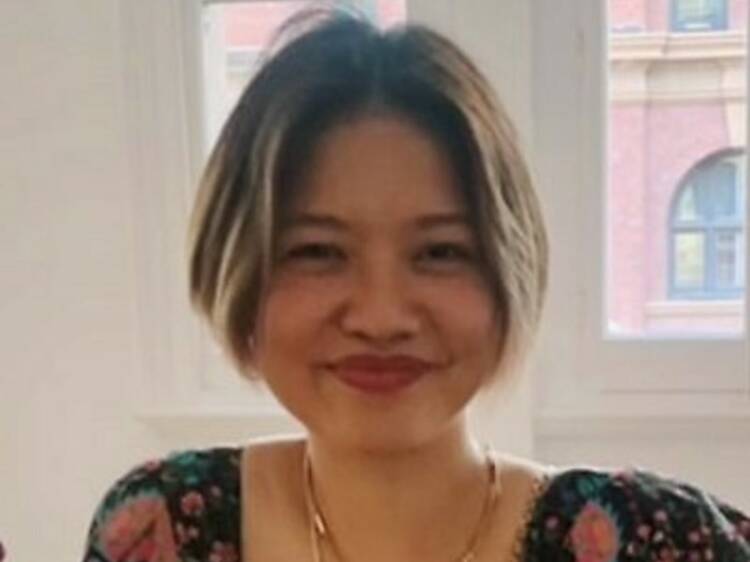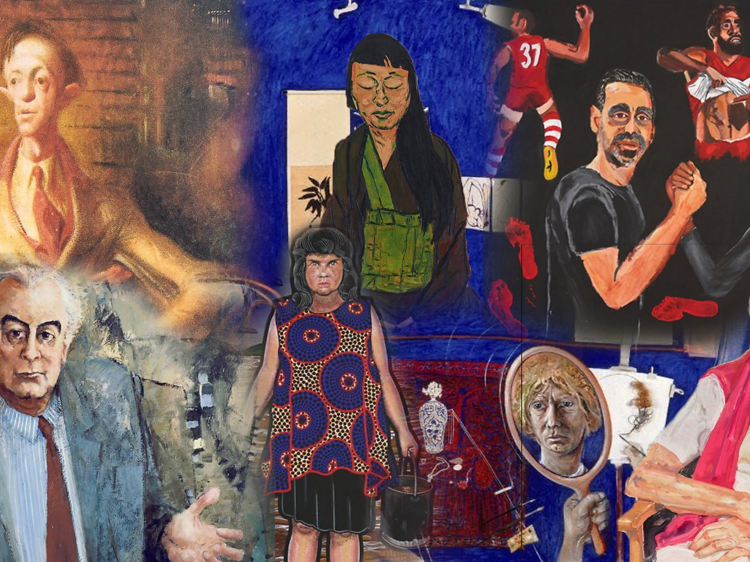 A beginners' guide to the Archibald Prize (and the Wynne and Sulman Prizes)
Whisperings, heated opinions, controversy and some confusion: sounds like the Archibald is here. Have you been yet? What's this bunch of pompous portraits? Who is Archibald anyway? Before you throw in your two cents on Australia's most famous art prize, start with our comprehensive guide on how to Archie like a pro.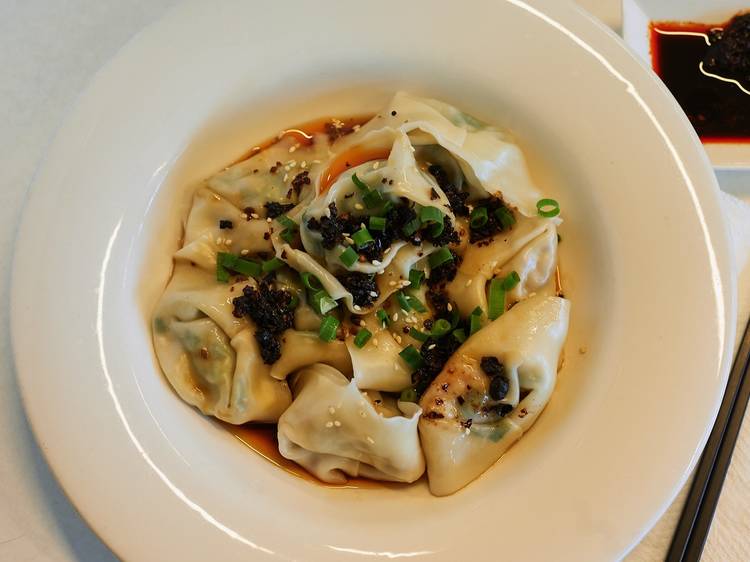 The best restaurants in Ashfield's 'Little Shanghai'
There is one road in Sydney where you can run all your errands in Shanghainese, the spoken dialect specific to the cosmopolitan seaside city of Shanghai. Need groceries? The doctor? A hairdresser? Ashfield's Liverpool Road has got you covered.  But what you're really here for is the eateries. If you stand outside Ashfield Mall, you'll see a veritable smorgasboard: Shanghai Night, New Shanghai, Taste of Shanghai, New Shanghai Night, Taste of Shanghai, Shanghai Dumpling. This is Little Shanghai.  Here, you'll find steamed soup dumplings, known in Mandarin as xiaolongbao or xio-long-bo in Shanghainese. These are a staple, as are shallot pancakes, pan-fried pork buns (also known as potstickers), fried dough sticks, Shanghai-style pulled noodles (la-mi) and spring rolls. If you recognise any of these plates, after a trip to Little Shanghai, you'll see that they're only a gateway drug to Shanghainese cuisine.  Recommended: The best new restaurants in Sydney.  Note: All pronunciations are the author's own transliteration of Shanghainese, which is a spoken dialect only.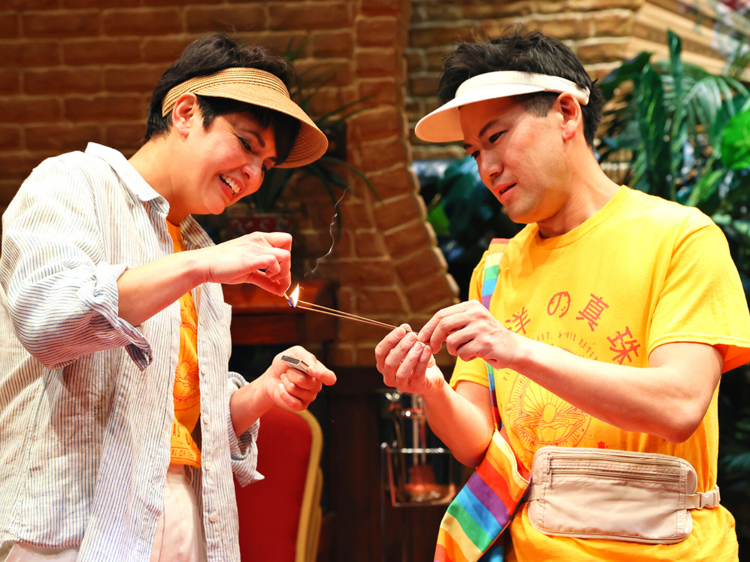 The One
The latest from award-winning playwright Vanessa Bates (previously of Sydney Theatre Company's Darling Oscar, and Barking Gecko Theatre's A Ghost in My Suitcase) and directed by Darren Yap (Griffin Theatre's Diving for Pearls) is the amusing, chaotic story of two Malaysian-Australian siblings, Mel and Eric, grappling with the impending visit of their dominating mother Helene (Gabrielle Chan), and what it means to be Eurasian. Billed as a new and eccentric family comedy, The One makes its world premiere at Ensemble Theatre.  The actors' high-energy performances give this story much gusto, especially combined with the dynamic choreography of Angie Diaz, who also plays big sister Mel. The compelling and creative use of the theatre space and audience participation adds another dimension, almost like an extra character. From the Fred Astaire and Ginger Rogers inspired ballroom dancing sequences, to a thrilling surprise performance starring little brother Eric (Shan-Ree Tan) later on, it truly amplifies the joy and entertainment of watching The One. However, the elephant in the room is this play's trite and harsh handling of identity politics and race relations. The overt nature of this is embodied by the stage setting, which as Eric describes is decked out "like a regional mid '90s Chinese restaurant". It looks like a predictable tale as old as the last fifty odd years of race relations and racism in Australia is about to be told. This includes a large sign in Chinese characters w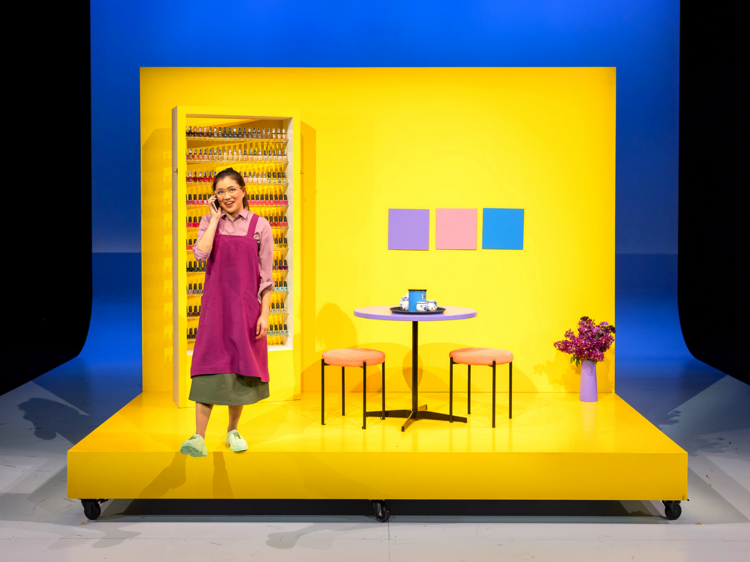 Top Coat
Warning: this review contains spoilers. Ever wondered what it would be like to live inside someone else's body? See things differently? In Michelle Law's latest play, Top Coat, directed by her long-time collaborator Courtney Stewart for Sydney Theatre Company, a young Chinese-Australian woman swaps bodies with a white Australian television executive, and the pair take a literal walk in each other's shoes.  It's a warm, vibrant tribute to the iconic body swap comedies of the '90s and early 2000s – think Freaky Friday or Suddenly 30 – and it also confronts the ugly face of everyday systemic racism and sexism. The swap takes place unexpectedly between Winnie (Kime Tsukakoshi), a nail technician who is saving up for her own salon and is increasingly frustrated by her mainly white, privileged clientele, and one such customer –  Kate (Amber McMahon), a tough, even brutish female TV executive at MBC with a dated sense of feminism (see: frequent references to her favourite suffragette Mary Maloney). The play is at its best in excavating the layers of inequality, symbolised by the experiences and particular traits of each character. Winnie and her co-worker Asami (Arisa Yura) must deal with subconscious and overt racism from customers, who barely expect them to be able to speak English, or expect inappropriate 'extras'. In response to this stressful environment, Winnie has developed an overly aggressive temperament. In contrast, Kate speaks in a commanding and articulate manner, "univ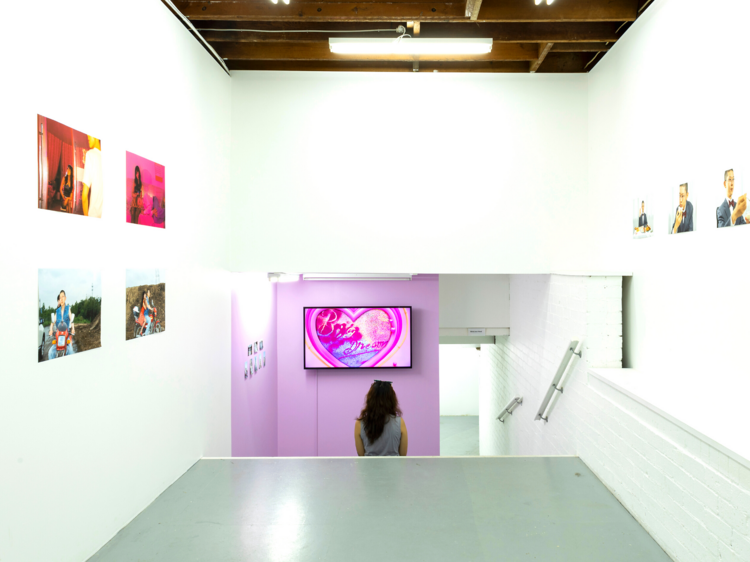 Unstableness
Gleeful, parodic, youthful – the current exhibition of two Shanghai-based artists Funa Ye and Pengfei Yin is unexpectedly, and even absurdly, light-hearted. Unstableness, curated by Yuanyu Li, has brought together two exuberant voices of contemporary Chinese art. Ye is an established experimental artist, currently working and teaching at the Central Academy of Fine Arts, Beijing, while Yin is a commercial fashion photographer and model who, during the pandemic, began to share some of his own photography projects on his Instagram. Ye's latest video work, Big Dream Show, re-interprets and revives the Chinese internet sensation, Sister Phoenix, a character played by the artist herself. An average Chinese woman with big aspirations, Sister Phoenix went viral in 2009 for handing out flyers in Shanghai looking for a man with excessive qualifications. Ye uses this irreverent character as the basis for a video collage embedded with a lowbrow, freewheeling 2000s and 2010s aesthetic, following the main character as she travels from China to New York City. Blithely revelling in western capitalism, she gyrates to rap, speaks to a non-existent audience on Wall Street, takes selfies with the Statue of Liberty and much more. It's a hilarious, kitsch and relatable point of recent history, yet also a thought-provoking juncture of reality and internet subcultures. The walls are lined with Yin's photographic series, I Shoot Myself, which also playfully blends the online and real world as he exp