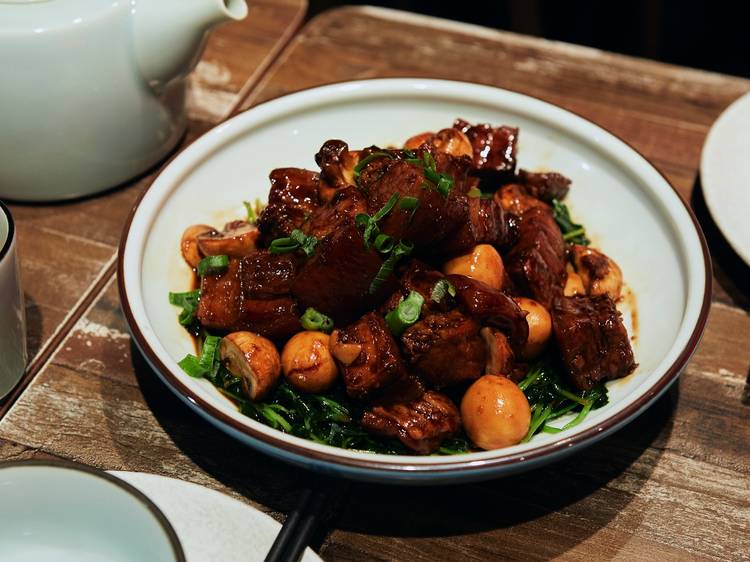 Photograph: Sherry Zheng
Two major Shanghainese eateries in Sydney have their flagship stores in Ashfield – Taste of Shanghai and New Shanghai. At Taste, you can try the hong-so-nu, or crispy boiled pork, which exemplifies the 'red braised' flavour that is typical of the region: its flavour and glossy sheen come from a rich bath of light and dark soy sauce, rock sugar and Shaoxing wine. For a bite-sized take on the red braised flavour, the so-ma, or sticky rice dumplings, are a glutinous snack usually popped out steaming fresh from street side vendors in Shanghai.
If it's signature flavours you're after, dang-cu (which translates directly to sugar-vinegar) is a must. It's offered up here in the live barramundi, where the crisp deep-fried fish comes in a gooey slather of tomato-dyed vermillion sweet and sour sauce peppered with crunchy pinenuts that say: 'It's complicated, but it's the only thing that makes sense right now.' We're here for a messy love story.
Shanghainese flavours often offer reward in complexity: enter ba-bo-ve (eight-treasure-rice), the irresistible hot sticky rice dessert containing 'eight treasures' that's usually served at Chinese New Year. Steamed sticky rice enfolds fresh red bean paste which is placed onto eight different toppings at the bottom of a bowl, including walnuts, goji berries, and colourful soft candies. When it's time for that big-O moment, it's tipped out and served like an exotic upside down cake. If that's a bit much, get the sesame rice balls in fermented rice syrup for dessert. These mini mouthfuls of chewiness are lighter (yet still glutinous) and float in a fragrant, floral broth. A clarifying close to a multi-layered feast.
264 Liverpool Rd, Ashfield.