Rebecca Skoch covers food and drink for Time Out Chicago.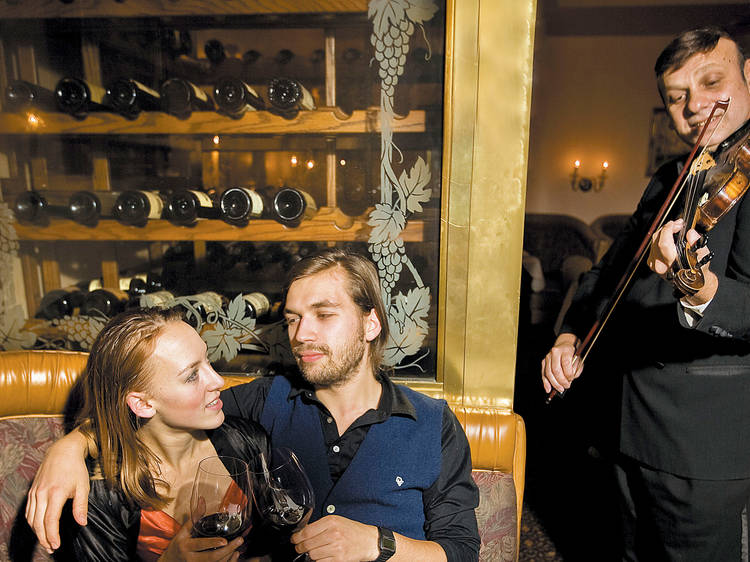 Sabatino's
Few restaurants hold the unexpected magic of a time machine, but step inside this North Side Italian gem and the spell is set. Sabatino's has all the retro charm that today's hip Italian spots can't seem to echo—servers are outfitted in tuxedos, the tables are set with fresh flowers and thick leather menus and violinists serenade diners in the candlelight. When ordering, it's hard to make a mistake amid the menu of old-school classics, like tender veal saltimbocca in a sage wine sauce, or the baked Alaska for two, which is lit at the table with festive sparklers. Any occasional imperfection seems charming in the atmospheric glow, bolstered by excellent red sauce and generous pours of wine. Even after all these years, Sabatino's still has us enchanted. Q-Tine
In Montreal, poutine—fries doused with gravy and topped with cheese curds—is classic drunk food. So the bustling stretch of Milwaukee in Logan Square is pretty much the ideal place for Q-Tine, a poutine and barbecue joint that's open till 4am on Friday and Saturday and 2am on Wednesday and Thursday.  The menu focuses mostly on variations on poutine, with creative toppings like cheesesteak, gyro meat and even slices of corn dog. But the classic poutine is a steal at $7, with more than enough crisp fries, meaty gravy and slightly melted fresh cheddar cheese curds to feed two. The barbecue menu is solid, with Memphis-style dry rubbed ribs and smoked meats. For the best of both worlds, order the pulled pork poutine, which tops the classic dish with a generous portion of fruitwood-smoked, tender pork. A large assortment of housemade sauces are also available, from traditional tomato-based barbecue to spicy hot sauces—try the snappy vinegar-based Hot Stuff sauce, made with loads of cayenne pepper, for extra heat. For drinks, cheap cans abound (like a $2.29 PBR), but the enormous 16-ounce watermelon margarita slushie is a surprisingly light and refreshing drink that will cut through the richness of your meal—and keep the night going. Ani
This Lincoln Park Japanese spot (and sister to Arami) wasn't where we expected to find one of the best bowls of ramen in the city. The tantanmen ramen can make you, albeit briefly, forget your winter woes. The broth, made with nutty sesame and chilis, shimmers with spicy oil and specks of green onion, and comes topped with a firework of cheveux d'ange (impossibly thin ribbons of red pepper). Crisp baby bok choy and tender pork meatballs float on top, and make sure to fish out the delicate bites of sweet kabocha squash that settled at the bottom of the murky sesame depths. Every bite is coated with a slick of chili oil, resulting in pleasant tongue-burning warmth. The cleanly cut sushi is another highlight, and the sake list has many well-chosen options. Get ready for cider—the Northman preview kicked off the Cider Summit
The annual Cider Summit is this weekend at Navy Pier, and the festivities kicked off early last night at the Fountainhead with the Power of the Press, a preview of the bar's sister spot, forthcoming cider bar The Northman. The bar is set to open shortly on Lincoln Avenue (date is still TBD), but if last night's preview is any indication, cider fans are in for a treat—there was an impressive selection of more than four dozen ciders from France, Spain, the U.K. and the U.S. on draft and in bottles. One of the standouts on draft was the Seattle Cider Company's Gin Botanical offering, a dry and citrusy cider with light floral notes of juniper and fresh herbs. Cider cocktails were also available and included a hot bourbon cider. Chef Cleetus Friedman, who handles the Fountainhead and will also run the kitchen at the Northman, previewed two dishes from the upcoming menu, which is focused on hearty French country fare—there was a rabbit roulade with polenta, chestnuts and shaved Brussels sprouts, and escargot served with cider-laced butter and a biscuit made with creamy goat's milk. With another brutal Chicago winter far from over, we're ready to cozy up with a hot cider and some stick-to-your-ribs food, so the Northman opening can't come soon enough.