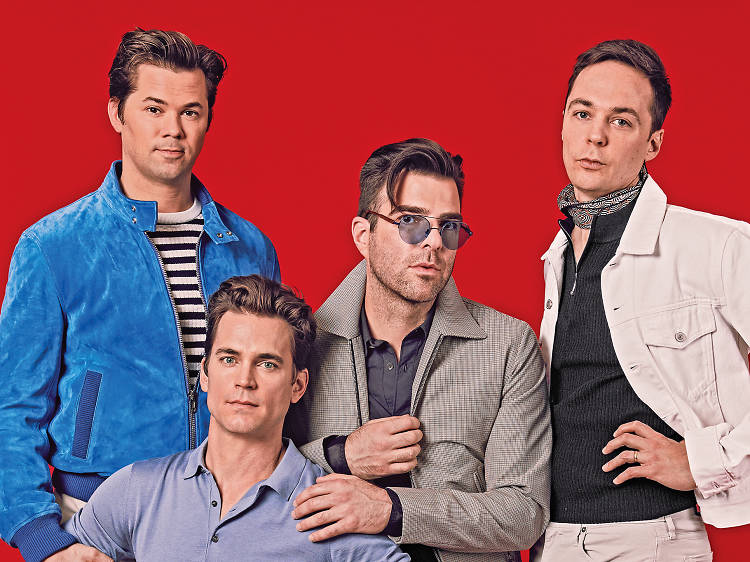 Jim Parsons, Zachary Quinto, Andrew Rannells and Matt Bomer hit Broadway
When The Boys in the Band opens on the Great White Way this month, it will be one hell of a celebration, marking the 50th anniversary of the Off Broadway debut with a hotly anticipated cast that comprises only openly gay actors. Roughly a month out from opening night, however, the troupe has yet to move into the Booth Theatre. They're not even in New York. Instead, the production has temporarily relocated to Downtown Los Angeles to make life easier for lead Jim Parsons, who's busy filming The Big Bang Theory. Star Trek's Zachary Quinto, too, is double-booked, recording a voiceover for an upcoming series. Meanwhile, Andrew Rannells (of Girls fame) is about to drop a PBS concert special, and Matt Bomer (Magic Mike) is spending his few available hours with his three kids. This scheduling madness is one reason why Boys promises to be a treat: There probably won't be another chance to see together onstage this caliber of actors from Hollywood's first out-and-proud generation—or at least not anytime soon. The first of its kind, Mart Crowley's 1968 drama follows a droll but tortured group of gay men during a birthday gone wrong. (Parsons plays the host and Quinto the birthday boy in an emotionally cramped Upper East Side apartment.) The original production boasted tons of buzz and a 1,000-plus-date Off Broadway run, but Boys wasn't without its critics. LGBT groups protested the 1970 film adaptation, directed by William Friedkin (The Exorcist), citing its dour depiction of gay life. 5 cheap dates you need to try before your next paycheck
March is the perfect time to start dating again. The days are getting longer, the nights are getting warmer and best of all, the rapid-fire holy trinity of couple-friendly holidays is well behind us. If you're anything like me, one of the biggest drawbacks of putting yourself out there is how costly it can be. For a middle-income man like myself, it's a constant concern whether my plus one will pick a five-star steakhouse that'll leave me eating Larabars for a week. So, consider these five cheap date ideas. They won't bore your new boo, they don't involve food trucks and most importantly, they won't dry up your tax refund. 1. Become workout buddies. Physical activities are top-notch first dates. Sure, hiking Runyon Canyon is free, but it's also banal, especially to city veterans. If you're looking to break a sweat while you're bootlicking, try FlyWheel in West Hollywood. For $25 each, you and your stranger-of-choice will spend an hour cycling, lifting and racing against each other in a cracked-out spin class.   2. Spend an afternoon on Abbott Kinney. Grab a late lunch at Lemonade on Abbott Kinney for about $12 before walking over to the Venice Canals, a cozy labyrinth of sidewalks and bridges around some of the best residential architecture the beachside neighborhood has to offer. Once the sun sets, skip over to the Whaler on Washington and split a pitcher of craft beer for $21. Or, head back to Abbott Kinney and swing into Roosterfish, a quaint, candle-lit, two-room bar that Is UberPool the new dating app?
Last week, Uber launched its latest ride-sharing feature, UberPool. Los Angeles is one of only four cities with UberPool, which allows users to jump in on someone else's ride and split the cost, as long as their final destinations are along the same route. Uber's promotional rates for the new service are enticing—just $5 from Beverly Hills to LAX or $15 from Downtown to Santa Monica. As a median-income gay man living in Culver City, a $5 ride to WeHo is hard to pass up—especially if it allows me a couple of personality drinks at my apartment before I hit the strip. Sharing a ride with a complete stranger sounded a little intimidating at first, but then I got to thinking...could Uber—which has been stitched into our lives so finely and changed how we get around—revolutionize the way we meet people? Could forced physical interaction with a stranger, long dead in the digital age, be the key to meeting new friends, or even new lovers? Consider this: Someone commandeers my ride to WeHo. This person happens to be a he, and he's also very attractive. Imagine the conversation: "Where you headed tonight?" "A bar in WeHo, you?" "Same. What bar?" "Flaming Saddles." "ME TOO." Suddenly my super-cute seatmate becomes my plus-one for the night. We dance all night. Meet each others' friends. Fall in love. Move in together. All thanks to sharing an Uber. Okay, I'm jumping the gun. I know I'm thirsty/a hopeless romantic. Is this scenario improbable? Yes. Is it impossible? Not really. Uber's ne