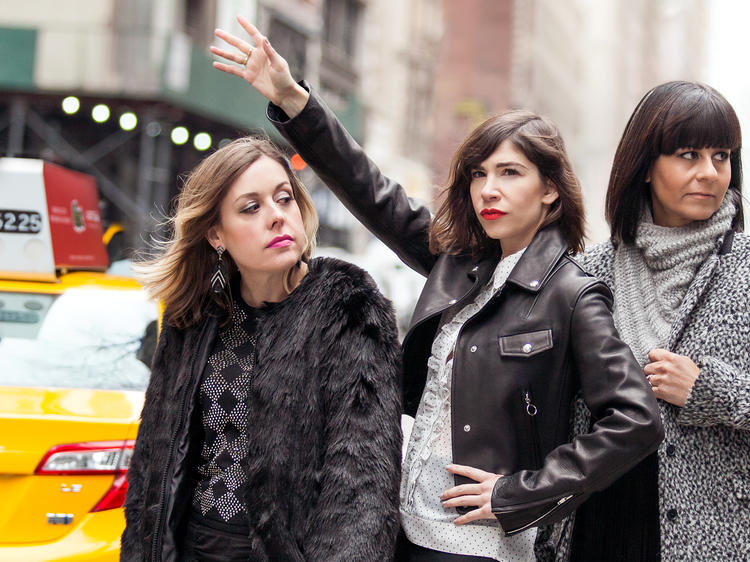 Sleater-Kinney talk about feminism, breaking the rules and their new record
Sleater-Kinney pressed pause in the summer of 2006 with a startling and surprising statement that simply read: "As of now, there are no plans for future tours or recordings." Eight years later, their return was equally as sudden with the unforeseen release of the single "Bury Our Friends." And just like that, they pressed play once more.Formed in the riot-grrrl breeding ground of Olympia, Washington, in the early '90s, the band (singer-guitarists Carrie Brownstein and Corin Tucker, and drummer Janet Weiss) released seven records, bringing together a pioneering punk sound with powerfully personal lyrics and helping to shape the underground feminist movement in the process. After parting ways, successful postband projects—the Corin Tucker Band for Tucker; the Shins and Stephen Malkmus & the Jicks for Weiss; and Wild Flag and Portlandia for Brownstein—followed, and the return of this seminal rock trio seemed increasingly unlikely. But it turned out that they were merely waiting until they had something significant to say.That something was No Cities to Love, the record the band is currently touring, that in sound and musical evolution is both signature Sleater-Kinney and a momentous leap from where they left off. Over eggs and coffee in the West Village, the three candidly survey where they've been and, more important, where they are this very second.Let's talk about the reunion. Were you really watching Portlandia when you floated the idea?Carrie Brownstein: I think we really w Review: Interpol at the Met
Intensity is nothing new at an Interpol show. But the intensity is that much more, well, intense, when the show is to promote the band's first release in four years and being held at one of the city's best-loved cultural institutions for a clutch of their die-hard fans. There are even beer and snacks, for god's sake. And it's hot. Like, really hot. Talk about a tinderbox. The crowd, hemmed between the makeshift stage and The Temple of Dendur at the Metropolitan Museum of Art, need no warming up as the band emerge with "Untitled" and "Leif Erikson" before plunging straight into "My Desire", the stand-out track from new outing, El Pintor. It's a slow start, with a few unsurprising sound issues (given where they find themselves), but the band soon hit their stride. Guitarist Daniel Kessler dominates, with his usual precision and fervor, and frontman Paul Banks' captivating solemnity is cut-through with a new-found warmth and ease. A band reborn? That may be something of an overstatement. But they're certainly a band with renewed fire. Though they swerve many of their biggest hits, they dive deep into the back catalogue with Turn on the Bright Lights and Antics well-represented in their fourteen-song setlist. The three new songs they play are three of the best from the record, giving this local crowd a tantalizing taste of their return to form a week before it drops.  "Welcome home!" yells one fan between songs. Welcome home, Interpol. And welcome back. Susan Sarandon joins Time Out New York as Guest Editor-in-Chief
I've been Editor-in-Chief of this wonderful brand for six months, and I won't lie: it's the greatest job on the planet. Hand on heart, it is. And I wouldn't give it up for just anyone. In fact, anyone else other than actor, activist, ping-pong devotee and all-round wonderful woman Susan Sarandon, and you would likely have to drag me out the door kicking, screaming and wailing hysterically. We've often discussed guest editors at Time Out New York, but no-one seemed quite, well, New York, enough. Until we thought about Susan, who is truly an iconic New Yorker. I knew that I would be leaving our readers in safe hands. So what can you look forward to? She's spending the day in our Manhattan offices today, July 21st, planning the articles, layouts, digital packages and social activity for our August 14th issue. It's an issue which promises to be full to bursting with causes and places close to Susan's heart. There'll be a launch party the week the issue lands (subscribe here so you don't miss it!) that you - yes you! - could attend. Stay tuned. I'll leave the final word to Susan as to just why she jumped at the chance to steal my chair: "New York is a big, beautiful, bad-ass town that constantly demands rediscovery. To act as a guide of sorts for people who are actively searching for the special, the magical, the interesting, makes me happy. This is my hometown; I want people to love it as much as I do." For now, I've got to go. It's time that #susanrunstimeout New Yorkers: it's time to save the city we love
It's been a bruising few weeks for New Yorkers with the news that institutions like Lucky Cheng's and Soup Burg are closing their doors. Sadly, they weren't the first and definitely won't be the last. It's time, New York, to say enough is enough. In our #SaveNYC issue of Time Out New York (on newsstands now), we pay homage to the other local joints we adore but have already lost (RIP Mars Bar, RIP Loehmann's) and issue a rallying cry to our city. Every single one of us is guilty of not walking the extra block or waiting on line an extra twenty minutes to visit the places we speak of with passion, awe and wet eyes. But what would New York be without them? It would be a drabber, duller, quieter, less colorful place. It would be a place that may not make our heads swim and our guts churn quite so much as we walk down the street. In short, it would be fucking boring. Is that the type of place we want New York to become? Hell no! So join us! Pay a visit to your favorite record store, restaurant live music venue, bakery, bar or theater. Lay down your dollars. Tweet your messages of love with the hashtag #SaveNYC. Together we'll ensure that this wonderful city of ours keeps its life-affirming joints that play such a huge part in making this city the greatest in the world. Yes, the whole world.Check out our series of guest blogs from notable New Yorkers pleading their case to #SaveNYC. First up: Julie Klausner!