The 11 best restaurants in Puerto Rico
A small island can pack a culinary punch: the best restaurants in Puerto Rico will make your foodie dreams come true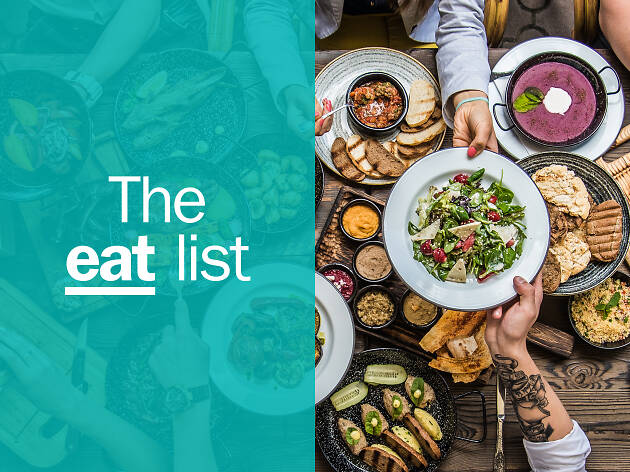 Frosty, rum-soaked mojitos and hot, crispy fritters cooked over an open flame. Succulent roast pork so tender it slips from the bone. The ubiquitous plantain, sliced, mashed and sautéed into salty tostones, garlicky mofongo and caramelized maduros. These are the flavors of Puerto Rico.
But the island has undergone a dramatic culinary renaissance in recent years. Today, diners are just as likely to eat beef tenderloin carpaccio prepared by a Culinary Institute-trained chef as they are an empanada from a roadside kiosk.
From the celebrity chef-run eateries among the resorts and hotels in Condado and Isla Verde to the street food kiosks of Luquillo and Piñones to the craft cocktail bars along Calle Loíza, Puerto Rico's foodie scene has got it going on. For a smorgasbord of gastronomic pleasures all in one place, check out our list of the very best restaurants in Puerto Rico. You'll likely figure out immediately that one of the very best things to do in the area is to, well, eat your heart out.
Best restaurants in Puerto Rico
1
Photograph: Courtesy Yelp/Angelo R.
Where is it: Cayey
What is it: Located on what is affectionately known as the Pork Highway (officially, Highway 184 in Guavate), Los Pinos specializes in whole roasted pig, as well as a number of local delicacies like green banana salad and pasteles.
Why go: Many lechoneras (those would be restaurants that specialize in roasted pork from a spit) have gotten away from roasting their pork on site, but Los Pinos still does it and it is sublime. Also expect live music and dancing to accompany your dining experience on the weekends.
Price: Bargain
2
Photograph: Courtesy Yelp/Mike K.
Where is it: San Juan
What is it: A hipster joint on trendy Calle Loíza in San Juan, specializing in complex but well-balanced cocktails and enticing small plates.
Why go: This is the kind of place you want to Uber to so you can work your way through the cocktail menu, starting with a Beet Collins, made with gin and rosemary-beet soda, and ending with a Tesla, a vodka-limoncello concoction served in a glass shaped like a light bulb. The best part of the experience? The food is just as good as the drinks. Take the edge off between rounds with ahi tacos served on bacalaito shells made from fried cod.
Price: Average
3
Photograph: Courtesy Yelp/Marissa C.
Where is it: San Juan
What is it: The standard-bearer for contemporary Puerto Rican cuisine located in a converted house with no signage in La Placita.
Why go: You never know what the menu will feature, but you can count on fresh interpretations of traditional Puerto Rican cuisine like picadillo, carne guisado or fried snapper. Reservations are not accepted, so be prepared to wait as long as an hour or more to get in. But you get a beeper so you can wander around La Placita and find a place to have a pre-dinner drink or two.
Price: Blowout
4
Photograph: Courtesy Yelp/Angela L.
Where is it: San Juan
What is it: A small, casual restaurant with a warm, homey vibe located on a busy corner in the Miramar neighborhood of San Juan.
Why go: Featured on Anthony Bourdain's Parts Unknown, Comedería Fonda Urbana's chef Xavier Pacheco serves creative interpretations of traditional Puerto Rican fare such as roasted pumpkin in balsamic vinaigrette, pigeon pea hummus, coconut rice with fish fritters and corn crème brûlée. Check out the cozy bar serving creative cocktails made with fresh fruit juices.
Price: Average
5
Photograph: Courtesy Tripadvisor/Sandra G
Where is it: San Juan
What is it: Tiny and loud, boasting the atmosphere of a college dive bar, Soda serves big, bold flavors that combine elements from around the globe designed to satiate hearty appetites.
Why go: Think stoner food: egg rolls filled with rice, beans and steak; bao sliders stuffed with roast pork; mac and cheese topped with kimchi and longaniza, a local pork sausage. Wash it down with a fruity mojito made with fresh blackberries or strawberries. Or both! It's that kind of place.
Price: Average
6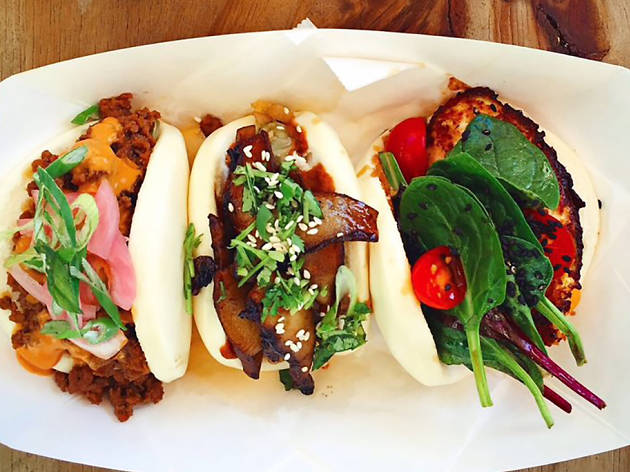 Photograph: Courtesy Yelp/Lote 23
Where is it: San Juan
What is it: Surrounded by high-rise office buildings in Santurce, Lote 23 is a contemporary take on Puerto Rico's street food kiosk culture, hosting more than a dozen food vendors representing some of San Juan's most innovative, young chefs.
Why go: Enjoy a variety of items from craft cocktails to doughnuts but, whatever you do, don't miss Pernilería Los Próceres' pulled pork sandwich served from an Airstream trailer. If you time your visit right, you can catch some live music or watch a movie as well.
Price: Bargain
7
Photograph: Courtesy Yelp/Mari L.
Marmalade Restaurant & Wine Bar
Where is it: San Juan
What it is: This is a romantic, sophisticated restaurant in Old San Juan that is lit for optimum effect and draped in swaths of jewel-toned silk organza, serving a menu of mostly small plates that fuse flavors from around the world.
Why go: This is the place to come for exquisite cocktails made from fresh juices, herbs and edible flowers, and small plates of kale pasta in a white bean alfredo sauce, pan roasted foie gras with warm blackberry sauce and braised rabbit in a black olive-basil pesto. Consider the six-course tasting menu with wine pairings or order à la carte.
Price: Blowout
8
Photograph: Courtesy Yelp/Armando R.
Where is it: Guayanilla
What is it: The birthplace of chuleta can-can, a traditional Puerto Rican dish that combines a pork chop with spare ribs and chicharrónes in one big slab o' meat.
Why go: Besides the fact that this is the one place you're sure to get a chuleta can-can properly prepared, it's a lovely, traditional-style restaurant in an old-fashioned wooden structure tucked into a pretty patch of tropical forest. Best of all: the food is outstanding and super cheap.
Price: Bargain
9
Photograph: Courtesy Yelp/Evelin C.
Where is it: San Juan
What is it: In addition to a half-dozen glass cases filled with luscious cheesecakes, pies and pastries, this bakery on steroids serves hearty lunch fare and provides full table service for dinner.
Why go: This is the way a Cuban sandwich is meant to be constructed: crusty bread stuffed with Swiss cheese, pickle slices and a thick stack of sliced ham and pork, pressed and toasted. The café con leche is also exceptional and is the perfect accompaniment to a sticky quesito pastry.
Price: Bargain
10
Photograph: Courtesy Yelp/Glen Y.
Where is it: San Juan
What is it: Potted palms and twinkle lights help infuse a touch of romance into the small, crowded dining rooms of this Miramar restaurant revered for its traditional Puerto Rican cuisine.
Why go: Sometimes you don't want innovative twists on long-standing dishes. Sometimes, you want the real deal, like the abuelas (read: grandmothers!) used to make. That's exactly what you'll get here: downhome arroz con pollo, mofongo, rice and beans and maduros. Begin with a glass of passion fruit sangria and end with fruit-studded tres leches cake.
Price: Pricey
11
Photograph: Courtesy Yelp/Joe L.
Where is it: Isabela
What is it: An open-air, beachfront oasis on the northwest coast serving stellar cocktails and an unexpected menu of dumplings, kabobs and samsas.
Why go: The second location of a popular Rockaway Beach, New York, spot serves cuisine from Uzbekistan as well as outstanding renditions of traditional Puerto Rican dishes like mofongo and whole fried snapper. It's a beautiful—if unlikely—marriage of flavors and settings that miraculously works.
Price: Average
Discover Time Out Market: the best of the city under one roof
Planning a trip to Puerto Rico?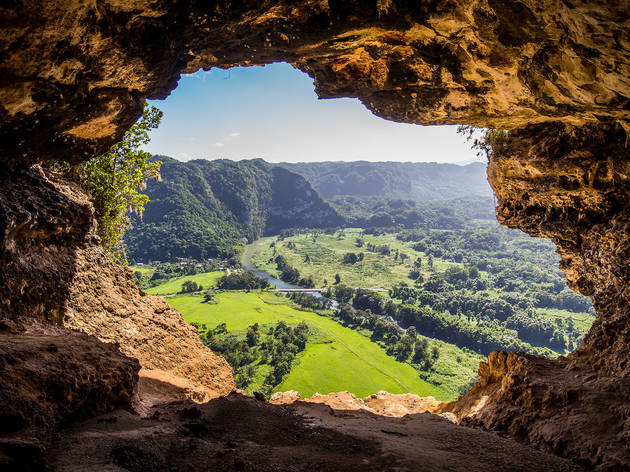 This island is a paradise for outdoor adventurers, from water sports like surfing and diving in Rincón to biking the boardwalk at Bosque de Piñones.