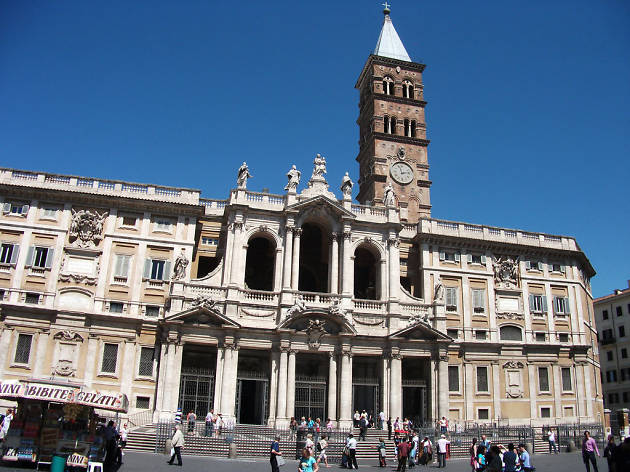 Hidden behind a scruffy Baroque façade is one of the most striking basilica-form churches in Rome.
Behind this blowsy Baroque façade is one of the most striking basilica-form churches in Rome. Local tradition says a church was built on this spot in c366; documents place it almost 100 years later. The fifth-century church was first extended in the 13th century, then again prior to the 1750 Holy Year, when Ferdinando Fuga redid the interior and attached the façade that we see today. Inside, a flat-roofed nave shoots between two aisles to a triumphal arch and apse. Above the columns of the nave, heavily restored fifth-century mosaics show scenes from the Old Testament. There are also 13th-century mosaics in the apse by Jacopo Torriti, which show Mary, dressed as a Byzantine empress, being crowned Queen of Heaven by Christ. The Virgin theme continues in fifth-century mosaics on the triumphal arch. The ceiling in the main nave is said to have been made from the first shipment of gold extracted from the Americas by Ferdinand and Isabella of Spain, and was presented to the church by the Borgia Pope Alexander VI.
In the 16th and 17th centuries two incredibly flamboyant chapels were added. The first was the Cappella Sistina (last chapel on the right of the nave), designed by Domenico Fontana for Sixtus V (1585-90), and decorated with multicoloured marble, gilt and precious stones. Directly opposite is the Cappella Paolina, an even gaudier Greek-cross chapel, designed in 1611 by Flaminio Ponzio for Paul V to house an icon of the Madonna (dating from the ninth, or possibly the 12th, century) on its altar. In the loggia, high up on the front of the church (book tours in advance; notes are provided in English), are glorious 13th-century mosaics that decorated the façade of the old basilica, showing the legend of the foundation of the church. The lower row shows Mary appearing to Giovanni the Patrician, who, with Pope Liberius, then sketches the plan for the basilica. The legend goes that the Virgin told Giovanni to build a church on the spot where snow would fall the next morning. The snow fell on 5 August 352, a miracle that is commemorated on that day every year, when thousands of flower petals are released from the roof of the church in the Festa della Madonna delle Neve.
Venue name:
Santa Maria Maggiore
Contact:
Address:
Piazza di S. Maria Maggiore, 42
Rome
00100 Roma RM

Opening hours:
Church 7am-7pm daily. Museum 8.30am-6.30pm daily. Loggia (booking essential, groups only) 8.30am-6.30pm daily.
Transport:
Tram 5 or Tram 14