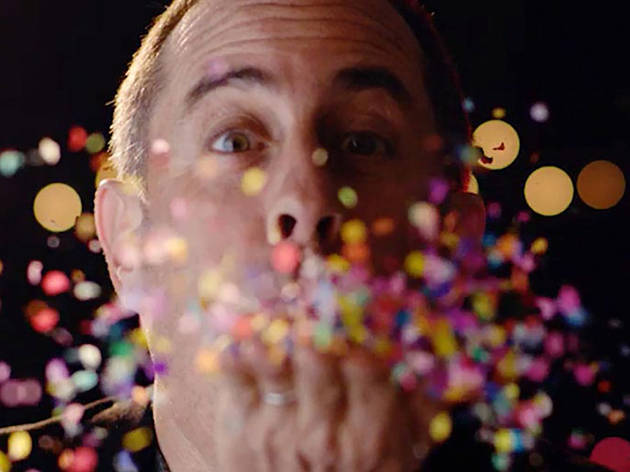 Listen up, comedy geeks. San Francisco has a brand new 3-day festival and this one is colossal. Brought to you by the folks who bring you Outside Lands and Bonnaroo, Colossal Clusterfest is a humungous comedy smorgasbord featuring top-shelf headliners like Jerry Seinfeld, Kevin Hart, Bill Burr, Sarah Silverman, T.J. Miller and Hasan Minhaj, plus loads of themed food and oh yea, music too.
"Ten years ago everyone wanted to grow up and be a rock star, now everyone wants to grow up and be a comic," said Steve Raizes from Comedy Central. What makes this festival especially special is not just the rock star comedians but the opportunity to literally eat, drink and breath comedy for 72 hours.
Ticket holders get to do more than chuckle and slap their knees in the Bill Graham Auditorium. Along with stand-up, Clusterfest provides immersive experiences that will turn Civic Center Plaza into a Comedy Central theme park. Just as fans enter a re-creation of Moe's bar in Universal Studios' Springfield or order a butter beer in Hogsmeade, Clusterfest goers can stride into a recreation of Paddy's Bar, from It's Always Sunny in Philadelphia and order a rum ham while playing Sunny in Philly trivia and Flipadelphia (a drinking contest). If you're more South Park, CO than Philly, PA, you can drink Tweek Bros Coffee, and hang at the memberberry ball pit while being serenaded by memberberries.
Better still, (IMHO) is the chance to live out your (my) fantasy that Elaine, George, Jerry and Kramer (before he was racist) are our best friends. Clusterfest is mounting a full-scale recreation of Jerry's apartment at 129 West 81st Street. Brave souls can attempt to order soup from the original soup Nazi, Larry Thomas. For the rest of us, Festivus will be celebrated with the traditional airing of grievances feats of strength and the pole.
For the cultish fans of cult sit-coms, this kind of minutia immersion is comedy mecca. Comedy Central says that while the stand-up will be spectacular, these immersive experiences are the secret sauce. "We're really excited to see people play in those worlds," said Raizes.
Comedy Central is presenting the festival along with Superfly but earlier this week, Netflix is also going full throttle stand-up. This week, Netflix premieres Sarah Silverman's new special, "Speck of Dust" and Hasan Minhaj 's new special, "Homecoming King." Given that he just made fun of the president on C-span and she's usually full of piss and vinegar, their Clusterfest shows (Minhaj on June 4 and Silverman on June 2) will probably be awesomely saucy.