Music & Nightlife
Discover San Francisco's best dance clubs and hottest music venues
Elton John, Fleetwood Mac and more music legends headed to the Bay Area this winter
It's going to be a star-studded winter indeed. In the coming months, the Bay Area will be visited by a galaxy of iconic superstars—from those covered in sequins to those covered in face makeup—and many of them are on their LAST TOUR EVER. See these legendary musicians before its too late.      Van Morrison and Shana Morrison November 14, 15 at the Fox Theater Irish singer-songwriter and indubitable music legend Van Morrison performs at Oakland's Fox Theater this month with his daughter Shana Morrison. On her own, Shana's music has been described as pop with a side of blues and a side of rock, while Van is about to release his 40th album of original material. Get tickets.    Fleetwood Mac November 21 at SAP CenterNovember 25 at Oracle Arena Reports of the demise of Fleetwood Mac have been greatly exaggerated. Sure, the pop-folk rock band that ruled the '70s has had many incarnations (this year, the band fired Lindsey Buckingham) but the tour must go on. The band has been making music for over 50 years and will commemorate this milestone with a new 50-song collection called 50 Years—Don't Stop. Get tickets.    Elvis Costello & The Imposters December 1 at the Masonic Elvis Costello is as much a new wave trail-blazer as he is a folk rock legend with records that have skewed from rock to jazz and from blues to bluegrass. A recovered Costello (who recently underwent surgery for cancer) is back with a new U.S. tour and a stop at the Masonic. The tour promotes his new LP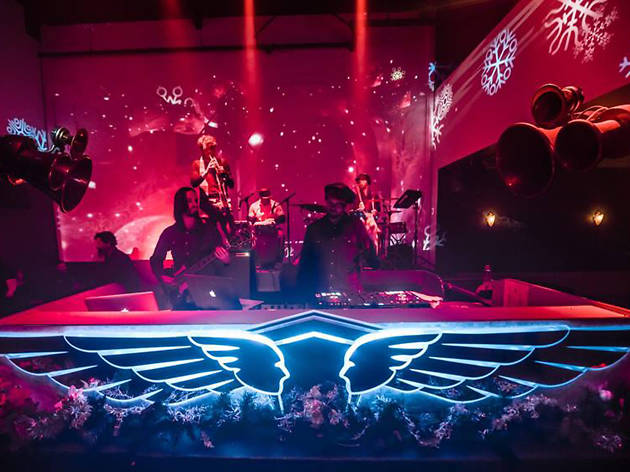 Dance the night away at the best nightclubs in San Francisco
San Francisco is inundated with cocktail lounges, dive bars, craft breweries, and speakeasies, but sometimes you just want to dance. We've got you covered. Whether you're feeling '80s and '90s jams, old-school hip-hop, or international electronica, these top nightclubs in San Francisco invite you to drink up and let loose. RECOMMENDED: The best gay bars in San Francisco
The Weeknd, Florence + The Machine, and Janet Jackson headline Outside Lands 2018
The lineup for this year's Outside Lands Music Festival has just been released and suddenly we can't wait for August to get here. The Weeknd, Florence + The Machine and Janet Jackson headline an eclectic collection of artists that spans genres and even generations. If you're more into the second line acts, other highlights from the 2018 lineup include Future, Odesza, Beck, Carly Rae Jepsen, Bon Iver, N.E.R.D, Chvrches, Huey Lewis & The News, DJ Snake, James Blake, Jessie Ware, Jamie XX and more.  And if all that music wasn't enough reason to make your way to Golden Gate Park this summer, there will also be stages dedicated to comedy, food and art, and a marketplace of craft vendors. The Wine Lands and Beer Lands tents will be serving beverages from local wineries and breweries, a perfect accompaniment to the Taste of the Bay Area station offering fare from some of the region's best restaurants. Check out the complete lineup below:   Outside Lands takes place August 10–12 in Golden Gate Park. Tickets go on sale on Thursday, April 5 for $375 or $795 for VIP. For the first time, Outside Lands is also offering a 3-Day GA layaway plan option, allowing fans to pay for their pass in four installments. See you in the park! 
Montréal's MUTEK festival will make its U.S. debut in San Francisco
Famed international electronic music festival MUTEK (May 3–6; $150–$450) will make its first foray into the United States this spring with a four-day festival set in San Francisco. The decade-and-a-half-old fest has toured in cities like Tokyo, Barcelona, Mexico City, Bogota and Dubai as well as its home country of Canada for years, but this will be its first pop-up in the U.S.  Hundreds of international performers will descend on SF as part of the fest. Fans can look forward to a live performance by techno innovator Moritz Von Oswald (credited by RBMA as having 'practically invented minimal techno') as well as sets by local artists like 8ULENTINA, Christopher Willits, DIBIA$E, Foozool, King Most and Only Now. While rooted in electronic music, the festival will also include art installations, audio-visual works, panel discussions, technical education and food.  The festival is spread across various venues throughout the city, including the San Francisco Mint, Mezzanine, The Midway, Bimbo's 365 Club, Gray Area Grand Theatre, Herbst Theatre, The California Academy of Sciences and Heron Arts. Four-day passports are currently available for $250, which gives attendees all-access throughout the duration of the event. 
The story of how hip-hop changed the Bay Area ... and the world
Before rap, deejaying and graffiti were mainstream, a group of dedicated trendsetters and musicians made hip-hop the cultural force that took California by storm in the 1980s. And while hip-hop was once associated with violence, drugs and gang culture, a new exhibit at the Oakland Museum of California focuses on the valuable lessons to be learned from hip-hop culture in its role as a platform for self-expression and activism. "These radical movements have matured and are giving back," says senior curator René de Guzman, who compiled the expansive exhibit, which highlights everything from deejaying and MCing to hip-hop entrepreneurialism, dance and fashion. The gallery is filled with everyday items like skateboard decks, barber chairs, lowrider cars and Grandmaster Flash's original turntable. In one very special corner of the gallery hangs a tapestry by renowned artist Kehinde Wiley—famous for his heroic portraits of Black celebrities and who Barack Obama recently commissioned to paint his official presidential portrait—alongside party flyers and rare photographs from the 1980s and '90s. Photograph: Amanda Sade Salako   Another section centers on the history of hip-hop in the Bay Area and was curated with the help of local music legends E-40 and group Hieroglyphics. Included are a map of hip-hop's historical markers—from Hayward to Vallejo—works from local graffiti artists and modern street fashion. OMCA comissioned a photographer to shoot contemporary hip-hop fashion