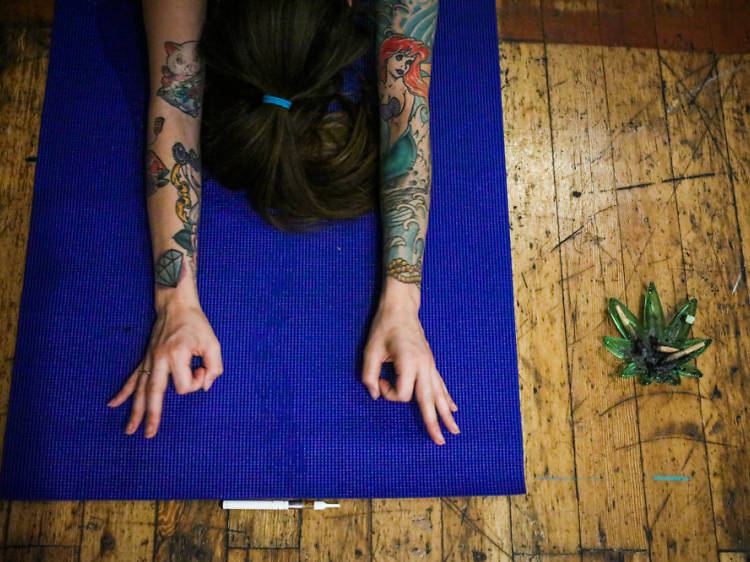 Photograph: Courtesy Ganja Yoga
Ganja Yoga
Weaving through the evening rush-hour traffic is not exactly the best way to clear your mind for a restorative yoga class, but I made it to the Feel Good Enterprises loft with one minute to spare. A very chill Dee Dussault, owner and instructor at Ganja Yoga, greets me, accompanied by the unmistakable odor of pot. It's not a skunky bouquet, like what you may smell at Dolores Park on a sunny afternoon, but a lighter and somehow more sophisticated scent (cannabis companies Eel River Organics and Flow Kana provide the sacred herb).
I'm not much of a toker, but for the sake of my art, I'm all in. I enter the yoga space where small groups of people cluster, smoking joints near the open window, hitting bongs near the small kitchen or just lounging on couches. I grab a vape pen—filled with the gentlest strain, heavy on the CBD—and do my thing. After Dussault makes a quick round of intros, the hang-out sesh concludes—onto the mats we go.
Dussault turns off the lights, arranges some candles and, in a soothing voice, tells us to relax. "Fake it till you make it," she says. "Shouldn't that be 'Bake it till you make it?'" I say, laughing at my own joke. The slow-moving class is gentle, and the poses are few. I follow along, trying to figure out if I am high (maybe just a little), but I can neither relax nor restore. There are distractions aplenty. The biggest one is a raucous party, a mix of laughter and big-band tunes that I swear I can hear through the walls. This noise, combined with the soft music playing in the room and nonstop shadows moving on the ceiling, are too much for my senses to bear. I keep glancing at the girl next to me for signs of irritation—nothing. After class, I ask Dussault about the party. "Oh, that's just the restaurant next door," she shrugs. Sigh. I grab a MoonMan's Mistress chocolate-chip edible and walk out the door.
How I felt hours later: Overstimulated and hungry.
Would I do it again? Maybe with a pal at a closer location.
Various locations (theganjayoga.com). 90-minute class $30.