The 20 best bars in Seattle
What better way to deal with the city's rain-prone weather than grabbing a drink (or three) at the best bars in Seattle?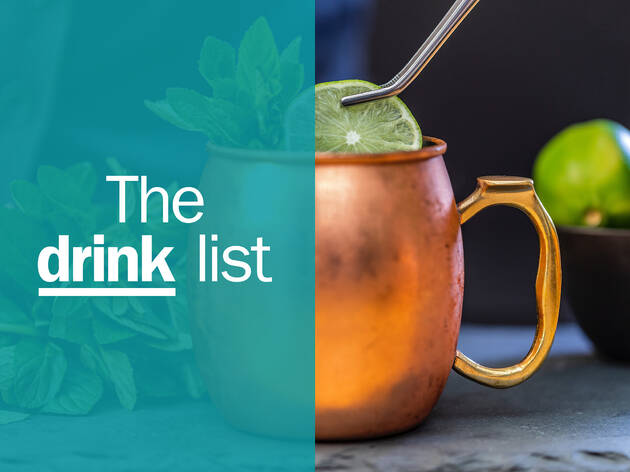 Although there are plenty things to do in Seattle when it rains (which, let's be honest, happens pretty often), we are partial to spending time devouring delicious food across the city's top restaurants and trying out cocktails and different kinds of wines at the best bars in Seattle. After all, with a semi-perpetual need for somewhere to get warm when the downpour comes, the city's bar scene must be a robust one. Whether a fan of craft beers, wildly concocted cocktails or wine, if you like to drink, Seattle is certainly your town. Cheers to you all!
Best bars in Seattle
1
Photograph: Courtesy Yelp/Anne D.
This is the best bar in Seattle because it is the perfect toasty Pacific Northwest hideaway. The massive outdoor space is great during pleasant weather days and fans of Twin Peaks will adore the decor inside. The real gem, though, is not the booze (although the selection is impeccable) but the Tavern Burgers. Single or double patty burgers come wrapped in paper and, at less than $5 each, you'll want to order a few.
2
Photograph: Courtesy E. Smith Mercantile and Co.
E. Smith Mercantile and Co.
E. Smith Mercantile offers everything the refined drinker could ever crave. Either head to the back room for the best classic cocktail you've ever had or browse through the well-curated shop up front and grab all the ingredients needed to recreate your favorite drink at home.
3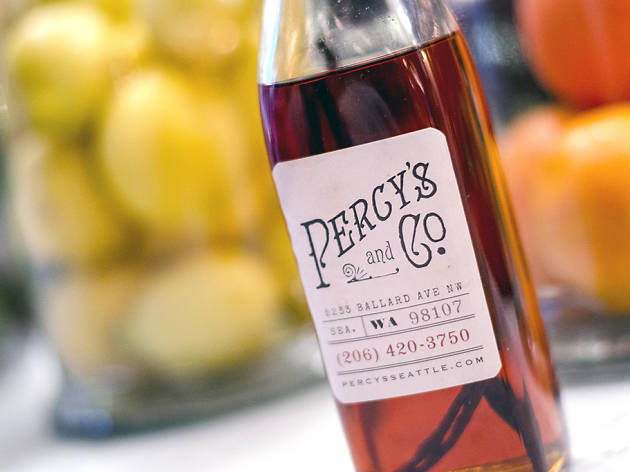 Photograph: Courtesy Percy's and Co.
Percy's and Co. is a go-to spot if you really take your cocktails seriously. This artisanal bar is flush with specialty drinks that delight your buds and keep you guessing. The staff grows most of the herbs used in the cocktails on premise because, as the venue's website claims, "it just tastes better when you grow it yourself."
4
Photograph: Courtesy Yelp/Shauna S.
If you're looking for fancy cocktails in a casually cool environment, Hazelwood is for you. This neighborhood haunt is frequented by Ballard locals and visitors alike. With a small cozy outdoor area and a fantastic upstairs lounge, this place is the spot for anyone looking for a chill refuge from the hustle and bustle of everyday life.
5
Photograph: Courtesy Yelp/Wil H.
The Cha Cha has been a staple in Seattle for a long time. Upstairs is an all-ages taco joint called Bimbo's that serves simple burritos. Walk through the downstairs space and feel part of a 1950s deranged tiki bar. Along with an old-school photo booth, patrons delight in the vending machine that is stacked with ashtrays, condoms, T-shirts and all other sorts of eclectic, yet useful, products.
6
Photograph: Courtesy Yelp/Mix M.
A sports bar that doesn't suck, Speckled and Drake is one of the best places to catch a game if you don't feel like being mobbed by drunken bros. The bartenders are cool, most of the local football and basketball games are on display and the drinks are satisfying. What else could you ever wish for?
7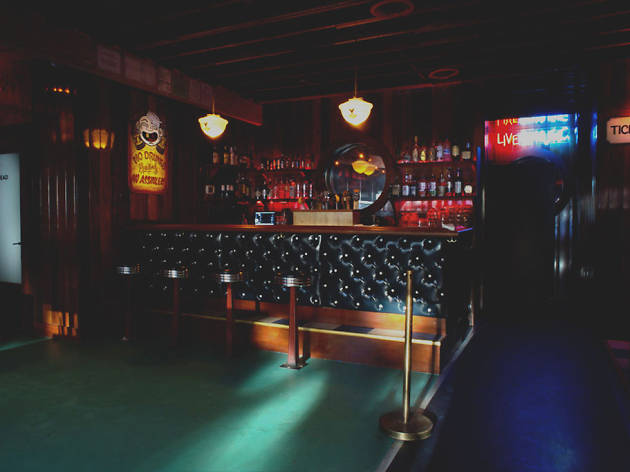 Photograph: Courtesy Sunset Tavern
Want to hear some music? Sunset Tavern is for you. An ideal destination any night of the week, the nautical themed bar also offers patrons delightful shows to watch while drinking. Be sure to check the calendar ahead of time to browse through possible show offerings.
8
Photograph: Courtesy Yelp/Alex C.
Vinyl heads, unite! Revolver Bar is home to an extensive collection of records that are played on a continuous rotation. Locals and tourists are welcome to bring in their own albums to donate—so your next EP could become this Capitol Hill bar's favorite new thing to spin. Make sure to grab a cup of the gumbo while here.
9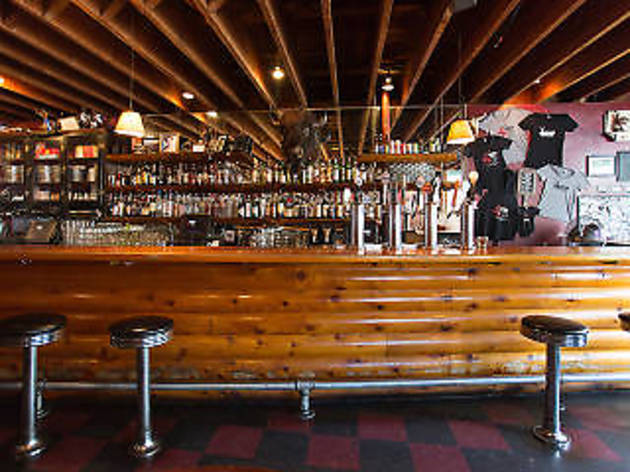 Photograph: Susie Pratt
An old-school Capitol Hill haunt, Linda's is a great spot to hang out in if you have a lot of free time. With wide booths, a giant outdoor patio and maybe one of the most perfect bar food menus, Linda's is simply a whole lot of fun. Bonus points: movies are projected on a giant screen within the bar and the staff offers patrons free popcorn.
10
Photograph: Bait Shop
Bait Shop is a great place to go for good vibes, nice people and strong drinks. The signature Painkiller is a frozen slushie made of various juices and a generous amount of rum. Many of the drinks come with a tiny plastic animal or mermaid holding onto the rim of the cup. This way, you'll never be drinking alone.
11
Photograph: Courtesy Yelp/Dawn U.
You know that creepy vintage bar scene in The Shining? That's kind of what the Polar Bar looks like—but without the ghosts. This 1940s-inspired bar lives inside the Arctic Club, a hotel boasting a similar vibe, and it is a great place to take a meeting or just hang out with friends. If you are slick, you can try to catch a glimpse of the hotel's fabulous Dome Room, just don't get caught!
12
Photograph: Courtesy Yelp/Jonathan C.
Like games? Head over to Add-a-Ball, one of the most impressive pinball bars in the city (believe it or not, there are a few). Through the unassuming entrance in a parking lot in the Fremont neighborhood, visitors will enter a maze-like bar filled with all sorts of games (including video games!).
13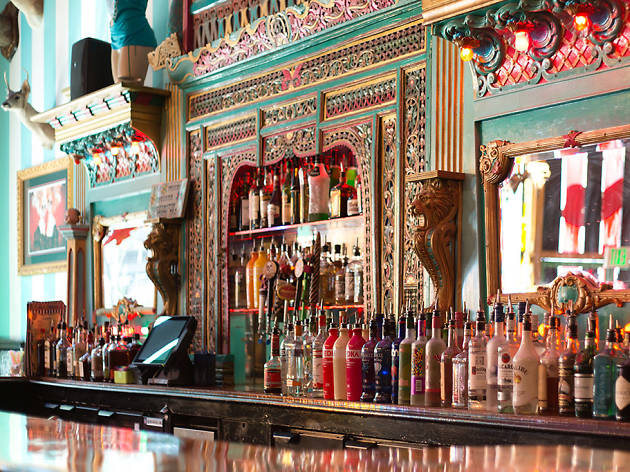 Photograph: Christopher Eltrich
Don't drink before you go to the Unicorn Bar, it's trippy enough in here. The circus-themed place is not really a local hangout but, if you're in town, it is absolutely worth a visit—if you can handle it, that is. Everything is drenched in wild colors among an impressive collection of animal heads that watch your every move.
14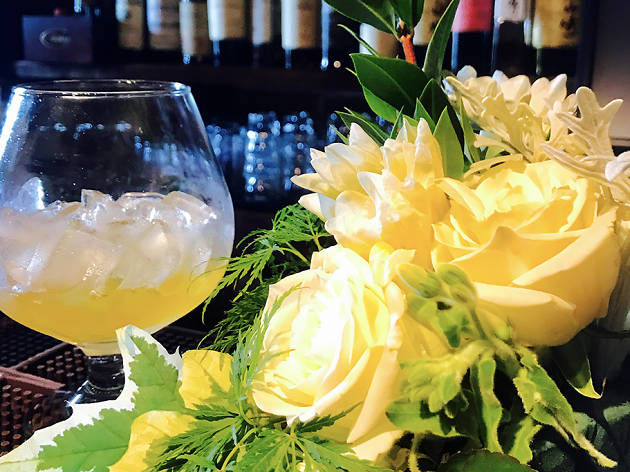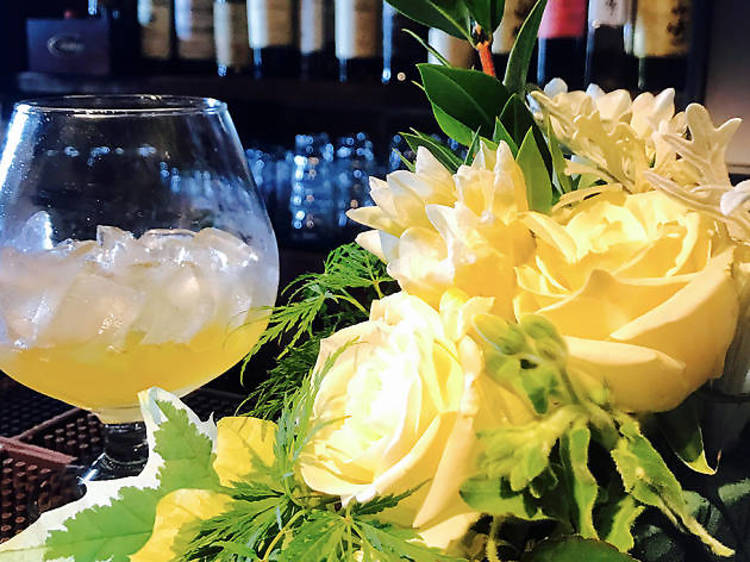 Photograph: Courtesy Bathtub Gin Co.
One of the most respected drinking holes around town, Bathtub Gin Co. makes cocktails so delicious, you will never want to go anywhere else. Fans of gin (duh) will especially love this spot, boasting a menu that includes 30 kinds of gin on any given night.
15
Photograph: Courtesy Yelp/Ron R.
Orient Express is a special kind of dive bar. The bar and restaurant are housed in a system of vintage train cars connected by a labyrinth of hallways. Some cars house dining rooms, others are bar areas and additional ones are karaoke rooms. As if that wasn't enough, the space also offers a full Chinese food menu, so you can snack while you are singing your heart out.
16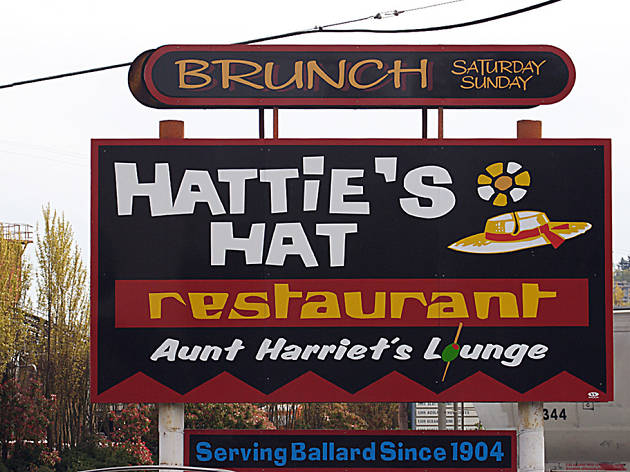 Photograph: Courtesy Hattie's Hat
A local favorite is Hattie's Hat. Expect a homey bar and restaurant filled with large booths, small tables, vintage decor and a local staff. The happy hour is generous, the drinks are simple and the vibe is quintessential Seattle.
17
Photograph: Courtesy Yelp/John L.
The south side of Seattle is the newest up-and-coming neighborhood, filled with great food options and plenty of other interesting businesses. But 9lb hammer was here first. This cavernous space is often guarded by a line of motorcycles, which gives the entire venue character, especially when paired with the shuffleboard table inside.
18
Photograph: Courtesy Yelp/Nhoj K.
Don't let the "cafe" in the name dissuade you: this is a dive bar. Open 24 hours a day, 5 Point Cafe is the ideal destination both after hours and throughout the day. In town on New Year's Eve? This is one of the best places to catch the Space Needle's fireworks show—it's the bar right under the landmark!
19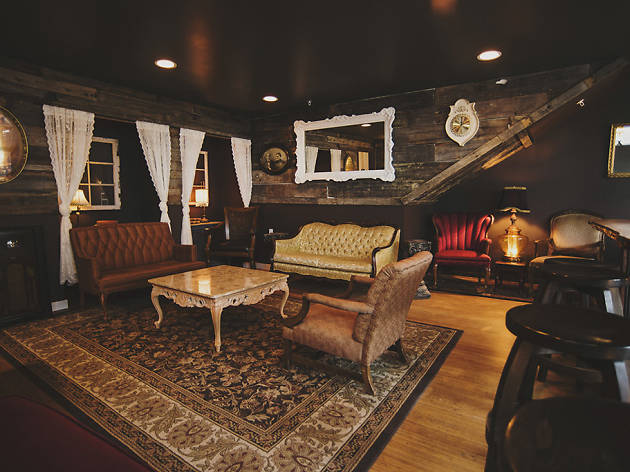 Photograph: Courtesy The Nook
Nestled in the city's up-and-coming West Seattle neighborhood, The Nook is a great place to hang out in if you don't really want to leave the house but you have to. Come inside and revel in the tufted furniture while browsing through a cocktail list that will awaken your taste buds.
20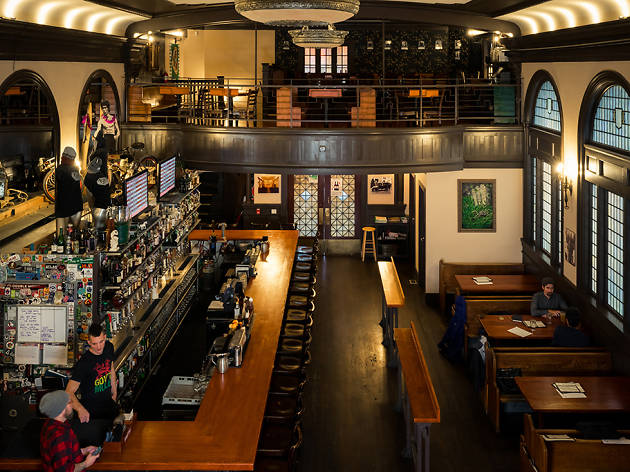 Photograph: Rawi Nanakul
The Pine Box is a macabre spot housed in what was once a mortuary and we absolutely adore it. The large space is ideal for big groups who love craft beers (the selection is truly impressive) and want to nibble on some traditional bar foods.