Heads up! We're working hard to be accurate – but these are unusual times, so please always check before heading out.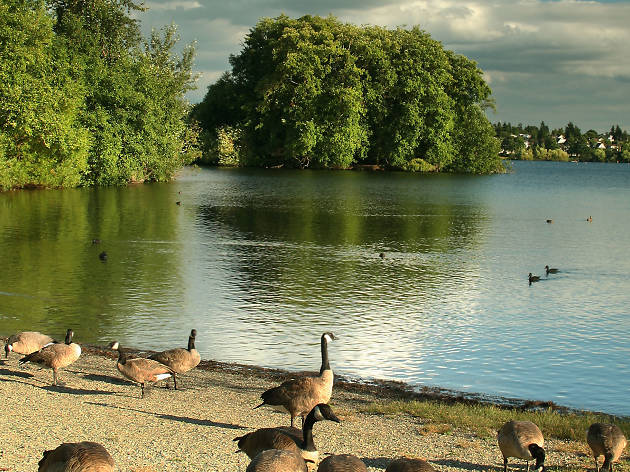 12 fabulous Seattle beaches to explore
Given the usual weather in town, you'll only have a few days a year to visit the best Seattle. Get on it.
As a port city surrounded by the salt-water Puget Sound on one side and the fresh-water Lake Washington on the other, it's no wonder that Seattle beaches are popular destinations among locals and tourists alike—that is, during the 90 days of the year that the weather actually cooperates.
From beach neighborhoods worth exploring to exciting bar and restaurant options and, of course, fun water activities, these local beaches are slices of heaven worth visiting when the rain stops pouring on the city. Get your sunglasses and beach towels ready, it's time to join usually pasty-skinned Seattleites for a swim.
Best Seattle beaches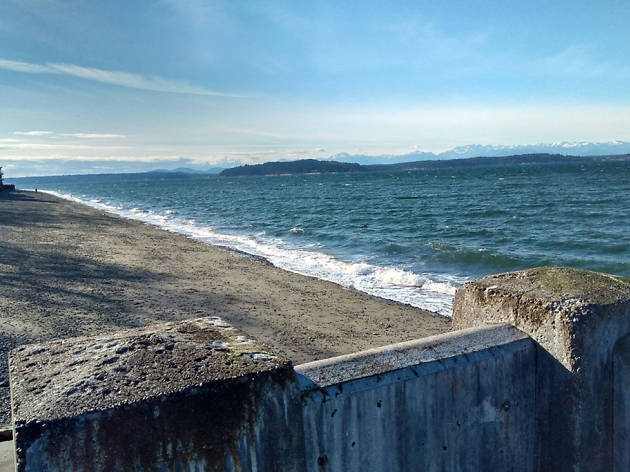 Photograph: Courtesy Yelp/Wendy L.
Out in West Seattle, Alki Beach is the cream of the crop, jutting out into the Puget Sound. In fact, West Seattle gives off a distinctly beach-town feel, so head there for the sand, shore and general beach lifestyle. As a bonus, enjoy the unreal view of Seattle across Elliott Bay with (if you're lucky) Mt. Rainier towering in the background.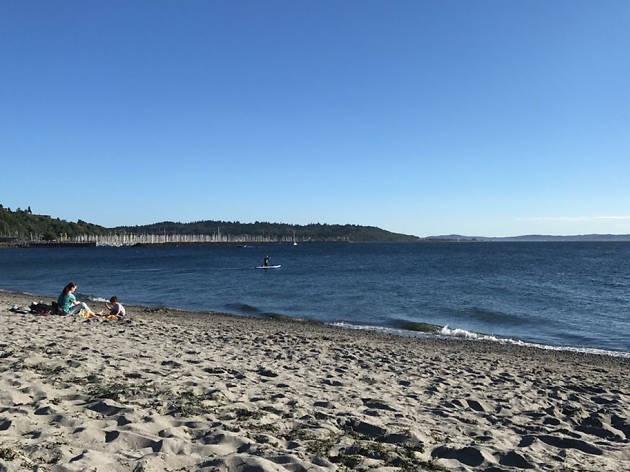 Photograph: Courtesy Yelp/Teri T.
Alki's most serious competition, Golden Gardens is one of the city's most popular sandy stops. One of the longer stretches of uninterrupted beach in the area, Golden Gardens offers the salty smell of the Sound as well as the majestic Olympic mountains as a backdrop across the water. Not bad for a city that's technically four hours from the coast. Just beware: on hot and sunny days, it will be crowded.
Technically speaking, this is more park than beach, and arguably more museum than park—but it's still worth exploring. Part of the Seattle Art Museum (SAM), Olympic Sculpture Park is an outside museum, granting free admission to all, that marries art and nature through sculptures. Its 9 acres include a beach on Elliott Bay with yet another breathtaking view of the Olympics. A beach surrounded by natural as well as man-made art: does it get any better?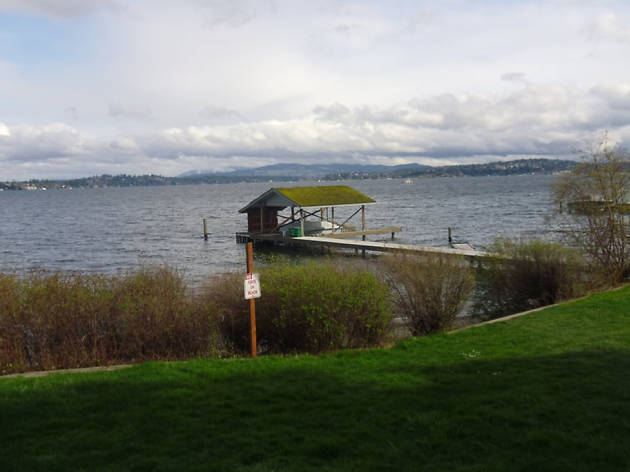 Photograph: Courtesy Yelp/Paul K.
Wear your birthday suit all year round at Denny Blaine and Howell beaches. Switching over to fresh-water, Howell Park is a small, secluded space: the perfect place to strut your stuff without making a scene. If you feel the need to spread out more, head down the street to Denny Blaine Park for a grassy spot to relax.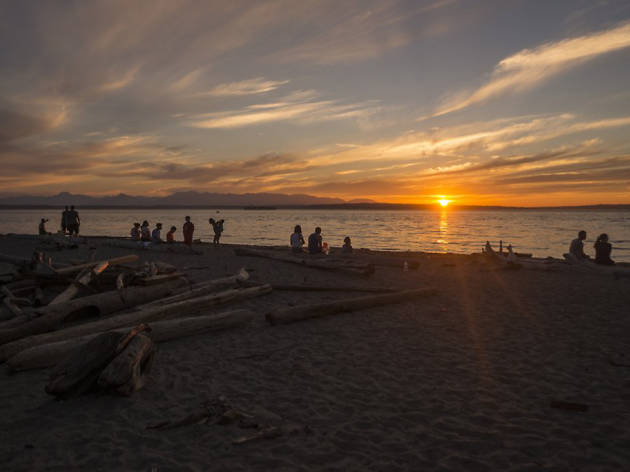 Photograph: Courtesy Yelp/Carkeek Park
Carkeek Park is what happens when a community comes together to take care of public spaces. Naturally blessed with beach, forest and wetlands on the Puget Sound shore (not to mention that killer view of the Olympics), years of volunteer work restored Piper Orchard and brought salmon back to Pipers Creek. The park and beach continue to be a place for entertainment and education.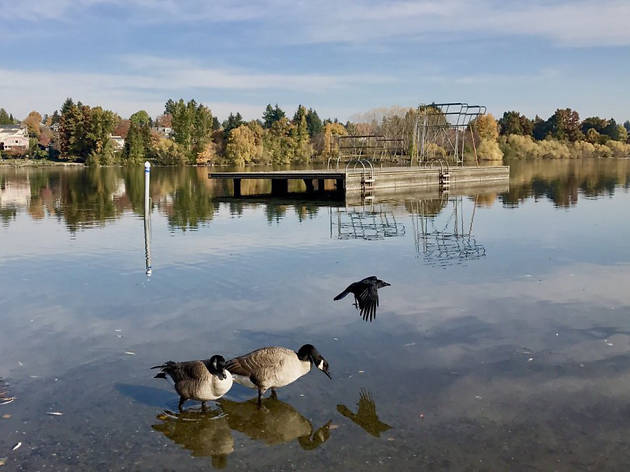 Photograph: Courtesy Yelp/Julie P.
Green Lake is the only beach on this list not on the Puget Sound or Lake Washington. A smaller lake in Northern Seattle, Green Lake a little murkier, but the size makes the water less frigid. Most importantly, the community is what grants the area a spot on any local best-of list. The urban oasis offers opportunities for boating, sports, art and restaurant options around the park's perimeter.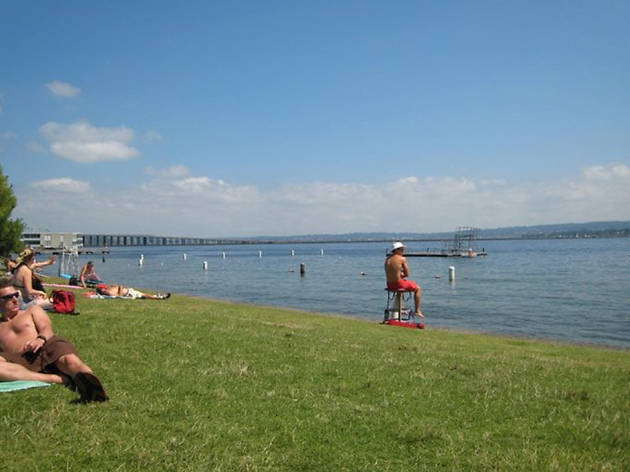 Photograph: Courtesy Yelp/j k.
A quieter, well-kept beach, Madison Park is sandwiched between the Washington Park Arboretum and Lake Washington. Boasting views of the Cascade Mountains in the distance, the beach also offers a playground, lifeguards on duty during the summer and tennis courts. Consider exploring the quaint eponymous neighborhood in which it resides or making a pit stop at the Seattle Japanese Garden on your way in or out.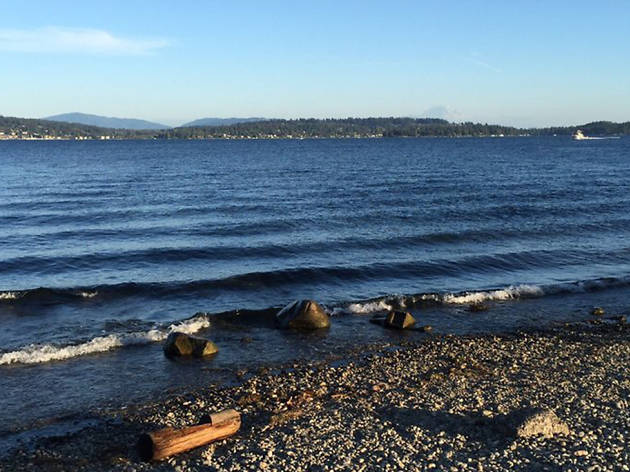 Photograph: Courtesy Yelp/Alex E.
Seattle's second largest park, Magnuson Beach claims a mile of fresh-water shoreline and comes with a laundry list of the perks: sports fields, art installations, wetland habitat and a community center, not to mention its history as a former military base. Throw in that view of Mt. Rainier across Lake Washington and this beach is a slam-dunk.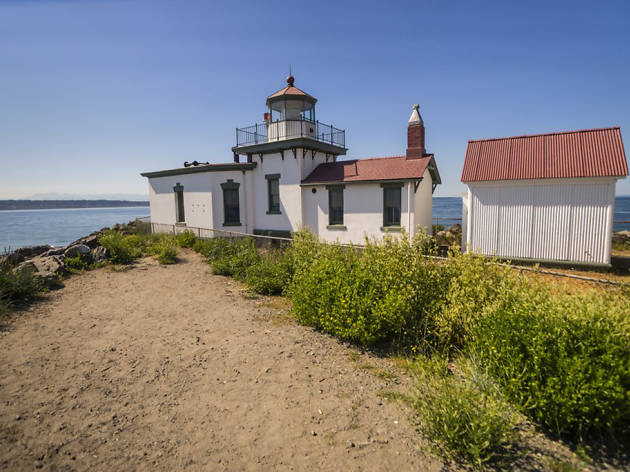 Photograph: Courtesy Yelp/Discovery Park
Aptly named, this beach in Seattle's largest city park stands out with two miles of protected tidal beaches. With both forest and sand dunes, it caters to all sorts of activity preferences. Though the beach is situated on the Puget Sound, the park actually offers views of both the Olympics (west) and the Cascades (east). An exploration of the West Point Lighthouse is highly recommended.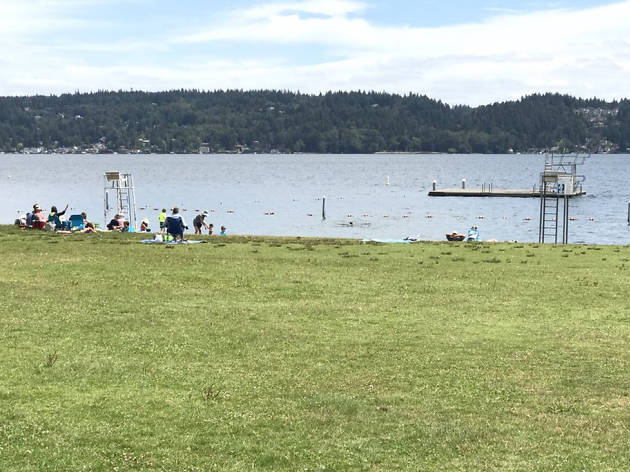 Photograph: Courtesy Yelp/Richard M.
The largest fresh-water bathing beach in the area, Matthews Beach is actually a whole neighborhood. Matthews Beach Park is where you go to swim. Tucked up in Northern Seattle, the park boasts an interesting history related to the Northern Pacific Railroad and "the world's first amphibious commercial air transports over the ocean." It's also a convenient stop along the Burke-Gilman Trail if you need a cycling, jogging or walking break.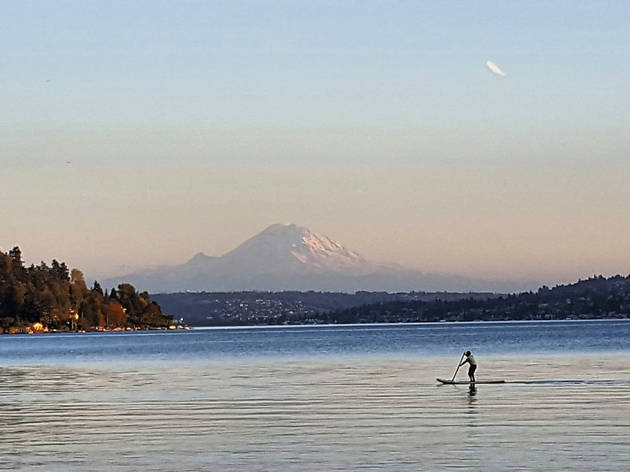 Photograph: Courtesy Yelp/Warren C.
Other than the old-growth forest, amphitheater and art studio, Seward Park's 300 acres are also dotted with beaches. Surrounding Andrews Bay (also known as Party Cove), you will witness an impressive gathering of anchored boats on a beautiful summer day. They're typically not that close to the shore, but make sure to keep an eye out for them when swimming.
Andover Place is a lesser-known place of peace that is almost as far west as possible within the city of Seattle. The land was donated 70 years ago specifically to afford public access to the Puget Sound. The tucked-away, sandy spot offers stunning views of the Olympic peninsula and is a little getaway with sand between your toes and the smell of salt-water, sans the crowds.
Looking to explore the city properly?
Because of its diverse geography—the city is sandwiched between the Puget Sound and Lake Washington—and breathtaking mountain views in every direction, Seattle is actually an ideal destination within the United States. Here are five of the very best neighborhoods in Seattle to consider the next time you make your way to the Emerald City, each one offering a unique vantage point and exciting things to do.