Heads up! We're working hard to be accurate – but these are unusual times, so please always check before heading out.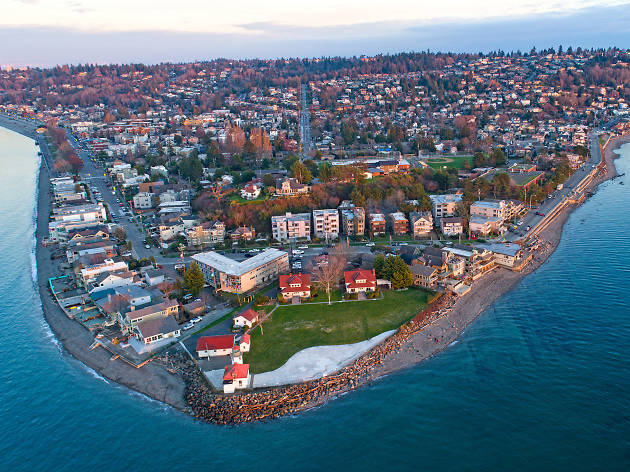 Seattle neighborhoods: where to stay and what to do
From buzzy Capitol Hill to beachy West Seattle, the best Seattle neighborhoods are more than meets the eye
You'd be remiss to think of Seattle as just a moody metropolis filled with a cluster of skyscrapers. Although the city is home to its fair share of towers and its residents have to deal with a lot of rain, there is much more to this town than meets the eye.
Because of its diverse geography—the city is sandwiched between Puget Sound and Lake Washington—and breathtaking mountain views in every direction, Seattle is actually an ideal destination within the United States. You can experience everything here—from sandy beaches and forest trails to a world-class shopping scene and award-winning restaurants—without ever leaving the city limits.
Here are five of the very best neighborhoods in Seattle to consider the next time you make your way to the Emerald City, each one offering a unique vantage point and exciting things to do. From buzzy Capitol Hill to beachy West Seattle, you can't go wrong no matter which one you choose to stay by. You'll just have to come back to experience them all.
Best Seattle neighborhoods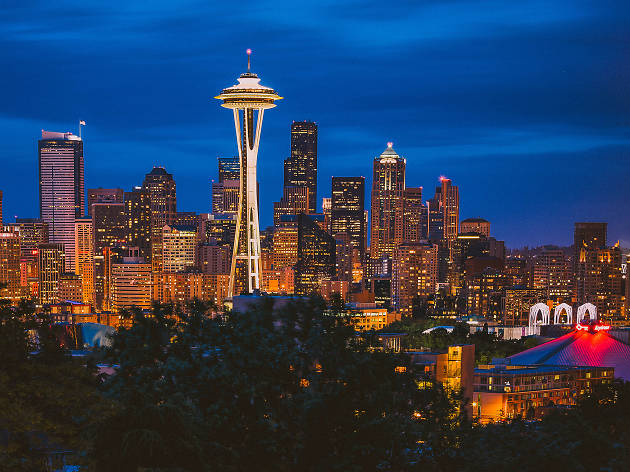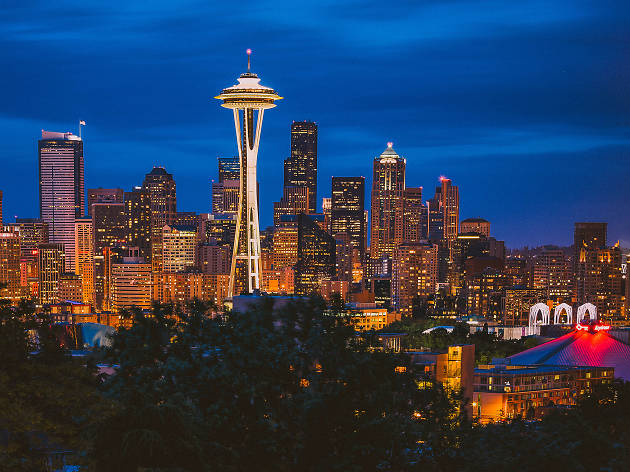 Photograph: Courtesy CC/Flickr/CEBImagery
With a wide range of restaurants, bars and nightlife opportunities on your doorstep—not to mention a close-up view of the Space Needle—Lower Queen Anne is a great choice for those wanting to be within walking distance of Seattle Center. If you're looking for a quieter neighborhood feel, consider staying at the top of the hill. Those trying to avoid the climb back up the steep hill after a day of sightseeing (who can blame you?), will appreciate the various bus routes serving the area.
EAT
Eating nearby the city's tourist attractions can feel like a gamble, but one you should take at Toulouse Petit in Lower Queen Anne. Plan to start your day with caffeine and Creole cuisine at this Big Easy-inspired brasserie—order the Dungeness crab Benedict and beignets for the table.
DRINK
You won't go thirsty in Queen Anne, but getting off the beaten path has its advantages. Check out local hangout The Wick, a small bar/motorcycle shop serving rotating craft beers and cups of joe. The Wick is a favorite of moto enthusiasts and anyone who appreciates a good brew—of the coffee or beer variety.
DO
Ride up to the top of the Space Needle to check out the new glass observation deck, complete with see-through benches, and the Loupe, the world's first and only rotating glass floor. Take in the sweeping views of the Pacific Northwest: water and mountains as far as the eye can see.
STAY
A member of the Stay Pineapple brand, the bright and vibrant Maxwell Hotel is a great option for those who want to be within walking distance of the main city attractions and just a bicycle ride from the waterfront. Bonus points: the hotel loans out beach cruisers to guests who would rather pedal their way around town.
If you do one thing…
For one of the best views of Seattle, head to Kerry Park. Located on Queen Anne Hill, this small neighborhood park is usually teeming with locals and tourists alike at sunset, but sunrise is even more spectacular. Pick up a coffee and join photographers and fellow early birds for amazing views of downtown, Elliott Bay and—if the clouds permit—Mt. Rainier.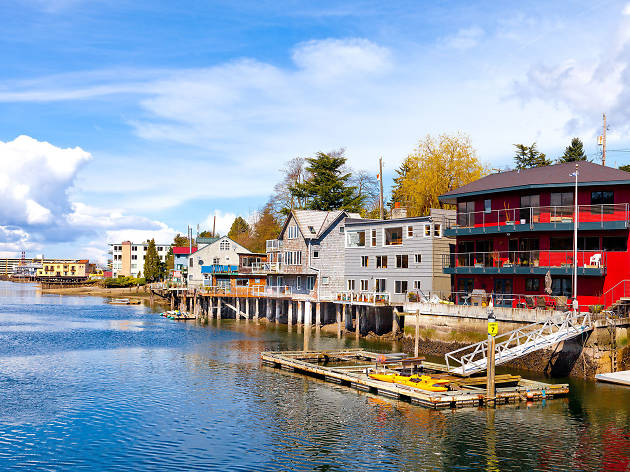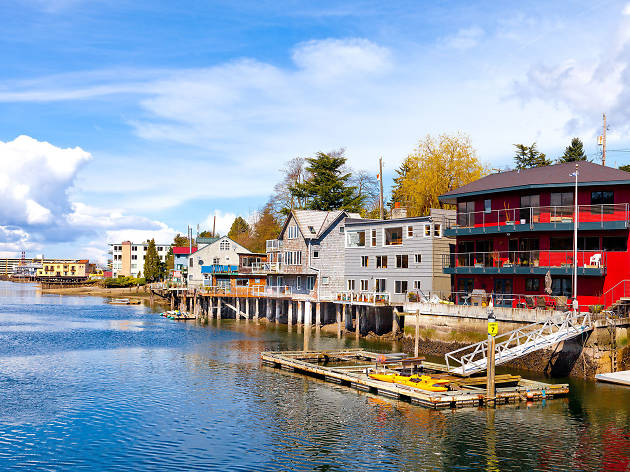 Photograph: Shutterstock
A unique neighborhood with strong Scandinavian ties and maritime history, Ballard is now one of the city's hot spots for eating, drinking and live music. In addition to its bounty of craft breweries, independent restaurants and cool boutiques, the area is also home to a historic waterfront and one of the best beaches. Situated on Puget Sound, with impressive views of the Olympic Mountains, Golden Gardens Park attracts visitors from all over the city, especially during sunset hours. Located in the northwestern part of the city, Ballard is accessible by bus, including the RapidRide line, making it easier to get to and from downtown.
EAT
You'll be spoiled for choice when it comes to eating in Ballard, but the sweetest treat can be found at Hot Cakes Molten Chocolate Cakery. Order a molten chocolate cake, made with Seattle's Theo chocolate, and a grilled chocolate sandwich with salted caramel dipping sauce. Chocoholics, proceed with reckless abandon.
DRINK
There are so many breweries in the 'hood, you shouldn't just choose one—but Stoup is definitely a good place to start. Tucked in-between homes a few blocks north of Leary Way, this busy taproom and beer garden has something for everyone. With 20 taps and rotating food trucks, you'll only just scratch the surface of the Ballard brewery scene.
DO
Once a Scandinavian seafaring community, Ballard is home to a rich maritime history. Hiram M. Chittenden Locks (or the Ballard Locks, as referred to by locals), at the west end of Salmon Bay, carries more boat traffic than any other lock in the U.S. and is a major tourist attraction in Seattle. It is especially popular during the late summer, when you can catch sight of salmon swimming up the fish ladder on their way to fresh water.
STAY
Hotel Ballard offers upscale elegance in the heart of the neighborhood, but if you're looking for a bit more space and a more authentic Seattle stay, your best bet is booking a home a few blocks off Market Street through AirBnB or VRBO.
If you do one thing…
Visit the Ballard Farmers Market on Sundays. Open year-round, the bustling market is packed with vendors selling everything from Washington produce and leather goods to seafood and kombucha. Along the tree-lined street, pause to enjoy local musicians busking and poets writing on vintage typewriters (yes, really!).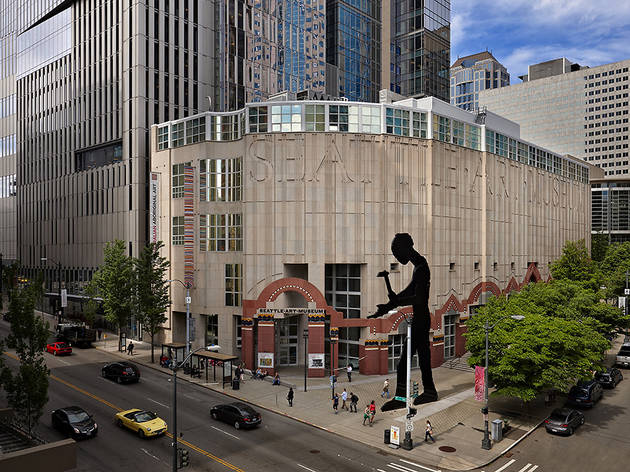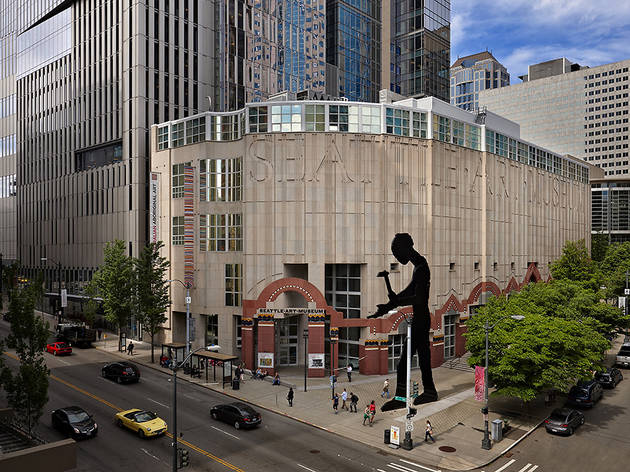 Photograph: Benjamin Benschneider
The most urbane Seattle neighborhood, Capitol Hill is home to many of the city's award-winning restaurants and bars. As the city's LGBTQ hub, the vibe is young, hip, artistic and literary with a prominent nightlife scene. Because of the close proximity to downtown, this eclectic area is easy to get around in, with plenty of public transit options.
EAT
Pull up a bright teal stool at Bar Melusine and dine on oysters and crab-stuffed crepes. This French-Atlantic fusion restaurant, created by Seattle chef Renee Erickson, is an Instragrammer's dream: expect funky tiled floors, marble counters and gold accents. We promise: the food tastes as good as it looks.
DRINK
Drinking in a former funeral home probably isn't high on your bucket list, but it will be after hearing about Pine Box. Order one of the 30+ beers on tap at the bar built from reclaimed coffins and grab a seat in the space that was once the chapel of the funeral home. Kind of creepy, true, but the beer obviously helps.
DO
Stretch your legs at the 48-acre Volunteer Park, one of the city's most beautiful public parks. Climb the water tower for impressive views of downtown and be sure to check out the conservatory and the Seattle Asian Art Museum. This park may be in the middle of the city, but it feels like a quiet retreat.
STAY
Pass up the downtown hotel chains for a unique stay in Shafer Baillie Mansion, a historic manor in a section of Capitol Hill that was once known as Millionaire's Row. The beautifully restored and maintained B&B is only a 15-minute stroll from the lively Capitol Hill happenings.
If you do one thing…
Peruse the shelves at Elliott Bay Book Company for bestsellers or hidden gems and don't miss their northwest section. This beloved independent bookstore is open late and hosts readings most evenings, making it the ideal escape from the clamor of Capitol Hill.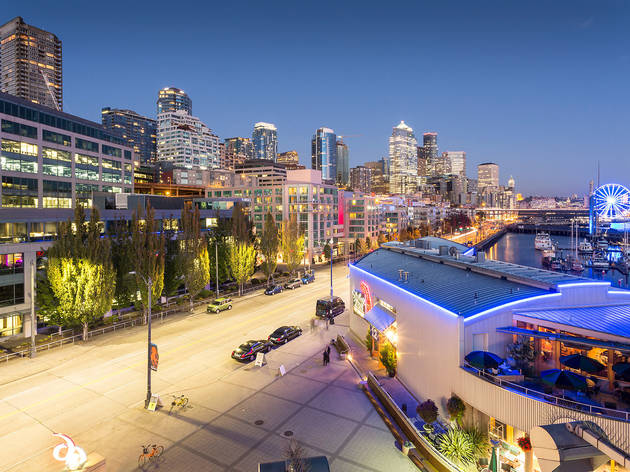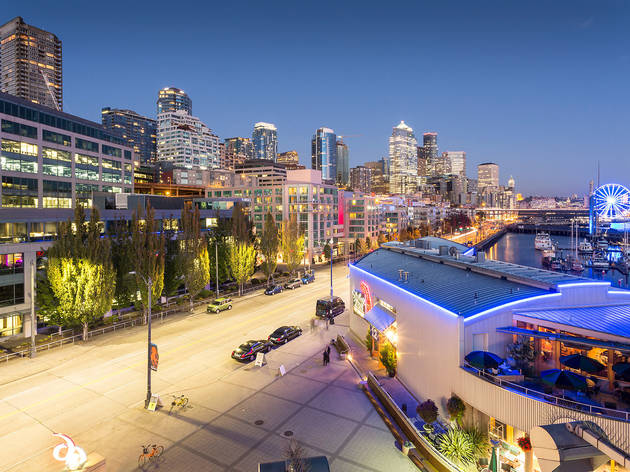 Shutterstock
Walkable and conveniently located, Belltown is the most densely populated neighborhood in Seattle, filled with trendy bars, restaurants and nightclubs. Just north of downtown and on the waterfront, Belltown is the ideal area for those wanting to revel in the hustle-and-bustle of the city, whether for business or pleasure.
EAT
Named after the Chinook word for "welcome," Tilikum Place Café is one of Belltown's favorite eateries, serving European-inspired comfort dishes in a cozy setting only a short walk away from the Space Needle. Go for brunch and try the Dutch babies—sweet or savory popovers packed with flavor and baked in cast iron pans.
DRINK
Dark and moody and oh-so-cool—just like the Jane Austen heartthrob that inspires it—Mr. Darcy's is not to be missed. This intimate cocktail and wine bar oozes romantic, literary vibes, and the drinks are worth writing home about, especially two cocktails by the names of Pride and Prejudice. See what they did there?
DO
Catch a show at one of the city's favorite music venues, The Crocodile, where local legends like Pearl Jam and Nirvana once played. No live music scheduled for the day of your visit? Worry not, you can still enjoy some pizza, beer and cocktails in the back bar among posters of rock and roll royalty.
STAY
You can take your pick of hotel chains by virtue of Belltown being right in the thick of downtown Seattle but, if you want waterfront views, look no further than the Edgewater Hotel. If you're lucky, you'll score a room with a balcony overlooking the ferries coming and going across Elliott Bay.
If you do one thing…
Walk down to Pike Place Market first thing in the morning. Grab a coffee at the original Starbucks, an apple cinnamon roll from Russian bakery Piroshky Piroshky and wander the historic market stalls. Don't forget to snap a pic of the iconic market sign before the crowds descend.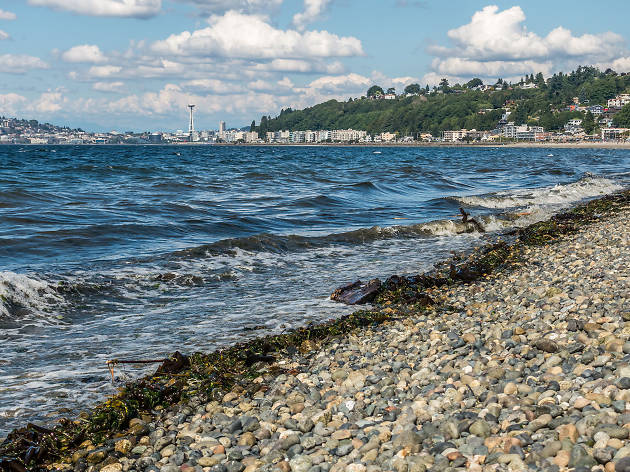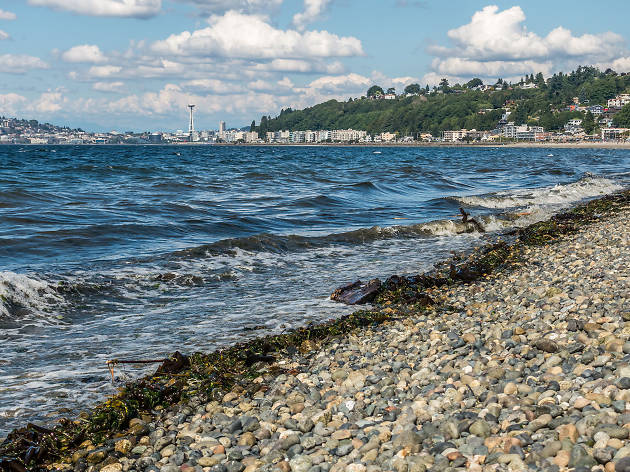 Photograph: Shutterstock
A laid-back residential area to the west of downtown, West Seattle has a small town feel—which may come as a surprise to first-time visitors to the Emerald City. The most popular areas of West Seattle are the Junction, a buzzy commercial district with a mix of indie shops and hip dining establishments, and Alki Beach Park. The boardwalk, bars and cafés along Alki are reminiscent of those you'd find in Southern California and they will make you feel millions of miles away from the city. In reality, downtown Seattle is a 15-minute drive away or, even easier (and certainly more scenic), a short water taxi ride away.
EAT
Let the smell of freshly brewed Hawaiian coffee beans and homemade baked goods lure you into Ampersand Café, a popular eatery on the main strip of Alki. With its casual, beachy vibe, you can sit on the patio and people watch all morning. On crisp winter mornings, hunker down inside at a window seat with a copy of the local paper.
DRINK
Head to Beveridge Place Pub, located on California Avenue, to drink like a local. At this West Seattle alehouse, it's all about the beer. Although the focus is primarily on Washington brews, you can find an impressive selection of bottled beers from around the world. What you won't find here, though, is food: you're encouraged to BYOF or order from one of the many nearby eateries.
DO
Spend an afternoon at Alki Beach, beachcombing for sea glass, building sand castles or just enjoying the views. Keep your eyes peeled because it's not uncommon to spot a seal or dolphin in the distance. If you're feeling adventurous, rent a kayak or stand up paddle board to explore the Sound.
STAY
Book a room at the picturesque Gatewood Bed and Breakfast, a remodeled 1910 Craftsman in the scenic neighborhood by the same name. You'll struggle to leave the comforts of the charming front porch, but be sure to take advantage of the B&B's location by exploring nearby Lincoln Park on foot or going slightly further afield with a short ferry ride to Vashon Island.
If you do one thing…
Stop at Marination Ma Kai for Hawaiian-Korean fusion fare and specialty libations served with a side of the Seattle skyline. Located directly across the water from the glistening skyscrapers, diners at this West Seattle restaurant get the postcard-worthy views without having to deal with the hordes of tourists. Try the kalbi beef tacos and kalua pork sliders, and order a spiked shave ice for dessert.
Worked up an appetite while exploring?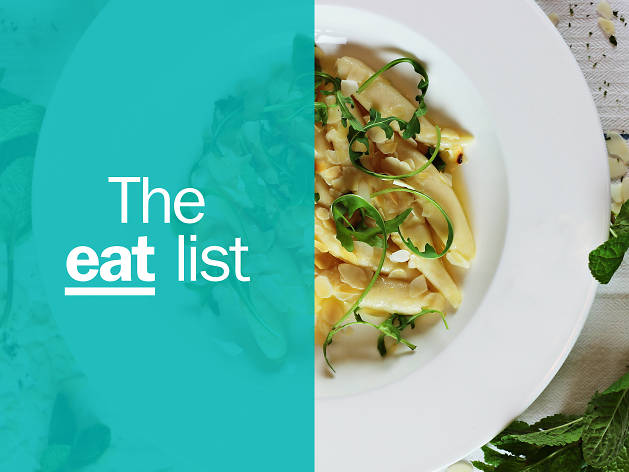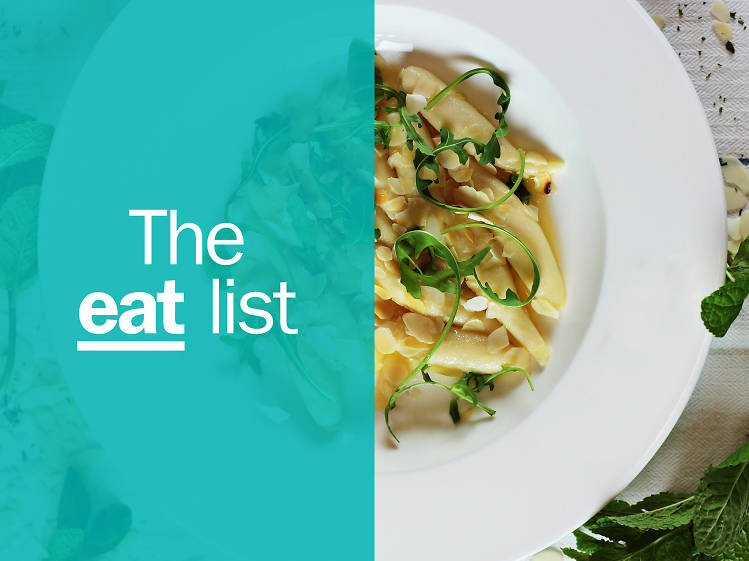 From local favorites to tourist destinations that are actually good, the best restaurants in Seattle range in cuisine, decor and presentation but all have one thing in common: They serve oh-so-delicious food. Ready to tackle them all?