David LaChapelle - Inscape of Beauty
1/4
© David LaChapelle
2/4
© David LaChapelle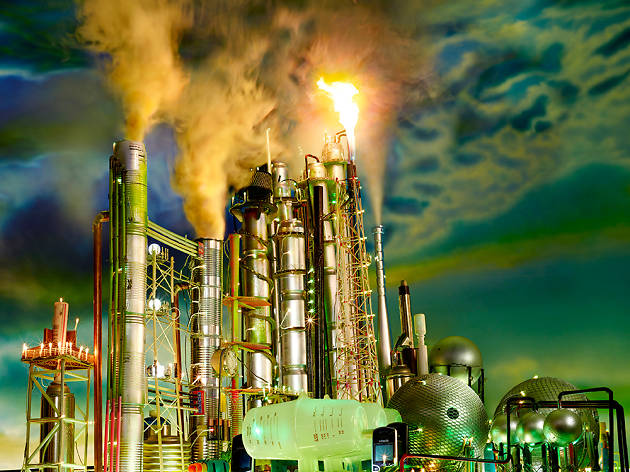 3/4
© David LaChapelle
4/4
© David LaChapelle
David LaChapelle's powerful as well as controversial yet undeniably alluring collections of images are back for his second solo exhibition in Seoul. With his works spanning from his 'dark ages' (which started at the age of 15) to the 2013 Land Scape sculpture series, Ara Museum in Insa-dong has the honor of representing LaChapelle this time.
LaChapelle, an artist who did anything to survive in the field of photography, jumped at the opportunity handed to him by Andy Warhol at Interview Magazine. On being a high school dropout, he notes that this phase of his life is his substitute for university. LaChapelle, a self-proclaimed workaholic, worked day and night striving to create new images that the world had never seen. As a result, he was granted the title "Fellini of photography" and a long list of celebrity clients. However, as he grew, he began to question everything he loved doing while his ideas became increasingly ambiguous and distant for the mainstream to grasp. Having burnt himself out, he left the industry with the plan to start a farm in Hawaii. Yet, he was soon invited to showcase his work at a German gallery. The opportunity which was much less commercial in its essence compared to what he had been used to lead LaChapelle to truly embark in his fine arts career with a new dimension of work; He was no longer bound by the constraints of and pressure from the fashion and celebrity photography which he had been known for all along. In such a course, LaChapelle began listening to his inner voice and came to grant himself much more time to develop each cut and each subject to influence people with the act of questioning. His pieces began infusing aspects of contemporary pop culture with art history references creating a vast array of whimsical still-life narratives. The largest photograph in the exhibition, Rebirth of Venus, is a clear depiction of his philosophy. Vulgar yet beautiful, natural yet so superficial, all these contradicting ideas allow you to question what it means to be a part of this society that constantly reinforces and mediates these values.
Many of his works depict nudity and as a result, part of the exhibition is for "adults-only." Regarding this, LaChapelle lamentably mentions: "Human bodies became so shameful to people that you have to have a part of a museum blocked out for children because there's nudity. But the same child can play a video game and shoot people's heads off and decapitate people. What does this say about us as a global culture?" That is, for the artist, the human body is a medium to reflect his perspective of beauty. As in the case of the Land Scape series, LaChapelle challenges society's normative definition of good and bad in such a way. He recalls as a child viewing oil refineries as a "magical city, like Emerald City in the Wizard of Oz." Glittering in the night and vibrant in color, the refineries portrayed in the series posits a dichotomy between the glorification of human advancement yet the unfortunate consequences that pose a threat to us. Ultimately, you are liberated to look pass your inherited notions of black and white, good and bad that society has trained you to see, and understand the paradox of caring about the world.
Finally, wanting his pieces to reach large audience "like music," LaChapelle depicts his series of thought-provoking images with colorful beats, rhythmic movements and a vibrant message in his photography for anyone to succumb to his visual music. The overly sexual or harsh images might induce a little shame, but it's all part of the experience in viewing his works involving the individual and societal levels of questioning—a possible reason why each piece created by LaChapelle seems so rightfully wrong, and so wrongfully right.