Bars
The best places to drink in Seoul—bars and lounges reviewed by our local experts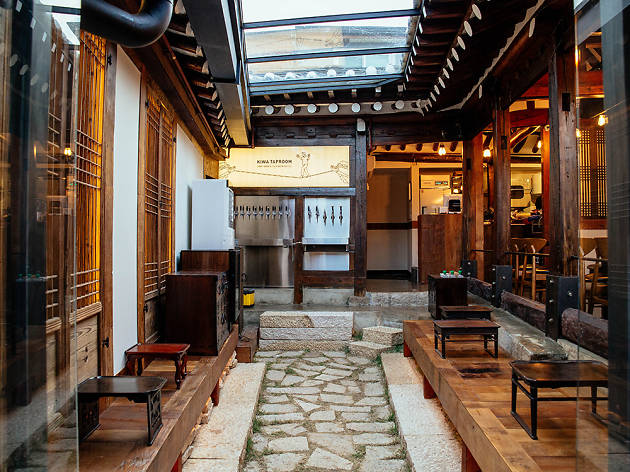 Hanok by night
Let us tell you, they're not gimmicks. These hanok bars can be the perfect spot for a night out complete with some of the city's best cocktails, beer line-ups or traditional liquor selections. The dreamy, nostalgic alleyways leading to these scintillating architectural wonders will set the mood for a romantic date, as well. Don't be surpised to find that one of the hippest bars in town is meant to be your favorite bar of all times.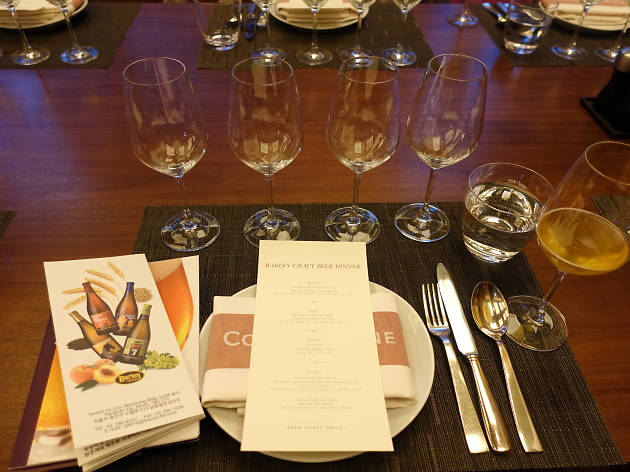 Barley brewery beers are here to show you what 'artisan' really means
There were 4 wine glasses set up on the table. I thought, "Hmm, for a beer tasting?" Soon, the host, Pierre Cohen-Aknine from the beverage importer Kavod, mentioned with a smile: "For the French people, what's most important about a meal is the quality of time spent with others. So, don't worry about those glasses; just have fun and enjoy the night." Growing up in France, Cohen-Aknine was naturally a lot more used to wine. But as he immersed himself in the vast and complex world of beers, he dreamt of bringing a culture for beer comparable to that of wine—a lot of which, for him, is about 'sharing' and 'pairing.' At the event hosted at Park Hyatt's Cornerstone, 4 types of pasta and risotto dishes were being prepared for each of the beer—which was quite unusual but certainly exciting. One of the importer's choices was Barley Brewery. Founded in Italy by Nicola Perra and Isidoro Mascia, it uses a variety of fruits and herbs sourced from the island of Sardinia to create delicate and complex flavors. One of its distinctive ingredients is sapa, a flavor-enhancer made with Cannonau grapes cultivated in Sardinia. All of Barley Brewery's beers are non-pasteurized and are fermented twice without being filtered. As I tried to imagine the aromas and flavors created by the unique method, beers—bottled in what seem to be wine bottles—arrived and the 4 glasses started being filled up.
Drinks for every occasion
Where to drink whisky and cocktails in Seoul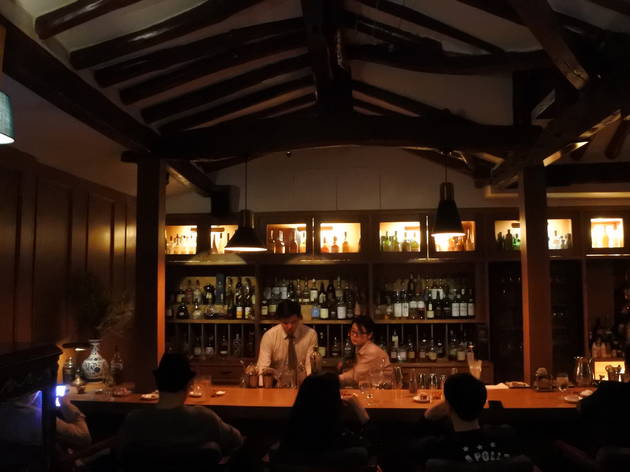 Cobbler
Walking down the silent little alley leading to Cobbler may have you wonder if there's anything open at all around the area. But soon enough, you'll see a little door on your right, with a pretty hanok housed inside. Through its full-wall window, you'll see small groups of people seated beneath a glow of a dim light and very likely to feel drawn to join them. Inside, delicate hanok structures are revealed in an elegant manner. There are two conversation-cozy tables, but unlike most of the Korean-style bars in Seoul, the wooden bar counter is the most sought-out spot—and rightfully so, because at this no-menu bar, every glass prepared is a result of a careful "consultation" between a customer and a bartender. As you get yourself seated here, the first thing you'll be served is a small portion of blueberry cobbler. Quite humorous and comfy, this welcome dish says a lot about the bar as a whole. What you'll receive in your thirsty hand may not be anything extravagant, though. Rather, there will be something extra carefully sought and selected for each combination—and we appreciated that. Gin Sour which I ended up getting after a little talk with bartender Ji Hyang-jin, for example, had subtle, velvety notes of vanilla and red berries with Mariage Frères' Marco Polo tea blend infused in it; Sipping Cobbler's version of Gin Fizz created by owner/head bartender Robin had fresh fragrances of lavender and rosemary linger in my mouth, with La Quintinye Vermouth Royal Blanc blended i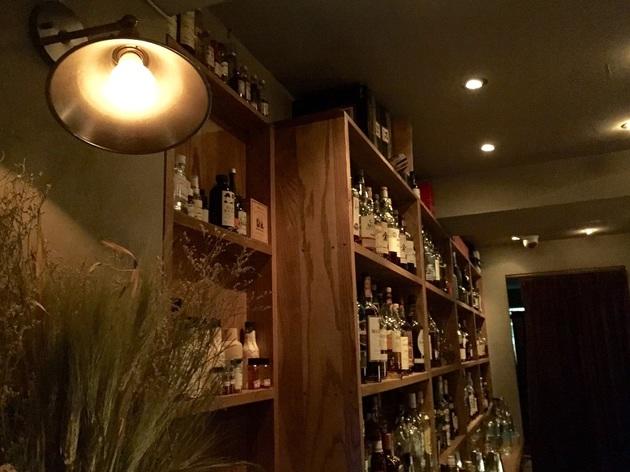 d.still
There is no question about the pairing of well-aged whisky and quality chocolate—this doesn't only apply to wine. Suprisingly located in the midst of the raucous Hongdae university district (more specifically, the notorious alleyway near hookup hotspot Between Night n Music), d.still is staffed with skilled (and attractive) bartenders to boot. The menu exhibits their attention to detail, and paired with their quality cocktails sets the mood for fine dining. Miyeok seaweed in the winter, dureup shoots in the spring—d.still utilizes seasonal ingredients paired with the perfect cocktail. Audible treats include the likes of Keith Jarrett and Charlie Haden.
The Timber House
Sake and Co. at The Timber House located in the basement of Park Hyatt Seoul is one of the best places to enjoy happy hour. Famous for its live jazz performances, Timber House offers you a wide variety of drinks including sake. During their special hours from 6:30 to 8:30pm, you can enjoy unlimited amount of premium sake, beer or wine for 38,000 won per person. Except for sashimi, which is 50,000 won, most of the menus such as salmon tataki and fish with sea cucumber viscera cost about 10,000 to 15,000 won. Above all, bringing your date or having a business meeting here is a great idea as you can drink all you want at a classy hotel bar. Timber House recently started a new jazz duet that stars jazz pianist Edsel Comez and vocalist Danielle Chupak, to bring you Latin American classic jazz of the 1960s to 1980s.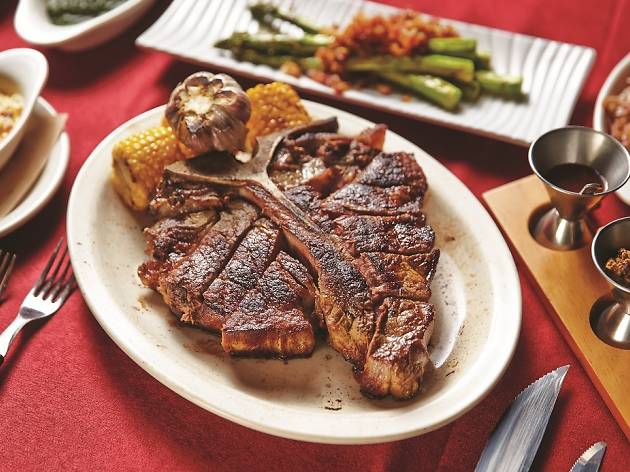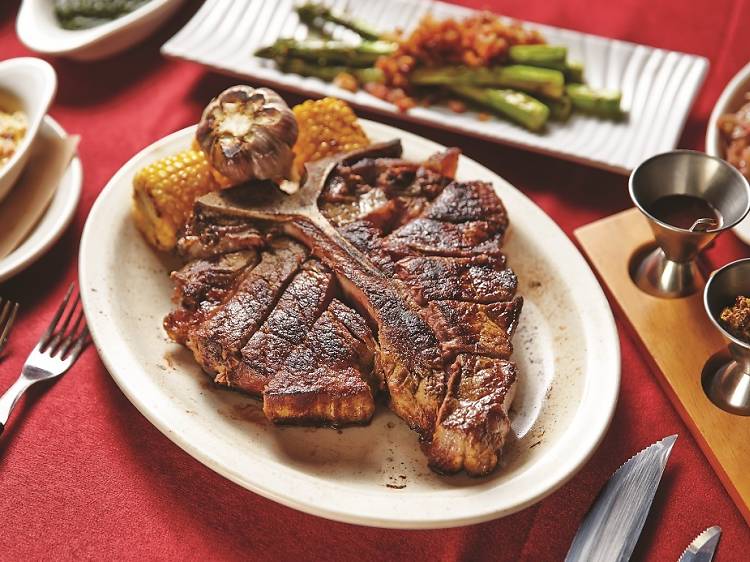 Vault +82
The Vault Steakhouse has a great interior and ambience, but it's the steak that really makes the place shine. The restaurant's secret is that it orders its delicacies from Master Purveryors, Inc., where renowned New York restaurants Wolfgang's and Peter Luger Steakhouse also order from, so you're already assured quality meat. After the meat arrives it goes through an in-house wet and aging process. Their sides of tomatoes, onions and creamed spinach add a nice touch to the main. With the juicy meat melting in your mouth you can't deny that this restaurant serves up a proper steak. The lunch menu is reasonably priced as well.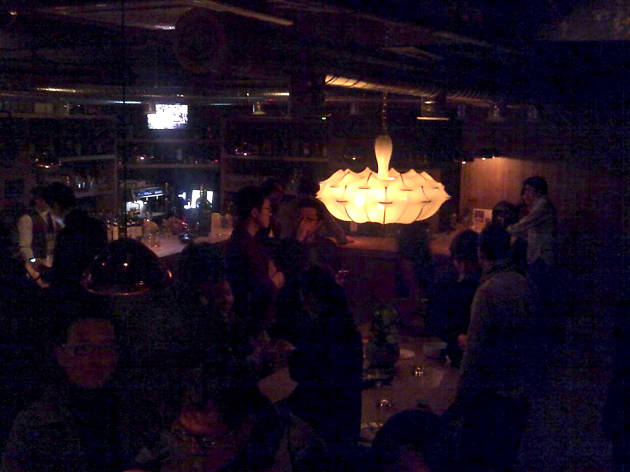 Speakeasy Mortar
Riding the wave of the single male whiskey trend is the second coming of the speakeasy. At Speakeasy Mortar, there is no sign—and you can't even open the door yourself. It opens only after the staff slides open a little wooden peephole to see who's outside. The "chosen" can enjoy their moderately-priced drinks in a moderately comfortable environment. Whiskey at 20,000 won a pop isn't exactly affordable, but relatively so if you keep in mind that a certain bar in Cheongdam serves up glasses at 30,000 won each. Speakeasy Mortar is a easy place to kill time with excellent music backed by a quality sound system. It's relaxed with a mature sophistication. Note: your mobile won't get much signal here, yet another rarity in hyper-connected Seoul (we're counting that as a plus).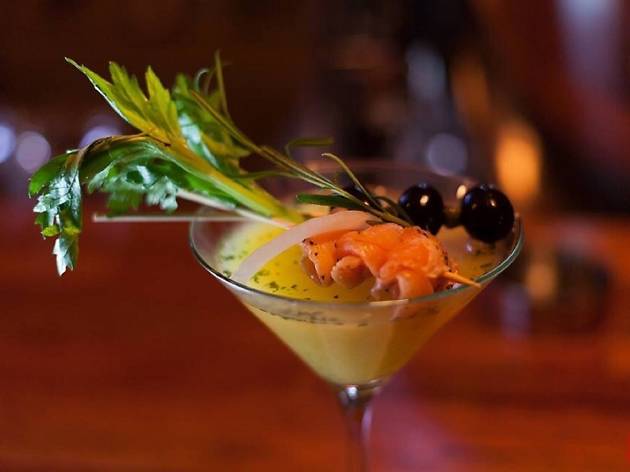 Robin's Square
This Humphrey Bogart of Hongdae bars hides on the basement level of the Vans Store. It's not the top shelf alcohol, the first-class mixology or the classic décor that'll have you falling in love – it's the utter lack of pretentiousness. With expert bartender sense, Robin (the bar's owner) and other staff are quick to tailor a drink according to your taste palate. Although our personal favorite is a Grey Goose and mascarpone cheese combination called the Porma Dulce, none of the drinks fail to deliver. This is the place to go if you want to impress someone. Easily one of the country's best bars and definitely the most underrated; your first visit to Robin's Square will be the beginning of a beautiful friendship.
See more cool bars in Seoul
Best bars by neighborhood