Hyundai Card Culture Project 21: Jean Paul Gaultier Exhibition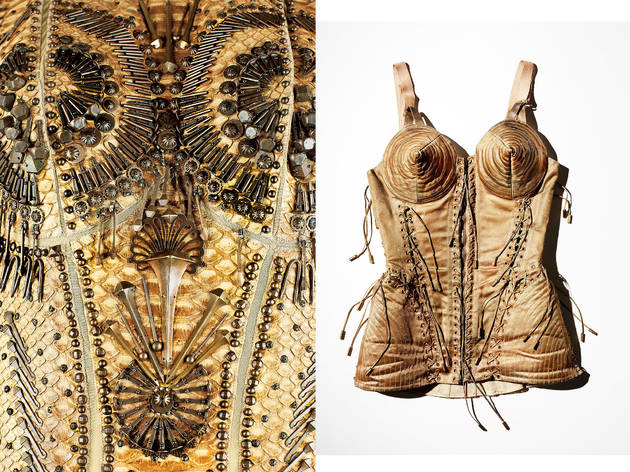 1/4
2/4
3/4
4/4
WHAT IS IT...
Retrospective on international acclaimed fashion designer, Jean Paul
Gaultier.

WHY SO...
It's not every day you see an evening dress made entirely of film.

Perhaps most well-known for designing Madonna's trademark corset with cone-shaped breasts, this is the first time a retrospective highlighting French designer Jean Paul Gaultier is being held in Asia. The retrospective is divided into seven sections, each themed according to something that inspired him as a child. A mannequin dressed in a nonconventional hanbok and a traditional Korean wig on its head greets you as you first walk into the exhibition. The pink cone bra and stripes on the hanbok top are obvious traces of Gaultier's designs. Gaultier's iconic waistemphasizing corset silhouette is consistently presented throughout the exhibition in different materials and designs, serving as a unifying theme. Marine-style looks inspired by the Greek legend, The Odyssey, and clothes inspired by the London punk scene of the '70s are all displayed on mannequins. A few of the mannequins, which move, have videos projected on them of Gaultier speaking. Since the clothes are displayed without protective glass, viewers can see every stitch on the beautifully crafted clothes. After all, it's not every day you get the chance to see a handmade dress that took 1,600 hours to complete. Gaultier perpetually challenges established social conventions and projects his own unique sense of aesthetics into his clothes. Seoul is the last stop on the "Jean Paul Gaultier Exhibition Tour",having visited 11 cities all over the world including London, New York and Paris; and attracting over 2.2 million viewers. It's difficult to say when you'll get another chance after this to see the creative genius of fashion legend, Jean Paul Gaultier.