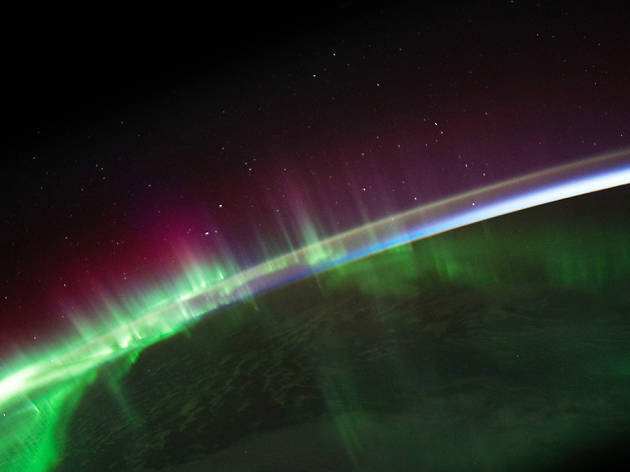 1/3
2/3
3/3
Cosmism, the title of the exhibition by Melvin Moti, comes from Russian cosmism, a philosophical movement that entailed a theory of natural philosophy. It combined elements of religion, ethics, evolution and even the future existence of humankind. An example would be Alexander Chizhevsky (1897-1964), who explored how natural and human calamities are related to the amount of solar activity. Dealing with similar variables which Chizhevsky was interested in, Melvin Moti's 28-minute long film experiments with correlations and ultimately questioning the disconnection between the individuals and the world.
The film switches back and forth from the horrid and almost zombie-like scenes of the 9/11 attacks to footage of the sun's activity, and even a recorded re-enactment of Mary Stuart (Queen of Scots) being beheaded. The irony lies in that our world has never been so connected in history, perhaps this paradox is portrayed by absence of sound, with only short 4-minutes of incomprehensible blur of sounds.
Along with the film, the exhibition features a series of works made in silk. Entitled Cluster Illusion, the series, done in collaboration with a Tokyo-based master kimono dyer, reflects on the relationship between part and whole. From a distance, the scintillating scenery drawn on to the silk cloth almost makes us feel like we're gazing upon majestic constellations. This alluring effect draws you closer to examine the details — yet, you will easily to get lost in the midst of the dotted patterns, losing focus of what the image originally was. Through this very intentional interaction, the audience encounters in person the relational nature of part and whole, local and global.