1/4
2/4
3/4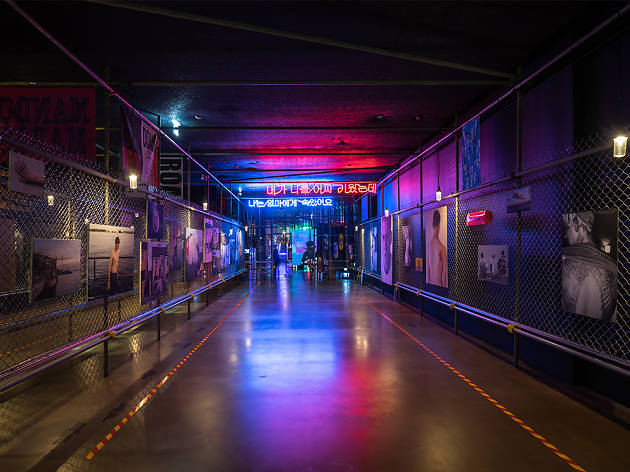 4/4
Who are the leaders, consumers and trendsetters of the future? What is their current culture, and what do they represent? Why or how did these specific cultures come about?
The YOUTH exhibition which has recently opened at Hannam-dong's D Museum deals with such sociological and philosophical questions. Focused on youthcultures from around the world, it presents works created by more than 28 young artists. Its aim is to portray the youths' continuous struggles and fight for expression in hopes for a better life. As cliché as it may sound, you will be delighted to see authentic ways these young artists formulated their unique ideas along with D Museum's interactive curation.
There are two parts to the exhibition. The first section on the basement floor reflects on looking inside the minds of youths and their fight to liberate the expressions hidden within them. Once you descend to the basement gallery, the atmosphere suddenly changes — to dark and powerful, something similar to that of a prison, with the interior designed to resemble a forgotten construction site. Finding your way through the maze of metal bars and fences, what you will be exposed to is such rawness exuded by the artworks. This whole experience could come off as a statement of 'devolution' of society, characterized by its vulgar visuals and harsh words. Yet, what it ultimately suggests is a reflection of the often stigmatized process of growth and the turbulent agony that lies within.
As you ascend to the second section of the exhibition, you will feel a refreshing sense of liberation and optimism. The wide-open space of the gallery is brightly lit with soft visuals in the pictures hanging on the white walls. The centerpiece of part two seems to be the collage mural comprised of colorful nude pictures. Resonating a "youthful" vibe, Everyone in the mural seems happy in their own skin — while interestingly, deterring some of the audience from approaching it, with its notably youthful energy (that, apparently, make some of us adults blush).
The YOUTH exhibition is both complicated and simple in many ways; while the whole idea is quite simple, showing two sides of the youthful energy, each consisting piece conveys a complex message that has been formulated by personal, context-specific experiences in life. Those who reminisce the "good old days," in particular, may even reflect back on their own lives and realize a new perspective on the beauty of living.