Best bars in Hongdae
These are the best bars in the Hongdae area.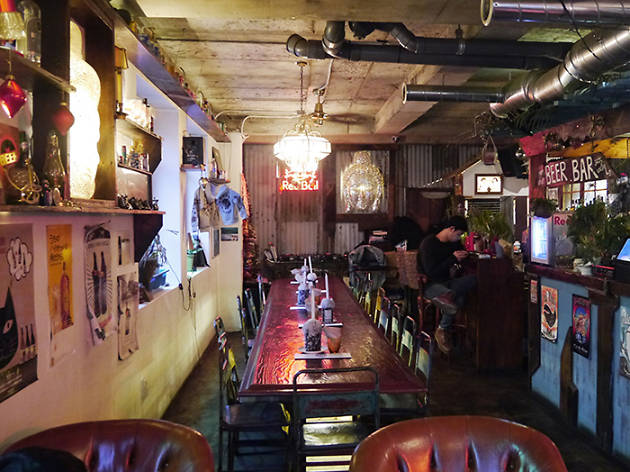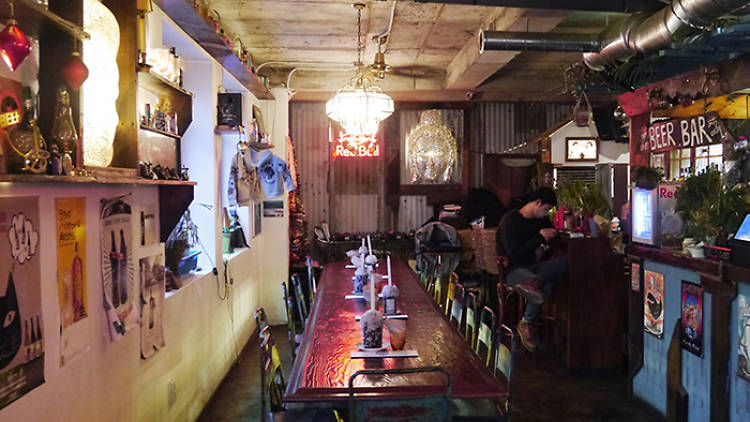 While you sip one of their "Zombie shots," all of the lights go out all of the sudden and a group of zombies appear out of nowhere at a nerve wrecking sound of siren. They grab you, force you a long eye contact, dance to a Big Bang song then pour you a shot while you're probably shivering with fear. Who doesn't want that, right? While I consider there's enough in my life that makes me fearful (which comes for free), if you enjoy horror and don't mind being grabbed by creepy looking zombies, Noneun Zombie might be an alright place to visit, perhaps once. As the zombies don't hang around in the bar, you need to sit at a table for a while—they'll come out when you least expect it. While one downside is the fact that you need to order food with your drinks, the drinks here are pretty cheap, and their Bloody Zombie Chicken is actually not bad as fried chicken. All in all, and perhaps as expected, it's a place that's definitely for the gimmicks rather than a quality menu. Accordingly, you'll go through a thorough I.D. check when you enter, on a level that's unusual in Seoul. There is usually a pretty long line outside the bar around midnight, so if you want to avoid waiting in line you might want to visit before 10pm or after 1am. Would I go back? I'll just say that I had to get many more drinks (at a different bar) afterwards to learn to laugh again.
If the best of Hongdae could be encompassed in one bar, it would look a lot like Bar Da. Accessible by one of Hongdae's backstreets; a table on the rooftop requires a climb up some questionable stairs. Cheap beers and cocktails are served with dried anchovies here where musicians and artists flock before or after shows. Their conversations are well offset with the dim lighting hanging from the low ceilings and the postcards and drawings on the walls. Bar Da is a play on the Korean word for ocean and with its blue overtones, the bar's breezy feel suits both the large crowds and intimate couples that frequent the place.
Craft One… Located in Yeonnam-dong, this bar opened last June combining good craft beer with a local flavors. Made by locals, they exemplify the next stage in Korea's beer evolution. The vibe… While the bar feels young and vibrant, it's quite devoid of decoration or daintiness. It's not Itaewon and the crowd here has considerably many more Koreans, and more males than females. Trek out here for the Mingle (the beer), but not necessarily to mingle.   
Combining modern aesthetic with a German countryside feeling, you'll first notice Krämerlee on summer nights by the jovial drinkers seated outside. As indicated by their German name, the bar offers a simple menu of six craft beers and four food dishes. Although the classic Weissbier is a local favorite, manager and German native Christian recommends the Helene, which has undertones of the pear juice from which it's made. Popular dishes include Christian's favorite flammkuchen which he describes as "German pizza" (made predominately with white cheese and onions) and the potato and sausage platter. 
Every so often, one outpost of a national chain will somehow gain a cult following, and it's not always clear why. Is it the air? A secret ingredient? We're not entirely sure, but Ddobagi Chicken's Sangsu location is its best known, and is always full of Hongdae art students, giggling couples, and elderly drinking buddies. The attention is not undeserved—Ddobagi's signature boneless chicken is fried with a thin layer of seasoned batter crisped over tender flesh, and a deal at 9,000 won. The interior is nothing fancy, which only adds to its 90s Korean drama charm. Wash your chicken down with a stein of cheap beer for the full Korean "hof" experience.
Bali is well-known as a hotspot of surfing culture and beach lovers, having stolen the hearts of surfers and adventurers alike. It was only a matter of time before someone in Seoul took Bali beach culture as a theme for their venue—which is exactly what gastropub Bali Superstore has done. Stepping through the doors feels almost like stepping onto Kuta Beach, or at least like walking into a Balinese beachside eatery. Furnished with antiques and decor brought straight from the island, the shop is also decorated with fascinating pieces of art from Ubud, an art community in the center of the island known for its traditional culture. As for the menu, Bali Superstore sells satay skewers along with other local foods to go with their well-stocked beer selection.
If you're looking for a wine bar with a nice, homey atmosphere for a romantic dinner, Le Mere is the perfect candidate. Located in Mangwon-dong, this new bistro is already gaining popularity among hip couples, with its modern and chic interior: dim glow of lights, dark grey interior, plants hanging on the wall, flower decorations. The most important part: you can taste about 30 different wines, including natural wines (made without chemical and minimum technological intervention) selected by the owner, who has won the 2015 Korea Sommelier of The Year awarded by the world's best master sommeliers. Among the selections, we recommend the La Cuisine de ma Mere, a biodynamic wine made from 100% Cabernet Franc in Loire region priced at 60,000 won.
Jam sessions among musicians don't happen only in New York City. It can also be easily seen at Le Salon du Lapin, located in Hapjeong. Although it's not a live club, you'll see random performances by musicians who come to just hang out with the owner. Performance genres vary between blues, jazz and rock. There are a variety of drinks, including whiskey, cocktails, beer at relatively affordable prices while the bar also offers non-alcoholic cocktails and coffee for those who are not drinkers.