Best bars in Hongdae
These are the best bars in the Hongdae area.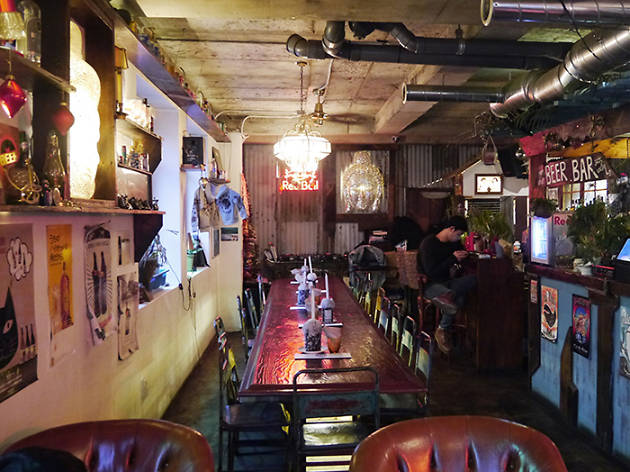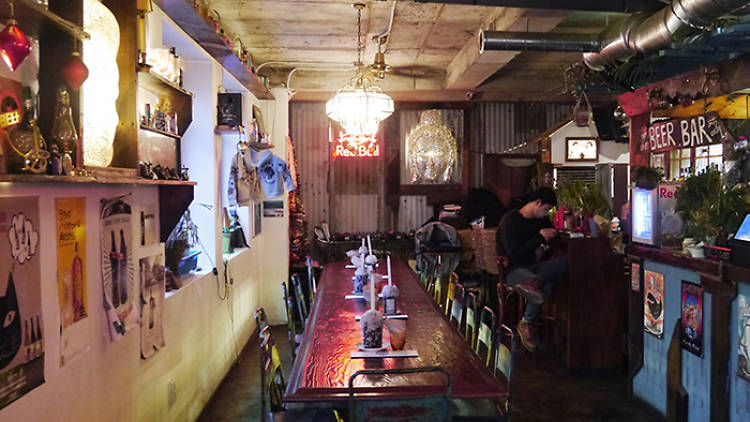 If you're looking for a wine bar with a nice, homey atmosphere for a romantic dinner, Le Mere is the perfect candidate. Located in Mangwon-dong, this new bistro is already gaining popularity among hip couples, with its modern and chic interior: dim glow of lights, dark grey interior, plants hanging on the wall, flower decorations. The most important part: you can taste about 30 different wines, including natural wines (made without chemical and minimum technological intervention) selected by the owner, who has won the 2015 Korea Sommelier of The Year awarded by the world's best master sommeliers. Among the selections, we recommend the La Cuisine de ma Mere, a biodynamic wine made from 100% Cabernet Franc in Loire region priced at 60,000 won.
Read more
The heart of Sangsu-ri is its eccentric, warm-hearted owner, a graying artistic soul with a passion for whisky and a penchant for chess. He takes his drinks seriously, spending three months biking through Scotland in search of top-notch whiskies. Back in Seoul, he sometimes hosts informal chess tournaments, as well as the occasional jazz concert ("whenever they drop by and feel like it"). The half-basement room is dark and a little cave-like, scattered with memorabilia, lit by candles and Christmas lights. Order a drink from the menu (handwritten ink on cardboard), preferably a whisky (there are many), and settle in (it's affordable).
Read more
Craft One… Located in Yeonnam-dong, this bar opened last June combining good craft beer with a local flavors. Made by locals, they exemplify the next stage in Korea's beer evolution. The vibe… While the bar feels young and vibrant, it's quite devoid of decoration or daintiness. It's not Itaewon and the crowd here has considerably many more Koreans, and more males than females. Trek out here for the Mingle (the beer), but not necessarily to mingle.   
Read more
Combining modern aesthetic with a German countryside feeling, you'll first notice Krämerlee on summer nights by the jovial drinkers seated outside. As indicated by their German name, the bar offers a simple menu of six craft beers and four food dishes. Although the classic Weissbier is a local favorite, manager and German native Christian recommends the Helene, which has undertones of the pear juice from which it's made. Popular dishes include Christian's favorite flammkuchen which he describes as "German pizza" (made predominately with white cheese and onions) and the potato and sausage platter. 
Read more
Jam sessions among musicians don't happen only in New York City. It can also be easily seen at Le Salon du Lapin, located in Hapjeong. Although it's not a live club, you'll see random performances by musicians who come to just hang out with the owner. Performance genres vary between blues, jazz and rock. There are a variety of drinks, including whiskey, cocktails, beer at relatively affordable prices while the bar also offers non-alcoholic cocktails and coffee for those who are not drinkers.
Read more
Limix Lab has white walls, silver tables and silver chairs in a space that would look almost clinical if not for the shelves on the back wall full of glowing, multi-colored glass jars. These jars contain the centerpiece of Limix Lab's menu: an array of infused vodkas including mint, grapefruit, yuza and Korean plum. Co-founder Ryu Joo-hyun was working at a traditional Korean alcohol company when he decided to try vodka in place of soju while making alcoholic infusions. He loved the result (the fruit flavors came through better), and later started Limix Lab with a friend. In addition to infused cocktails, you can also buy jars to take home. Not a fan of vodka? There's a vanilla rum cocktail on the menu, as well as a selection of craft beer they made with their friends at Itaewon pub Pyrus.
Read more
Bali is well-known as a hotspot of surfing culture and beach lovers, having stolen the hearts of surfers and adventurers alike. It was only a matter of time before someone in Seoul took Bali beach culture as a theme for their venue—which is exactly what gastropub Bali Superstore has done. Stepping through the doors feels almost like stepping onto Kuta Beach, or at least like walking into a Balinese beachside eatery. Furnished with antiques and decor brought straight from the island, the shop is also decorated with fascinating pieces of art from Ubud, an art community in the center of the island known for its traditional culture. As for the menu, Bali Superstore sells satay skewers along with other local foods to go with their well-stocked beer selection.
Read more
When we asked Robin's Square to whip up an original cocktail that best represents both Time Out and Seoul, we knew we were asking a huge favor. So when Robin oppa sent us a text saying "It's good! It's delicious!" we couldn't help but cheer. "I think I am a genius," were his exact words as he set out not only one, but three Cobblers made with three different kinds of wine—white, red and port.     Before you take a sip, the lemon verbena first hits the nose with a refreshing, mint-like scent. The taste of vanilla gives it a deep, comfortable feeling. "People living in Seoul are always busy. As cobblers would make cocktails for themselves on their breaks, this is the kind of drink that could give Seoulites a moment of respite and comfort." says Robin. Ah, a Time Out philosophy in a drink at last! And with available variations to boot. The white wine and rum cobbler is the perfect way to start off the night, and to follow through, the red wine cobbler with a splash of dark rum will definitely lift your spirits. Save the port wine cobbler for last, as the aged rum ("deep like a doenjang fermented for five years" is how Robin describes it), will add some depth to bring out the best of the sweet port wine—exactly what a good, dessert-like cocktail should be.    Once you ask for a Time Out Cocktail from Robin (or any of the bartenders at Robin Square), he'll give you three options. Ask according to your mood at the moment. We ordered the most classic Time Out Cocktail today, but
Read more