Barley brewery beers are here to show you what 'artisan' really means
You'll see it's perhaps not just a buzzword, cause the Sardinian master brewers' delicate creations are now available in Seoul.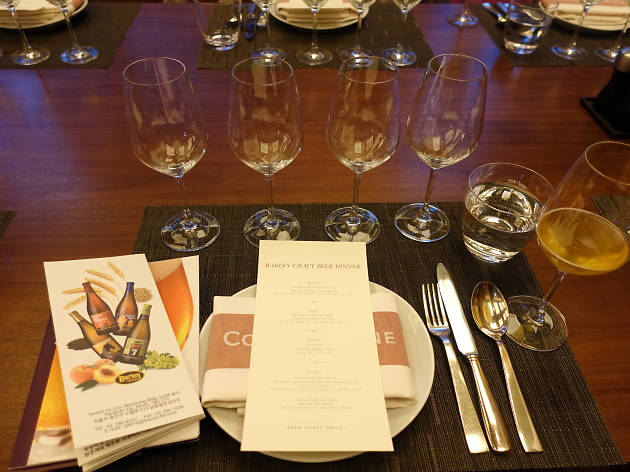 There were 4 wine glasses set up on the table. I thought, "Hmm, for a beer tasting?" Soon, the host, Pierre Cohen-Aknine from the beverage importer Kavod, mentioned with a smile: "For the French people, what's most important about a meal is the quality of time spent with others. So, don't worry about those glasses; just have fun and enjoy the night." Growing up in France, Cohen-Aknine was naturally a lot more used to wine. But as he immersed himself in the vast and complex world of beers, he dreamt of bringing a culture for beer comparable to that of wine—a lot of which, for him, is about 'sharing' and 'pairing.' At the event hosted at Park Hyatt's Cornerstone, 4 types of pasta and risotto dishes were being prepared for each of the beer—which was quite unusual but certainly exciting.
One of the importer's choices was Barley Brewery. Founded in Italy by Nicola Perra and Isidoro Mascia, it uses a variety of fruits and herbs sourced from the island of Sardinia to create delicate and complex flavors. One of its distinctive ingredients is sapa, a flavor-enhancer made with Cannonau grapes cultivated in Sardinia. All of Barley Brewery's beers are non-pasteurized and are fermented twice without being filtered. As I tried to imagine the aromas and flavors created by the unique method, beers—bottled in what seem to be wine bottles—arrived and the 4 glasses started being filled up.
Tasting 1. Duenna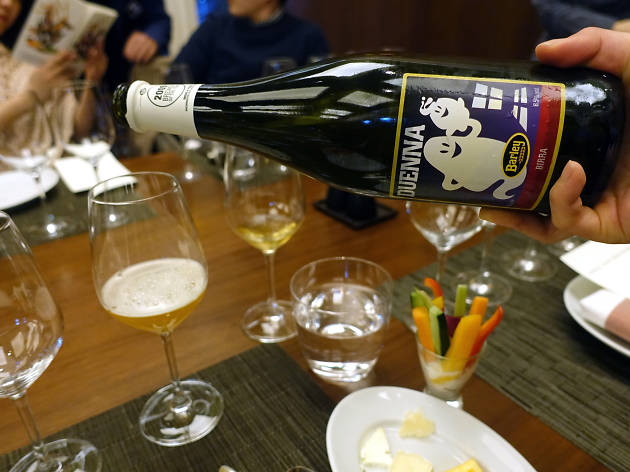 The first one I tried is Duenna. It's beautifully orange in color and has a good layer of head formed on top. It's on a smooth side, yet its hoppy finish was quite distinctive. Paired with a plate full of mushroom barley risotto made with truffle oil and paste, Duenna served as a refreshing palate-pleaser. While its ABV (6.5 percent) was the highest among the selection, it was rather velvety and complimenting for the whole dish, leading me to finish both my plate and drink.
Tasting 2. Friska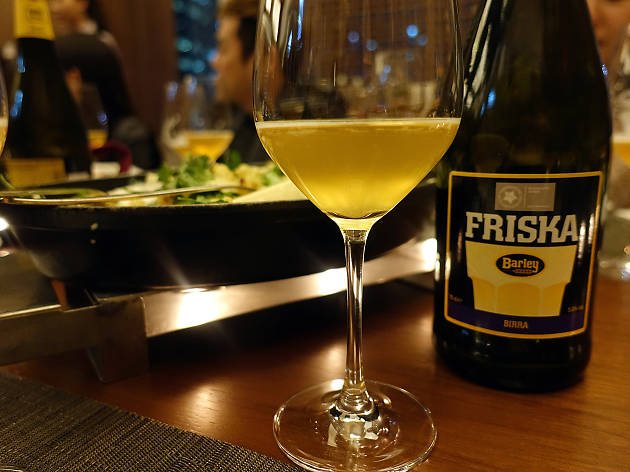 Malty, spicy and citrusy—this white beer made with barley malt, un-malted wheat, coriander and bitter orange rind was perfect for the paccheri cream pasta which it was paired with. It's overall well-balanced, with a full body and tarty notes. This pale- yellow beer has a good amount of carbonation, which makes it great as an aperitif to be served with fresh cheeses.
Tasting 3. Zagara Tasting 4. Tuvi Tuvi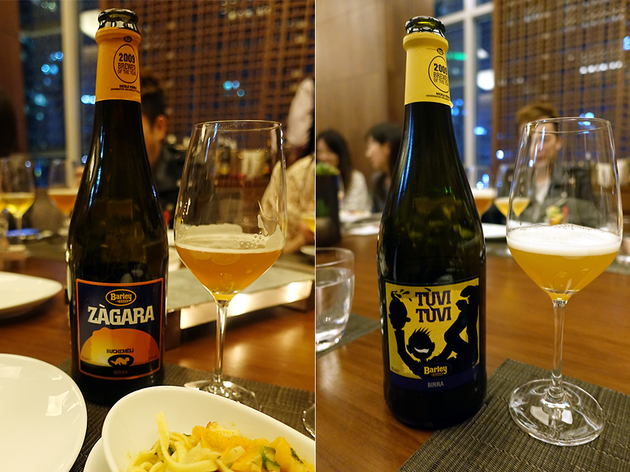 Zagara
Made with organic orange-flower honey sourced from the island of Sardinia, Zagara has delicate citrus flavors with a creamy head formed on top. Its orange color was a lot darker than I had imagined, but its ABV checks in at only 5.1 percent. Paired with a linguini dish made with shrimp, zucchini, pumpkin, carrots and olive oil, this quaffable beer's pleasantly sweet and bitter notes were accentuated. Pumpkin ravioli, fresh seafood salads, goat cheese and pecorino will also go well with this beer.
Tuvi Tuvi
The last in line was Tuvi Tuvi, which has a combination of floral and fruity aromas including elderberries, chrysanthemum tea and ripe apricot, accompanied by a quite earthy note of licorice root. It was served with baked rigatoncini in spicy tomato sauce, which I had to say was a refreshing choice for the blonde ale.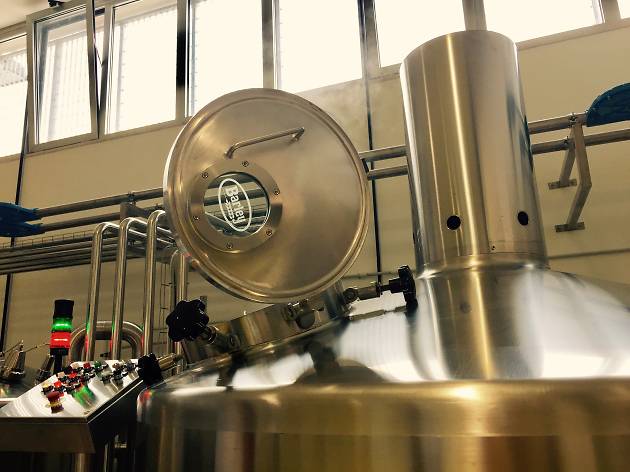 "It's not just the hop, barley and yeast that count in the process of brewing; the water, time spent for each process and the fragrances added at the end are all equally important." The Barley beers I've tried were definitely showcasing these components, and with that, I could "enjoy the party till the end" as the host hoped we would. The pairing of risotto and Duenna, especially, was a real pleasure for my palate.
There are several places in Seoul offering delectable combination of Italian dishes and Barley beers: Park Hyatt's Cornerstone in Gangnam, Sinsa's Mongone, Ciuri Ciuri located in Hongdae and Paolo de Maria of Hannam-dong. Each 750ml-bottle is priced at around 48,000 won—while may deem a bit much for some, it's still comparable to that of a table wine served at these restaurants. With Barley's eclectic beers, delicate fragrances reminiscent of the second largest island in the Mediterranean Sea will be brought to you right at your table.
For additional information, call Kavod Ltd. (02-790-4522).
More to explore