The exquisite match of Korean food with beer
We paired beer with Italian cuisine for last month's issue. This time, it's Korean! Enjoy the delicate combination of Heineken draft beer and Korean dishes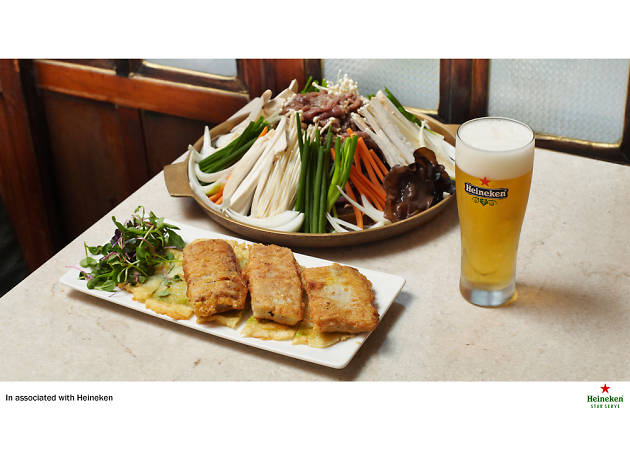 If some of you are still doubting the combination of beer and Korean food, hear out Kim Jin-han, the owner of The Bear That Eats Greens, Chaungga. "People who think that doenjang jjigae and wine don't mesh well, never cared to try it." At The Beat That Eats Greens, Chanungga, they sell a set menu of bibimbap with beer. The owner of Ilmirak, a Korean BBQ place that sells draft beer, Kwon Ji-hyo, also puts it like this: "When I first opened up everyone advised against the idea of selling draft beer here. Korea has developed a culture of drinking beer to get drunk. But now I think we're at a time of transition where more people drink beer to enjoy its savory flavor." (Photo: The Bear that eats Greens, Chaungga)
We get along pretty well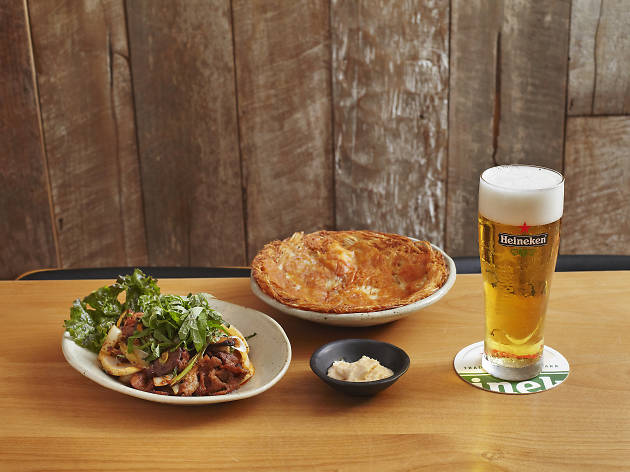 This place brought the home-style cooking trend to Itaewon. Restaurant owner, Park Mo-gwa, opened up Parc with her mom's recipes in 2013, after craving her mother's cooking during a three-and-a-half-year stay abroad. There are strictly no artificial flavor enhancers used in any of the dishes. Recently, they've been adding new dishes made by their own chefs. One of them is the cheese basak gamja jeon (crispy potato pancake with cheese), which comes with Heineken draft beer. They made this fusion item having been inspired by the Netherlands, home of Heineken, and their love for draft beer and fries.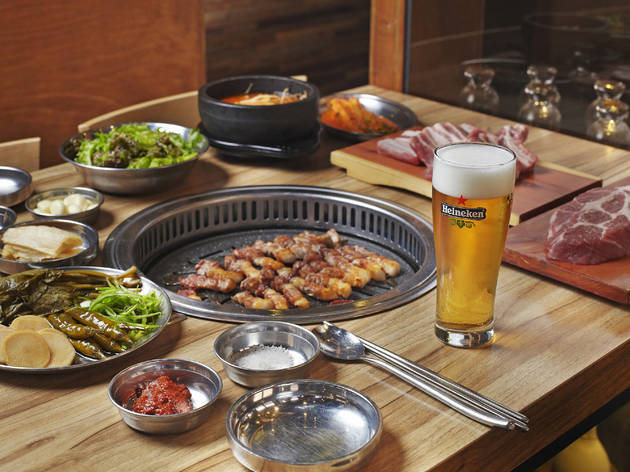 Fresh meat restaurant Ilmirak, whose name carries the meaning of enjoying the food that is served, rather than gulping it down to fill your empty stomach, was named as such out of the simple hope that they would become number one in their neighborhood. Owner Kwon Ji-hyo used to be a restaurant blogger who traveled around the country and visited over 1,500 restaurants. Three years ago, he opened up Ilmirak in Mok-dong. Now they've set up shop in Sangam as well. Their wish came true with Sangam Ilmirak becoming the restaurant with the number one sales in that town, even though it only opened last December. The rich flavor that comes from aging the meat for ten days makes it incredibly delicious, but the secret to people visiting again and again is in the side dishes that come with it. Every single side dish was intentionally made to go with the meat. Green onion kimchi made with ground, salted hairtail, pickled vegetables that have been ripened for over a month, aged kimchi rinsed in water, salted guts of hairtail and fresh wasabi… each and every one of these brings out a different flavor in every bite of meat you eat. Step out of the usual ssamjjang and salt with sesame oil, and try grilled pork belly with wasabi and rinsed, aged kimchi, washed down with a draft Heineken. It'll be a taste you'll never forget.
Show more
Side dish recipes for beer recommended by Parc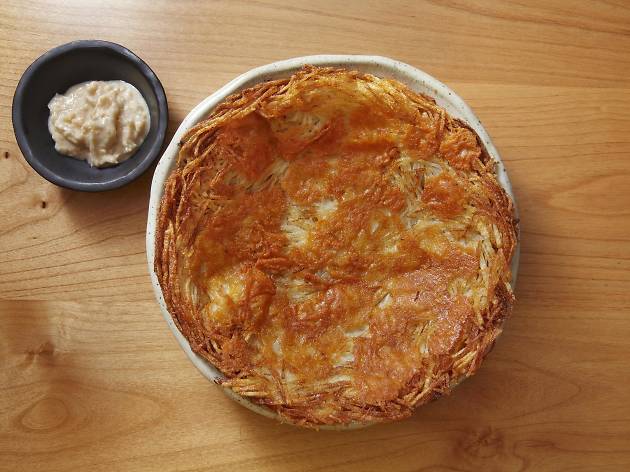 Cheese basak gamja jeon (crispy potato pancake with cheese)
Ingredients
2 potatoes, 2 slices of Muenster cheese

Directions
1. Peel the potatoes and finely julienne them.
2. Cut the Muenster cheese into squares.
3. Add oil to a pre-heated frying pan and thinly spread out the julienned potatoes.
4. When the bottom of the pancake becomes golden and crispy, flip it and top with Muenster cheese.
5. When the bottom is fully cooked, flip it again to make the cheese crispy.
About Heineken
Heineken is a Dutch beer that was first brewed in 1864. It's brewed with water that's been purified at least twice the moment it arrives at the brewery, bigger grains of malt, flavors of the hop that make the beer uniquely bitter and their own "A-Yeast," a special kind of yeast that the company created in 1886 and that's only made in the Netherlands.