The history of beer in Korea
Taste the history in every sip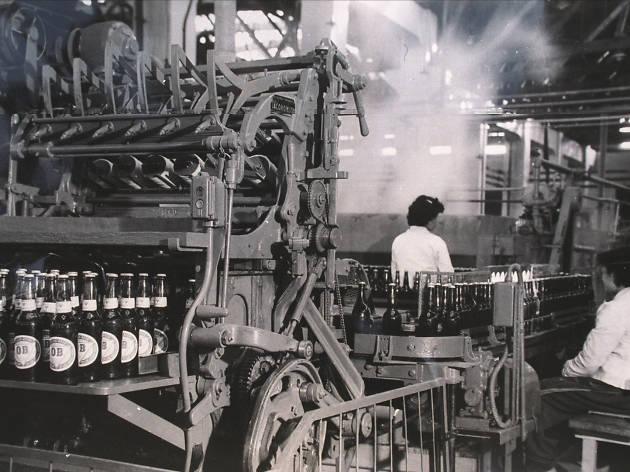 Beer in Korea as Japan's colony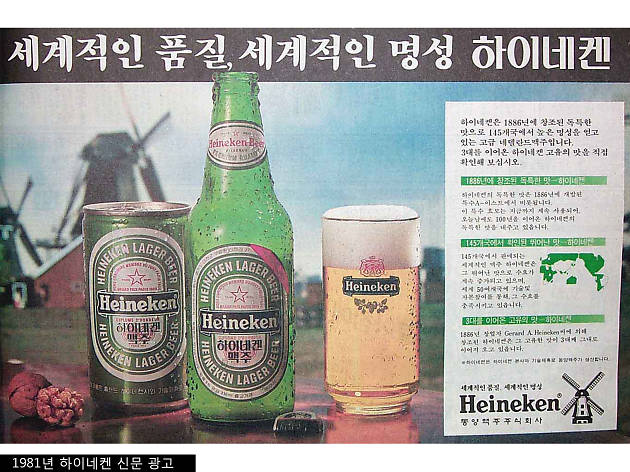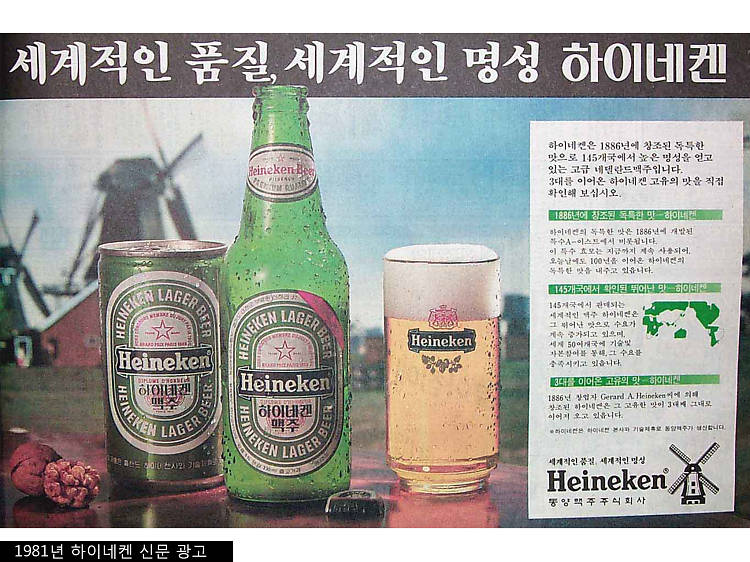 1876: Advent of Beer
With the Japan-Korea Treaty of Amity 1876, Korea is brought under Japanese influence—with the growing number of Japanese immigrants to the country also comes Japanese beer.
1905: Japan builds Kirin Beer facilities in Korea
Kirin Beer is distributed for the first time in Korea. The first liquor tax law comes into effect in 1909 and the 1916 Liquor Tax Act bans home distilling altogether, while sales of beer rise exponentially. Beer becomes a luxury drink sought after by upper class men.
1933: The first beer brewery is built
Japan builds Chosun Breweries, the first brewery in the country, and begins producing Crown Beer. Beer is still expensive, as three and a half cases of beer have the same monetary value as a 144kg sack of rice.
1945: Gwangbok, Independence Day
Korea is liberated from Japan, and in turn, two breweries are confiscated by US authorities for a brief time. In 1948, Kirin becomes Tongyang Co., and produces OB (Oriental Brewery) beers.
1952: Chosun (present day Hite) and Oriental breweries (OB) become privatized
1981: Oriental Breweries forms a joint venture with Heineken Co. to produce Heineken beers
Chosun Breweries versus Oriental Brewery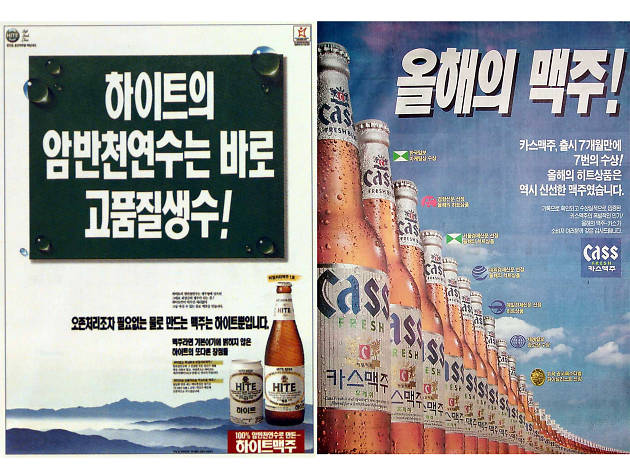 1984: Legalization of beer imports
As importing beer becomes legalized, international beer companies start to take off.
Dec. 1984: Schlitz Beer
With the legalization of imported foreign beer, Schlitz Brewing Company comes into the market through Incheon Port.
1992: Jinro Group and Coors Co. come together to establish Jinro-Coors brewers.
1993: Chosun Breweries releases Hite beer
Chosun replaces their Crown beers with Hite, which soon dethrones OB Beer, the number one selling beer in the nation for 30 years. Hite's ad copy reads: "Only the purest underground bedrock spring water from 150m below."
1994: The launch of Cass beer by Jinro-Coors
1995: Oriental Breweries becomes OB Beer.
1998: Chosun Breweries become Hite Beer.
1999: OB Beer acquires Jinro-Coors
Due to the financial crisis in 1997, OB beers acquires Jinro-Coors (Cass beer), marking the end of the three-brewery dynasty.
Birth of first generation microbreweries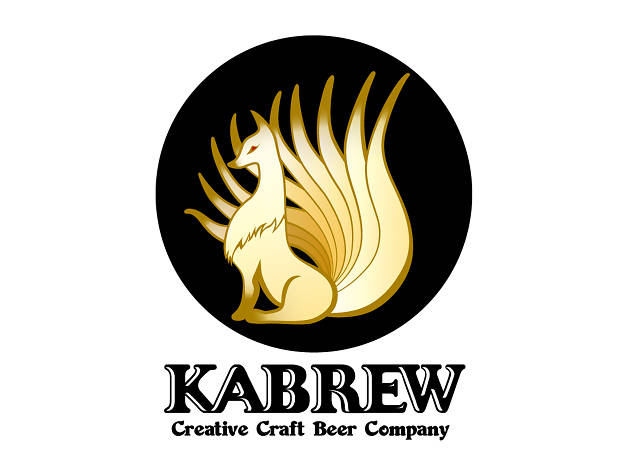 2000: Brewmaster Park Chul founds first-generation brew pub KaBrew.
2002: Amendments to liquor tax law
In preparation for the World Cup and Busan Asia Games, the government grants licenses to microbreweries to sell their own brew in the form of "brew pubs." Because of this act, microbreweries with the production output of 60–300kL are able to sell beers made in-house.
2005: Hite Beer acquires Jinro and in 2001, the two merge to create Hite-Jinro
2006: KaBrew starts to import and sell Canadian craft beer Alley Cat
2007: KaBrew builds a brewery in Gapyeong
Second generation microbreweries and craft beer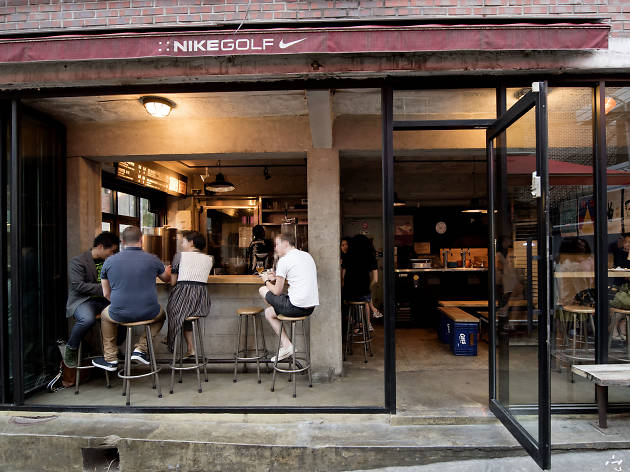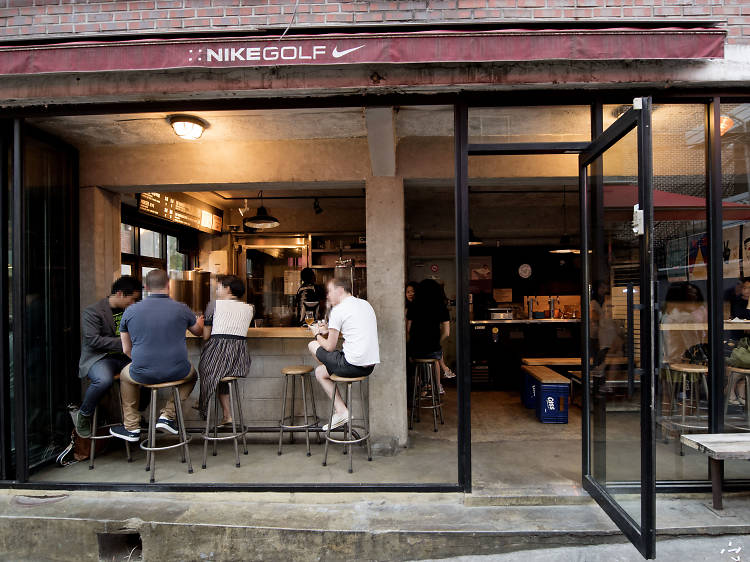 2010: Craftworks Taphouse opens
The pioneer of the craft beer boom in Korea, the pub opens with beer made from KaBrew.
Dec. 2010: Manufacturing capacity requirement for breweries is lowered by 15kL.
2011: 7brau opens a brewery in Hoengseong
The first local ale to hit the market, "7brau IPA" is released in canned form in 2012.
2012: Magpie opens
Craft beer pub Magpie opens in Itaewon to further enrich the market for craft beer. Working with KaBrew, Magpie sells their own blend of craft beer.
2013: Hite-Jinro releases Queen's Ale.
Big name liquor houses and craft breweries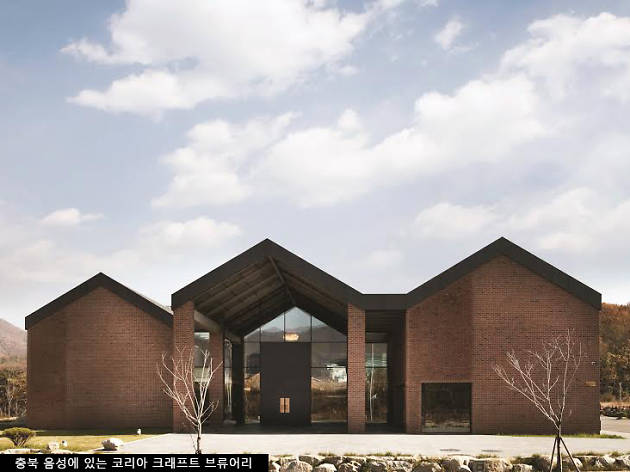 Apr. 2014: Lotte Liquor releases Kloud
To break up the battle between OB Beer and Hite-Jinro, Lotte Liquor steps in. And Kloud's tagline? High gravity beer without added water.
Dec. 2014: Korean Craft Brewery opens
Situated in Eumseong-gun, Chungcheongbuk-do, the brewery releases its first line of craft beers—
"ARK," "Hug Me" and "Be High."
Nov. 2014: "The Premier OB" released, Devil's Door opens
"The Premier OB" is an all-malt beer made of German noble hops and yeast. Shinsegae Food Co. opens Devil's Door, a pub specializing in craft beer.
2014 Amendments to liquor tax law
The manufacturing requirement for microbreweries falls to 50kL. Beer no longer needs to be transported through pipes moving from the brewery to its selling points, allowing it to be distributed freely.
2015: What is all-malt beer?
Unlike regular supermarket beers with 70–80% barley malt content infused with rice and corn starch, all malt beer are made from 100% barley malt resulting in a stronger, heavier flavor.
The battle of all-malt beers
Domestic beer brands jump in to take part in the all-malt beer market.
Jinju Ham Co. acquires KaBrew
Consumption of foreign beer increases
One supermarket chain says that its sales for imported beer rose by 40%.
More to explore