A night away from the city
Wake up to a beautiful sunrise on the west coast.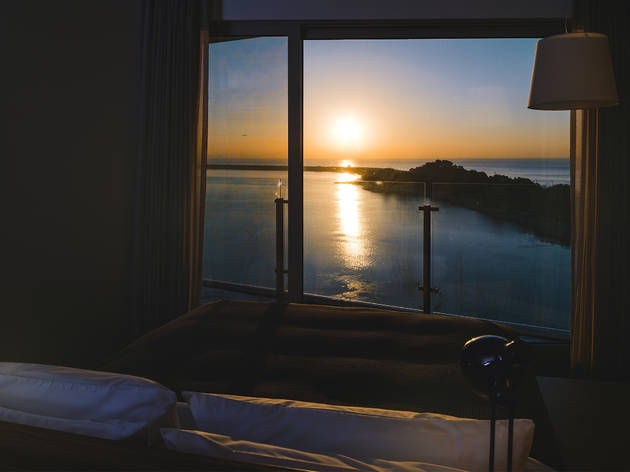 Living as a travel writer, hotels were the beginning of my journey and a temporary shelter that replaced my home. The softness, which I feel when I shove myself into bed, covered in bed sheets, gives me comfort whenever I'm in a new city. Even if I make a huge mess in the morning, everything is perfectly cleaned up by the time I come back and my pillow is all fluffy and new again. This time, I looked for a hotel that is not too far away (but not in Seoul). So, I picked Nest Hotel, since it is less than an hour away and more importantly, because it is famous for being a design hotel. (Nest Hotel is the first one in Korea to join the world-renowned hotel platform, Design Hotels.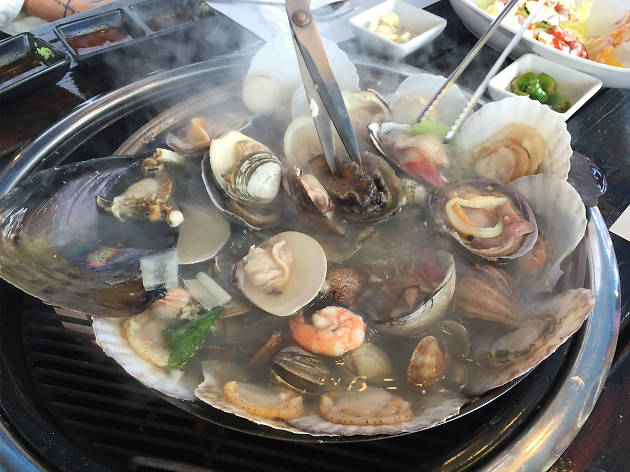 Late Saturday evening, I left Seoul and it took me 40 minutes to get there by car. This hotel is on Yeongjongdo Island, close to Incheon International Airport and you can also take a limousine bus to get there. So, if you want to feel a bit more like you are traveling, I recommend walking around the airport as well. After my late check-in to the hotel, I was super hungry. Of course, they have a restaurant, but going for seafood is always the best choice when you are on the west coast. Fortunately, there's a town near the hotel that's in easy walking distance (you just have to cross the road) where you can buy some raw fish and other types of sea food. Goraedeung Restaurant, which has been on all three public channels, is famous and there are a number of other restaurants with an ocean view. I had a huge meal of steamed shellfish, clams, scallops and abalone and then went for a walk near the hotel. What had happened was that I had missed the sunset, because I was so busy eating all the steamed shellfish. But, I was drinking beer and didn't care less about where the sun was going.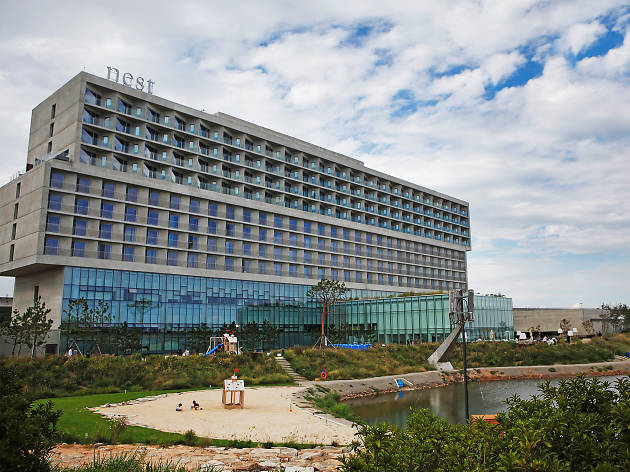 The façade of the Nest Hotel is quite bleak, despite the warmth the word "nest" implies. I could see that the architect of this building (built by JOH & Company) put a lot of effort into trying to preserve the reed field as much as possible before the hotel was constructed. Some people might think the building is a little too plain for a hotel. But for me, things like philosophy, content and the design of the hotel are more important. Inside, the hotel is clean and modest as well. No flashy colors, no flashy ornaments. What they have are wafflelike windows through which the light comes and goes. I, personally, thought it was gorgeous.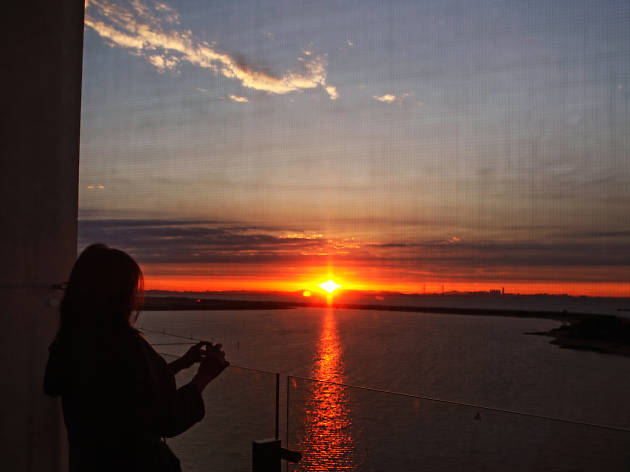 The biggest surprise during my stay at Nest Hotel happened by the time the sun rose. The hotel is located on the western edge of Yeongjongdo Island and so I thought their sunset would be beautiful. But around 6am, I opened the curtains unconsciously and there it was—the sun, rising over the horizon. I couldn't believe my eyes, because at first, all I could see were its red shadows. "Is that the sun? But this is the west coast." I thought to myself. I couldn't even remember when the last time I witnessed such a beautiful sunrise was. The sun was so big and red, I even felt like I could make a wish on it and that it'd come true. I took photos of it and savored the short moment of sunrise as I sipped coffee on the balcony.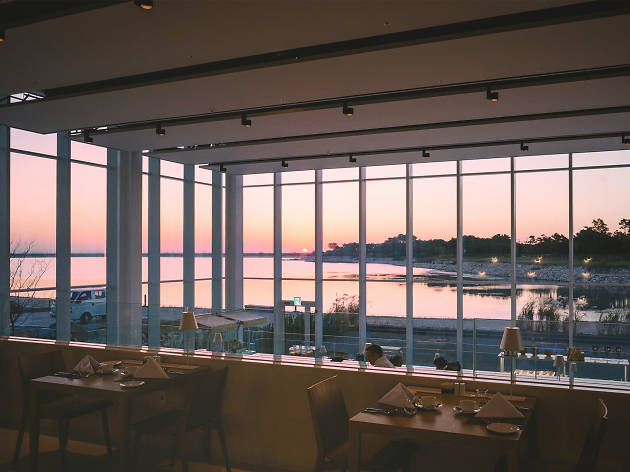 Their restaurant Platz, where I had my breakfast, is all colored in white and is terraced, allowing you to have a good view outside no matter where you sit. This is not the only place where everything is colored in white. The bathroom in my room also had white walls and reminded me of all sorts of workrooms and fashion places in Berlin. For someone like me who thinks, "simplicity is the best," Nest Hotel fit perfectly. Their outdoor hot tub has high walls, a view of the sky and is quiet and meditative. This hotel has a mellow mood that permeates the entire place, so it's a good spot to spend time contemplatively. But during the weekend, there are a lot of young couples with kids staying here. (If you are a lone traveler, I recommend staying here during the week.)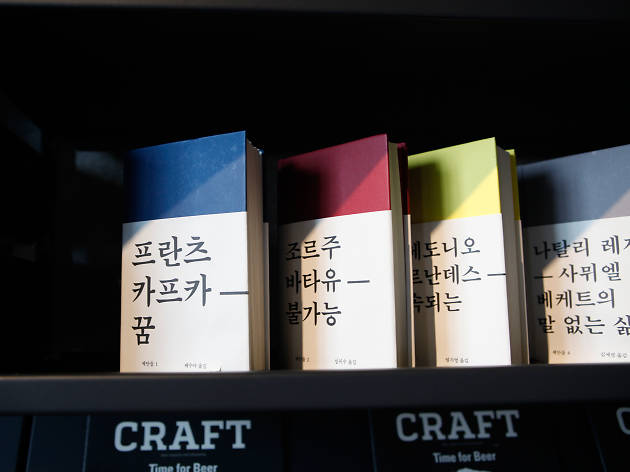 My last to-do at this hotel was to pick Franz Kafka's short story A Dream from a bookshelf filling up a whole wall of the Kunst Lounge, drink a glass of beer and finish reading it. Instead, I sat in my room staring at the screen of my laptop, writing articles. The daily lives of Seoulites end like this, after dreaming about things. But changing where you stay at night is just enough to make you feel like you are on a trip. And Nest Hotel helps you accomplish that awesome divergence.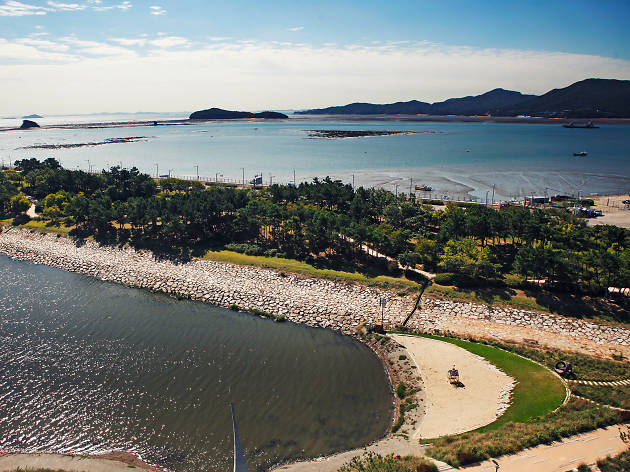 First Day
5:00pm - day Arrive at Nest Hotel
6:00pm - Have raw fish and seafood at Goraedeung
8:00pm -Beer at Kunst Lounge
Second Day
06:15am - Sunrise
08:30am - Breakfast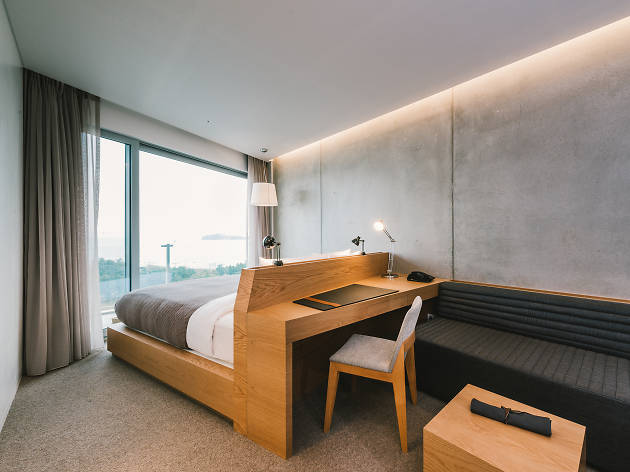 1. In the Kunst Lounge, there are about 1,000 books on art, architecture and culture that were selected by Thanks Books. It's good to read here. They don't sell them.
2. Unlike other hotels, their minibar is not too expensive. 4,000 won for a beer. Drink without worrying about the price.
3. There are two types of views for rooms—ocean view and mountain view. I recommend the spacious Deluxe Double Room with an ocean view.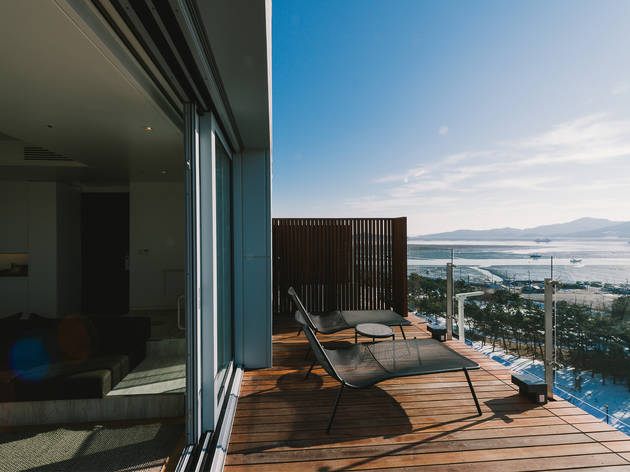 The newly open The Nest Hotel, located on Yeongjongdo Island off the coast of Incheon, is the first venue in Korea to be selected as a member of the Design Hotels Group (an exclusive assortment of 250 hotels around the world). Built and designed by the recognized JOH Company, The Nest Hotel boasts 370 guest rooms and a stunning view of the sunrise on the West Coast. Each guest room has a distinct character and is able to fully utilize the space with a compact bed conjoined with a table and a sofa. Unique styles can be found in every room - including the Kunst Lounge which features a mini cinema and a bookshelf line up with various books. The hotel's restaurant, The Platz, has an interesting staircase which feels like a modern theater. The hotel's waffle-like exterior brings natural light into each room. When your travel plans don't include going anywhere too far, come visit The Nest Hotel.