Cruising on a yacht at Rolling Hills
Who knew the pleasures of yachting were so close by?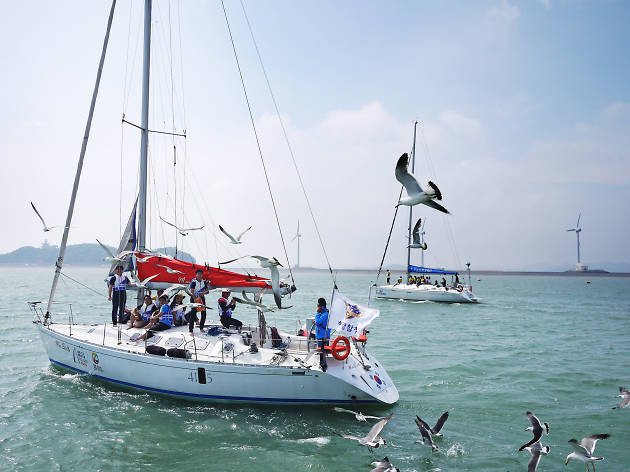 KNOW OF ANY good places for a yacht trip in Korea? My first thoughts are the Han River parks in Yeouido and Banpo. Outside of Seoul, Busan and Jeju come to mind. But getting to the sea is rather far and expensive. Also, memberships still rule the world of yachting, so it's not exactly easy to hitch a ride on the nearest yacht. The fantasy of a yacht trip in the cool sea breezes seems like something that would happen far away from here. But in the end, I got my fix in Gyeonggi-do when I learned about the Rolling Hills Hotel between Suwon and Hwaseong and its yacht package. I hadn't heard of the hotel before and to learn that the yacht marina Jeongokhang was only 30 minutes from the hotel took me by surprise. So, it is possible to sail on a yacht close to Seoul after all! I admit I had my doubts at first, but yachting out to the Yellow Sea was indeed the highlight of the trip. I boarded a twin-hulled ship with three bedrooms, a cozy group seating area and cooking facilities, and I decided to enjoy the cruise in a hammock on the deck area with a glass of nicely chilled wine. Sailing in the sea breeze was so nice that I was a bit disappointed when the trip ended after 90 minutes. Half a day would have been nice. The fun was over, so I returned to my hotel room, took a shower and ordered pasta for dinner at The Kitchen restaurant. Afterwards, I went for a leisurely stroll down a long walking path that won the Landscape Architectural Design Competition in 2013. You can bring swimming tubes to the pool, and they even offer well-designed programs, especially for families with children, such as making herbal soaps. (This might explain the hotel's high popularity with families.) If you are single or with your significant other who would rather avoid these crowds, your best choice is a Friday.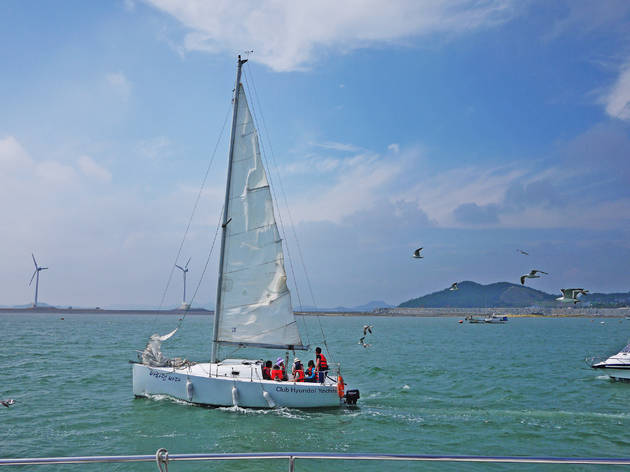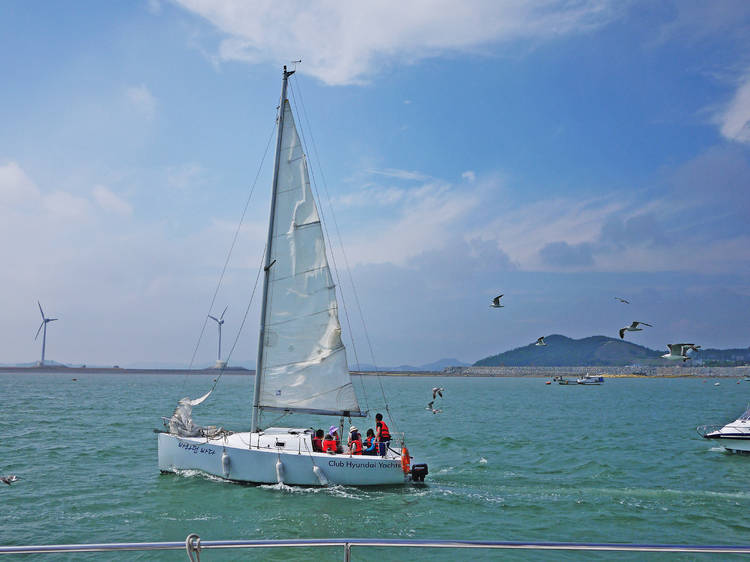 A night in a Rolling Hills Standard Guest Room, including a yacht tour, first aid and safety education and a farah cord braceletmaking course. The yacht trip is 90 mins. Fishing trips are offered as well. This package is for two adults and one child.

Through Sep 30.
290, Sicheong-ro, Hwaseong-si, Gyeonggi-do.
665,500won (VAT, service fees included).