Haute bingsu? Hotel bingsu!
Makgeolli bingsu and Dom Pérignon bingsu, and earl grey tea bingsu, oh my!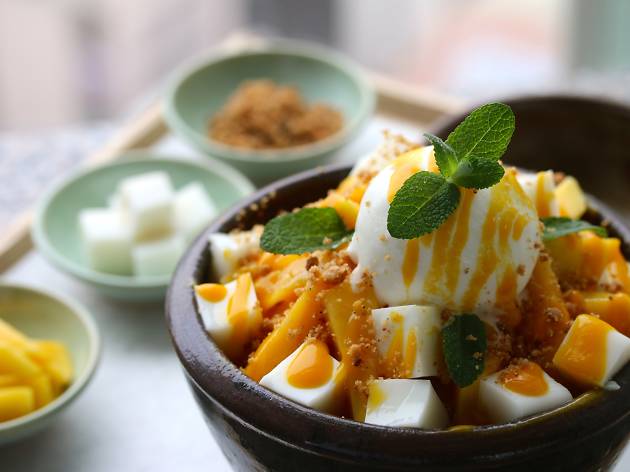 A national dessert obsession, the bingsu (shaved ice) season is here. This summer, premium versions of the usual red bean and milk syrup bingsu are available at select Seoul hotels while a variety of rather outrageously decadent selections are also being showcased. Sure, spending several man-wons is crazy extravagant, but hey, YOLO, right?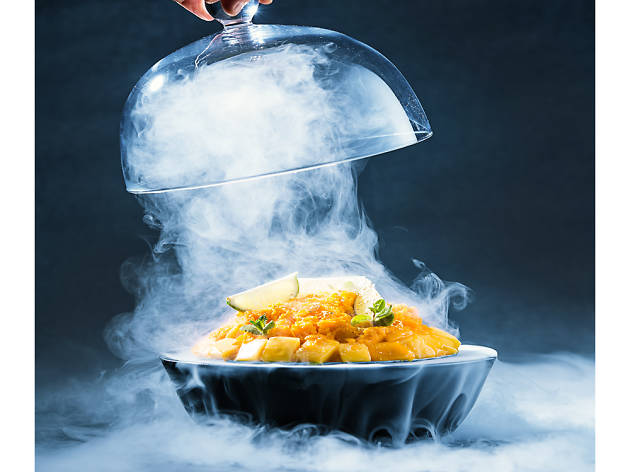 Dry Ice Bingsu at Conrad Seoul
37 Grill and Bar at the Conrad Seoul presents 37 Bingsu featuring Mango Bingsu and Grapefruit Bingsu. Covered with fresh organic mangos or grapefruits, the shaved ice is made from premium teahouse Althaus's milk-brewed earl grey tea. The presentation is impressive, too. When you open the glass lid, the dry ice cloud overflows like fog over a mountain. Mango Bingsu is 42,000 won, and Grapefruit Bingsu is 38,000 won.
Mont Blanc bingsu and Hello Kitty bingsu at JW Marriott Dongdaemun Square Seoul
One of the things that JW Marriott Dongdaemun Square has known for is its crazy fancy bingsu (remember the icy dessert topped with none other than Dom Pérignon?). This summer, JW Marriott's chef Michel Eschmann the hotel is adding 4 new types of bingsu to the list. The first newcomer is Mont Blanc Bingsu inspired by the Swiss Alps, a major natural feature of Eschmann's home country. The soft and creamy chestnut cream topped with fine sugar powder makes the bowl of bingsu look indeed like snow-capped mountains of the Alps, and each spoonful is filled with frozen milk and chestnut cream along with rum syrup. The second addition is the Hello Kitty Bingsu. Opening the white chocolate lid with a Hello Kitty ribbon on it will expose seasonal fruits laid on top of shave ice. The remaining two are New Springville Patbingsu (red bean shaved ice) made with red bean paste and green tea jelly and the Fruit Bingsu made with seasonal fruits and assorted chocolate. The fancy Dom Bingsu will be available again this summer with an upgraded look. Made with cotton candy, peach sherbet, jelly and blueberry vanilla compote stacked beautifully on shaved ice, the final touch for this bingsu would, of course, be the Dom poured on top.
Classic Bingsu at Grand Intercontinental Seoul Parnas
Grand Intercontinental Seoul Parnas introduces Classic Red Bean Bingsu and Cheesecake Mango Bingsu at the hotel's first floor lobby lounge. Its main ingredient, traditional red bean, is slowly-cooked for 4 hours then sweetened with oligosaccharides and finely shaved frozen milk. The bingsu is topped with fresh seasonal fruits, bean powder and dried persimmons sourced from Sangju. Cheesecake Bingsu is served with 2 fresh mangos and a piece of cheesecake. Grand Deli located right next to the lobby lounge has single-serving bingsus to-go, at more affordable price. Takeout versions of Classic Red Bean Bingsu and Cheesecake Mango Bingsu are priced at 10,000 won and 15,000 won, respectively. Any tea ordered with bingsu is 20% off the original price.
Show more