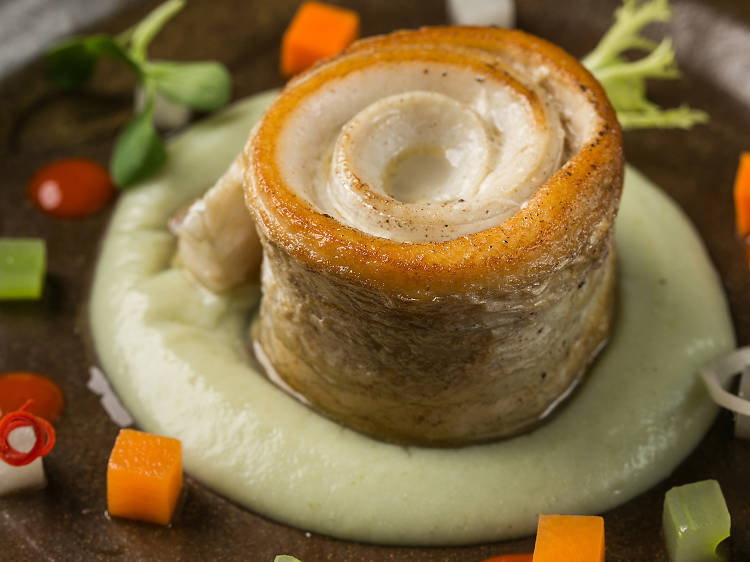 The words "modern hansik" became a buzzphrase when the restaurant Jungsik
ranked 10th on the Asia's 50 Best Restaurants 2015 list, which was released earlier this year. Hotel Shilla's La Yeon ranked 38th and four hansik restaurants made their way onto Chosun Ilbo's KOREAT'S 50 Top Restaurants list. Chef Kang Min-gu's restaurant Mingles topped the list followed by Chef Yim Jun-sik's Jungsik at number two (his restaurant in New York received two Michelin stars). Seoulspecialty restaurant SOIGNÉ took number three and La Yeon ranked tenth. With the upscale nature of many of these restaurants, it's no surprise that modern hansik is very much tied to hotel dining culture. The Gangnam Comfort Cuisine, a new hansik five-course meal, is now available at Park Hyatt Seoul's The Lounge. They make their food with fresh ingredients, such as seafood that is delivered from Jeju, and they differ from traditional Korean dishes in their modernity and lightness. Frankly, I didn't expect the food to surprise me since hansik has become so much more available these days. However, at the first bite of raw fish served with sour pepper espuma, my eyes opened wide in shock. Never before had I tasted such delicious, modern hansik food that was both fresh and rich at the same time. This was followed by a mushroom consommé with hanwoo beef dumplings, bossam (boiled pork) and grilled chicken. To make bossam, they first marinate Korean pork belly, to get rid of unpleasant flavors and make it nice and tender. Then, it's boiled for 24 hours and served with steamed abalone, ssamjang and soy bean sauce jelly. Grilled chicken derived from samgyetang is their newest experiment and is served with mushroom sauce. They also serve paella, which comes out in a small rice pot, cooked with 12 different types of grains, crab broth, abalones, octopus, mussels and calamari. It goes well with the side dishes as it is not too salty and tastes rather plain. Small pumpkin cakes topped with cream and grilled figs with raspberry sangria granite were served for dessert. By the end of the meal, I came to the conclusion that the Gangnam Comfort Cuisine five-course meal at the Park Hyatt Seoul is as good as other famous modern hansik places. Park Hyatt Seoul's Executive Chef Massimiliano Ziano and Hansik Master Chef Baek Young-min spent almost a year preparing this thoughtful and ambitious project. On top of this, they are trying out new things with Korean traditional liquor, such as the makgeolli (rice wine) daiquiri and Hwayo (a type of soju) and a Kimchi Mary (a riff on a Blood Mary) made with kimchi water. The dishes from Park Hyatt Seoul's hansik course are surprisingly balanced in terms of taste. All the thought and effort put into this meal go beyond what its name Gangnam Comfort Cuisine can express.
Tel: 02-2016-1205, 11am–12am. Five-course meal 90,000 won (VAT included), single dishes from 36,000 won.